Taunton 25th November 2021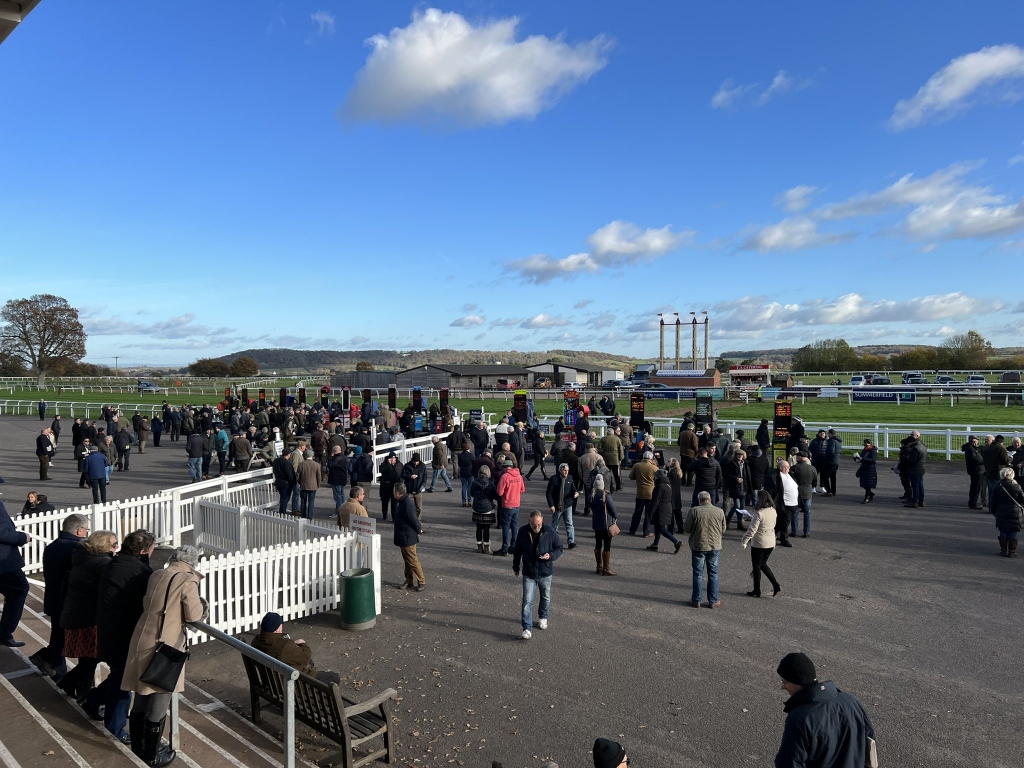 The oldest working bookie on the track today Jim Clarke was in top form at Taunton, after 3/1 chance Earth Company won the Short Run Press Printers And Book Binders 'National Hunt' Novices' Hurdle for Philip Hobbs. I was hit with 'Put on weight?' 'You've dropped your comb but you don't need it really these days' ( bit strong Jim, it's just a bald patch ) so left before he got the treble, up. Dan Skelton's 6/4 favourite Jay Jay Reilly was back in third. Paul Metcalfe admitted paying out excess of £1800 over the winner.
Colin Tizzard's Nelson's Rock won the Summerfield Developments Novices' Handicap Hurdle under Harry Kimber at even money, I'm guessing Bevan paid out a few more quid and Jim didn't get any less Octogenarian abusive, but hey when you get that old you can say what you like can't you. The winner would have been a huge thrill for the winning owners, the Middleham Park Racing Lxxxviii group, members of which appeared to be here in fair numbers. That's what it's all about.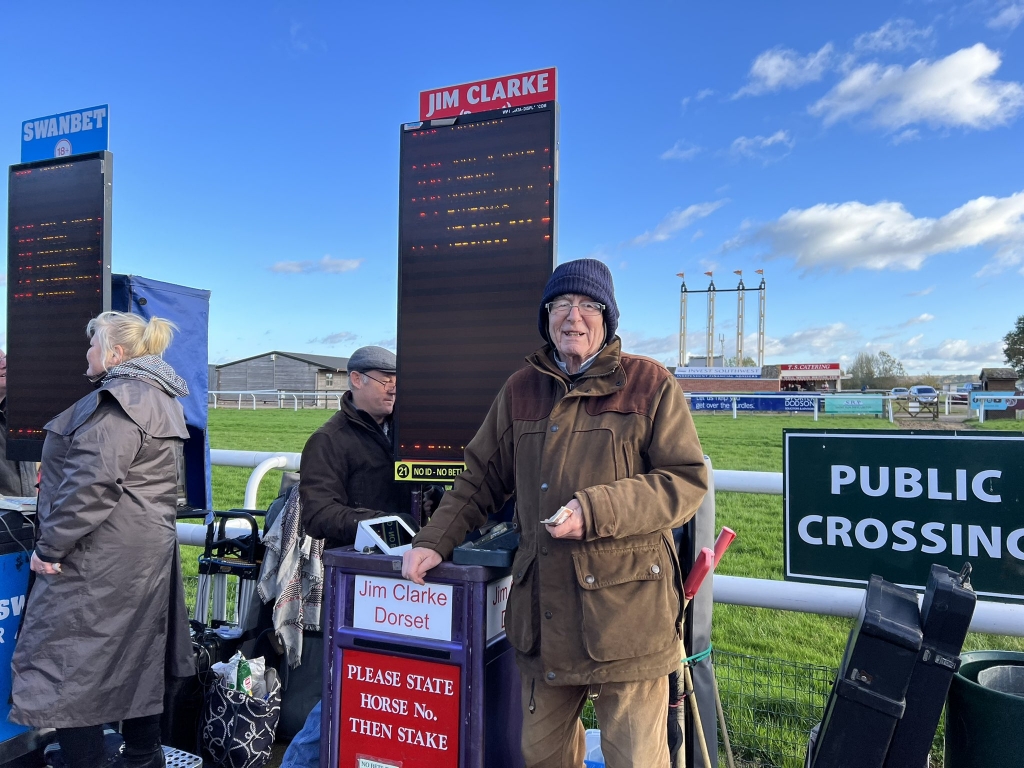 Roque It made it the second favourite on the card to oblige in the Short Run Press – Your Local Printers Novices' Handicap Chase for Paul Nicholls under Harry Cobden. The race fell foul of the beautiful day, nine fences were jumped and eight omitted over the 2m 7f 3y course due to low sun. Jumping may have only been half the name of the game in this particular race, but he certainly stayed on for owners Gordon and Su Hall, despite giving them a fright in the last.
An Tailliur winning at 9/2 in the seven-runner race before the penultimate, the Short Run Press Celebrating 40 Years Handicap Hurdle looked to have given the bookmakers on course some respite. Jonjo O Neill's charge unseated Kevin Brogan at the first when 3/1 jolly at Cheltenham last time out but the gelding fared better today battling on to win a neck under Jonjo junior from Paul Nicholls' Dargiannini with Philip Hobbs' 5/2 favourite Guernesey another neck back in third.
I ventured down into the betting ring to try and get some colour for this very blog, it was sadly lacking. The old layout where the bookmakers faced each other worked much better. That's in my humble opinion of course. But, salvation came in the shape of my dear mate Armaloft Alex. Now Alex knows point to points and the form therein better than most. They five runners had set off for the Mike Trickey And Geoff White Memorial Handicap Chase as Alex started to explain to me that on old point to point form Deborah Falkner's charge Mister Robbo would have a major chance. He added that the gelding had been 25/1 last night and that was way too big. Too big indeed, Mister Robbo did the business by two and a half lengths under Richard Patrick from 2/1 favourite Kiera Royale and returned 5/1, though of course there had been two non-runners since the 25/1 was available. After watching the race I turned to congratulate Armaloft on his shrewd picking, well can you spot him….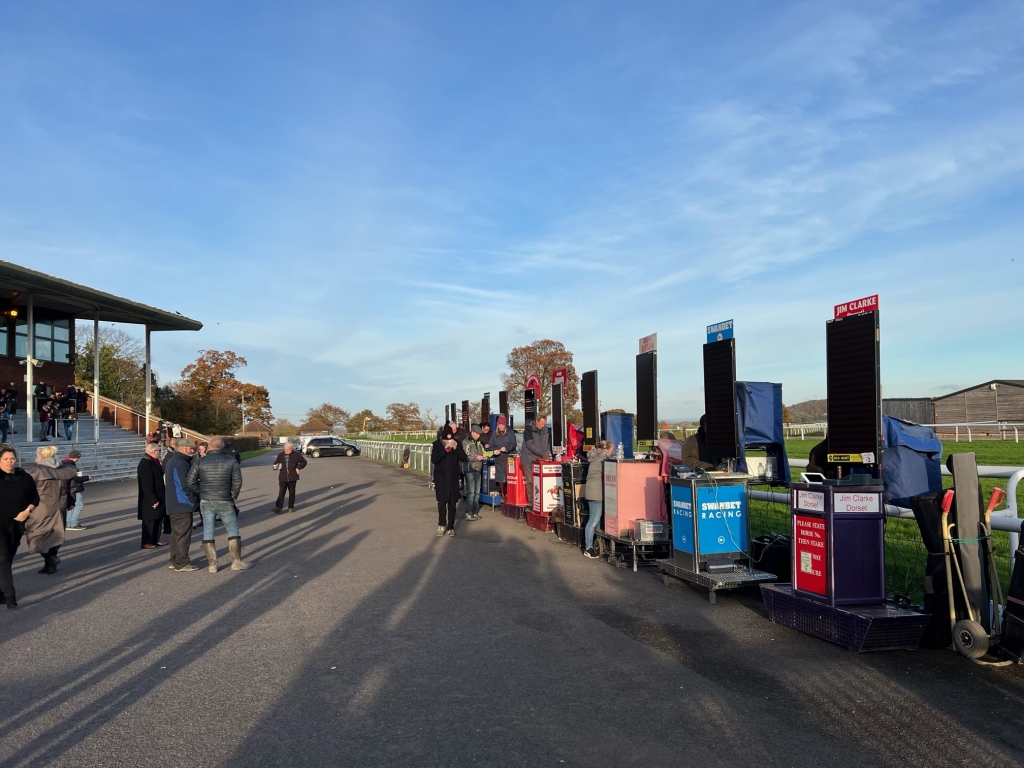 … no me neither, it later transpired he'd talked himself out of getting involved.
The lucky last saw a short-priced favourite in Ben Pauling's Norley but it was Nigel Hawke's 15/2 Kendelu that landed the spoils under Kieren Buckley from Brian Barr's 18/1 chance Independence and Linda Blackford's Poet's Reflection which returned 16/1. All three in with a shout on the run-in. The winning owner was very animated as his gelding won the race, hopping about the place in delight which was marvellous to see. That sight was an excellent conclusion the afternoon's sport on a winning note for the bookmakers. Alex had left the building but was none the worse for his near miss with a pony winner but rather dodging the traffic to head straight to Newbury rather than teetering on the top of the stand.
If anyone is interested, I have a very limited number of my self-published book Skint Mob for sale, they are £12 each, posted to the UK. Drop me a line simon@simonnott.co.uk or via PayPal here Skint Mob Tales From The Betting Ring | Simon Nott
Simon Nott.