Newton Abbot Betting Ring Report 26/09/22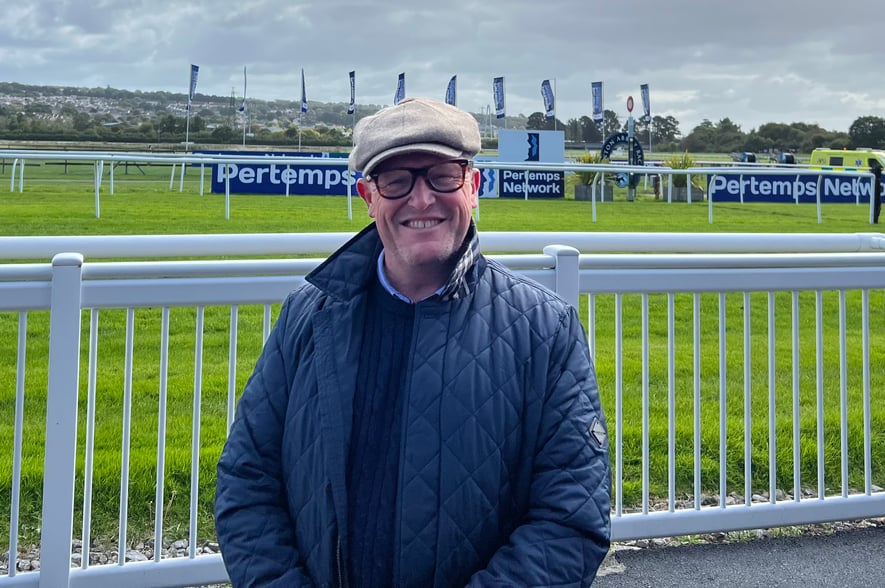 First things first, it was lovely to see John Lee back on course, John bets under the name George Edwards and recently spent six days in hospital with pneumonia. Anyone that knows John will tell you that he's the last person you'd expect to be laid up. He's an ex-boxer who still keeps himself fit. Anyway, he walloped that particular bug onto the canvas but not before his lightweight opponent gave him a scare. Great to have you back in the betting ring John.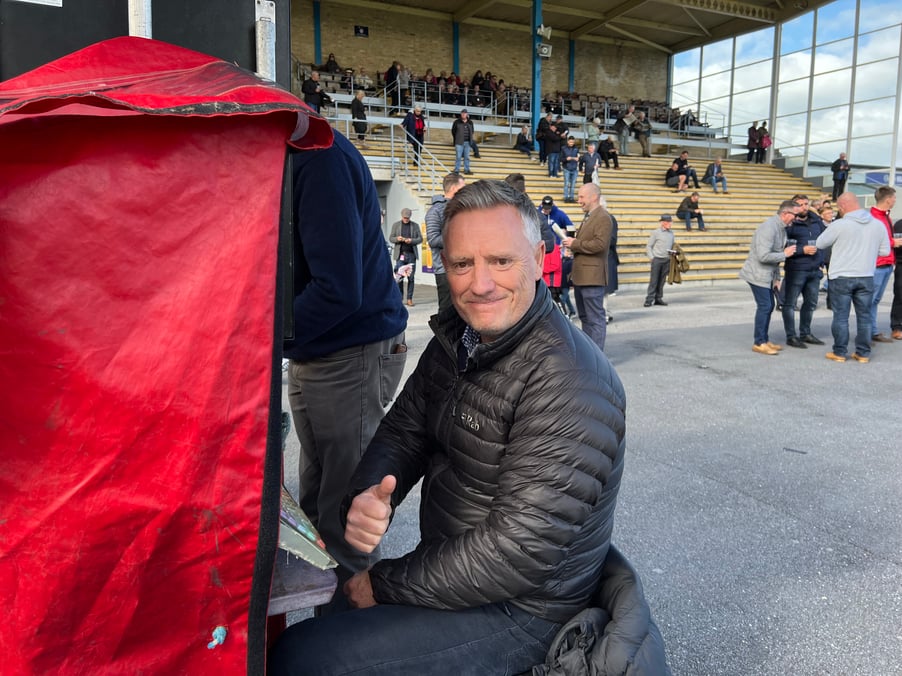 The opening Pertemps Network Conditional Jockeys' Selling Handicap Hurdle saw 11 horses go to post where the bookmakers made the betting wide open. The one the punters wanted to be on was Nigel Hawke's Yaazaain which opened at 7/1, was laid at that price to at least one bet of £200, then tumbled into 4/1 favourite. None of the layers reported any substantial lumps on that one or any other but said that business was steady. Pretty much none of them wanted the gamble to win, but the writing looked on the wall, the gelding appeared to be going much the best turning for home. He was still looking like the winner to most observers approaching the last. Sadly, for those puunters that followed the money, a tardy jump and loss of momentum jumping it give Milton Harris' challenger Sufi the chance he and jockey Bradley Harris needed to scramble home a head, returning 9/2 second-in. Incidentally, I have a stable visit and interview with Nigel Hawke where he's joined by professional punter Andy Gibson, in the can, look out for it on this website very soon.
The Trevor Leslie Scheu Memorial Novices' Handicap Hurdle was delayed while ground staff put sand on the first bend, prompted when Tiffany Rose slipped on it, falling uninjured, in the previous race. By the time the field set off it was as Armaloft Alex declared 'properly raining'. Down in the ring there had been money for David Pipe's Ben Lilly, owned by the David Pipe Racing Club, and a bet of £2400 - £400 Chris Down's Letter At Dawn. The one the punters nor the exchanges wanted was Anthony Honeyball's Paris Dixie which drifted from 9/2 to an SP of 7/1 and won unchallenged under Rex Dingle. Diligent as ever, Clerk of the Course Jason Loosemore was at the horses' exit after the race asking the jockeys how the bend had handled. The rain hardly lasted the race either, which was handy for spectators, plenty of them in shorts.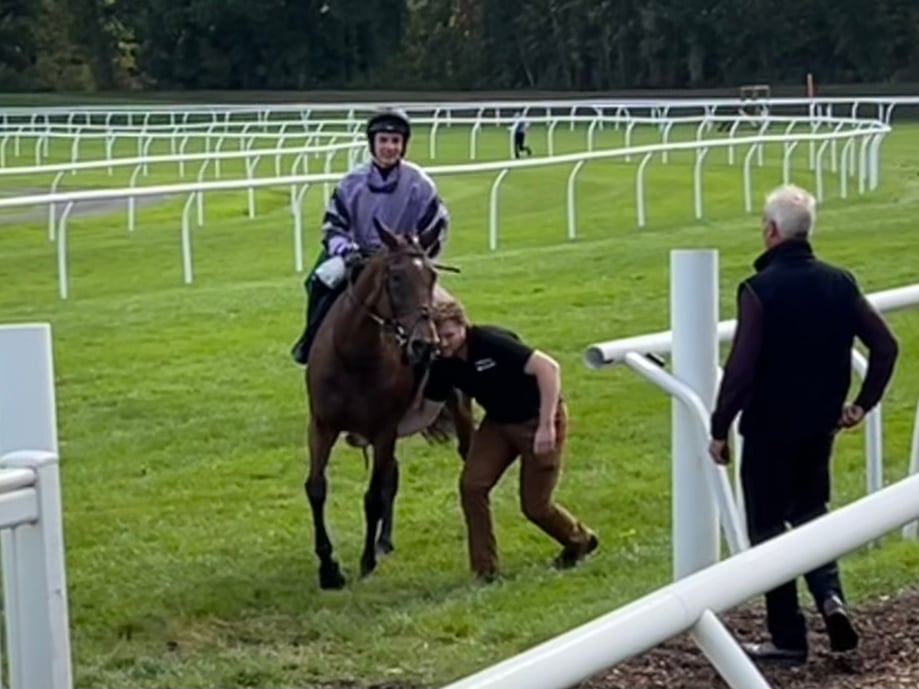 Only three went to post went to post for the Pertemps Network Novices' Chase. There wasn't much going on in the ring so Armaloft Alex treated me to an ice-cream, a coconut Knickerbocker Glory. That's ice-cream with a Bounty where you'd expect to see a flake and all for £3, proper job. Over at the Ivor Perry joint, ex-William Hill rep Ray Emery was trying to dissuade a lady having a score on Emma Lavelle's hot favourite Hang In There at 1/3. Jo behind the joint said that he agreed with him, marking novice punter's cards when horses start long odds-on. They certainly had better value when they laid £800-£400 Paul Nicholls' second-in, Hell Red. The race was affectively over after the first when the latter made a rick at the first leaving Hang In There to kick on then coast home in splendid isolation winning at it liked returning 2/5 favourite and looking value for it. Ray had talked the lady punter out of an easy £6.67 but he meant well.
Next up and the Pertemps RGB Novices' Hurdle which according to Ray Emery was a very good betting heat. It appeared that there were several horses fancied, bets included £1600 - £200 and £1600 - £200 each-way Alnitak, an even grand the jolly Robert Walpole and £3200 - £800 Jamie Snowden's Sea The Clouds. The bookmaker that laid the last bet may not have found the betting race quite so good, given that the gelding won nicely under Gavin Sheehan after being backed into 10/3, at least off-course. The jolly faded out of the frame which wouldn't have helped the places, but the favourite had been backed from 7/5, yes, I know, if you can't tic-tac it, it's not a price, into 'tips on' 10/11 so getting him beaten would have ensured a winning race for the majority of the ring.
The antepenultimate the Pertemps Network Mares' Novices' Handicap Hurdle turned out to be the race that pub quiz teams will be well versed on in a few years' time. Which trainer had two winners in one race in 2022? Well, the answer to that question for all you racing anoraks out there is Keiran Burke in this race with 10/3 chance The Height Of Fame and 85/40 favourite Maroochi. They flashed past the post in what looked like a desperate finish. Armaloft Alex was on the Height Of Fame and immediately declared his fancy had been chinned on the line, despite not having prematurely celebrated. The machine market initially disagreed and was trading a shade of odds-on in the photo, only then for a flood of money to pour in for Maroochi ultimately bottle-on to win. Now, here's a bit of nostalgia, back in the olden days when the judge used to ask for a print, my old boss Dave Phillips would go down the book with whatever the punters wanted to back at odds on. After all, if the judge didn't know, how could the punters? He'd have copped today, Guy Lewis, the judge called it a dead-heat between the two. The photo on the big screen backed it up, not a Rizla between them. Gavin Sheehan the pilot of The Height Of Fame bagging a double on day an added bonus for him.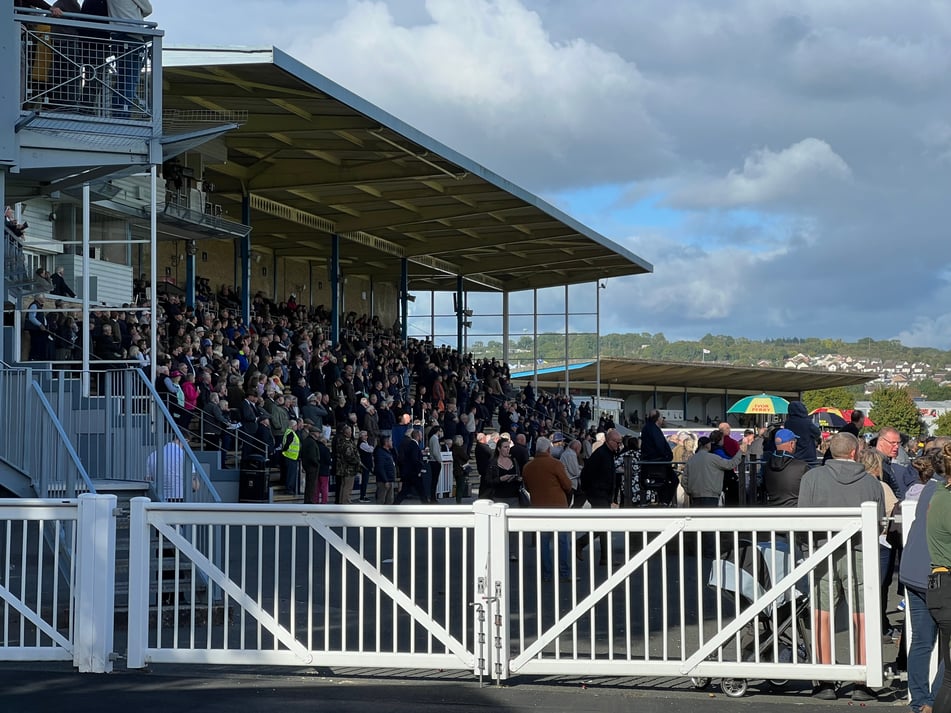 The penultimate, the Douglas Roxburgh Big Six-O Handicap Chase saw just four runners go to post. Early prices had Alex Hales' For Pleasure open up the 11/10 favourite with Seamus Mullins' Romanor at 6/4. I went for a wander where I bumped into professional punter Alan 'The Beard' Francis who'd been taking advantage of the hospitality afforded to annual members today, to the extent that he wouldn't need to stop for fish and chips on his way home. He was winning punting too, so a good day's work for him, though he's still looking for his trademark outsized bins lost at Fontwell if anyone ever stumbles upon them. When I made my way back to the betting ring, I met Dax Oliver's son Beauden who was learning the ropes under the watchful eye of his dad and grandad Joe, three generations of bookies in this photo, assuming of course that Beauden is keen, early indications are that he is.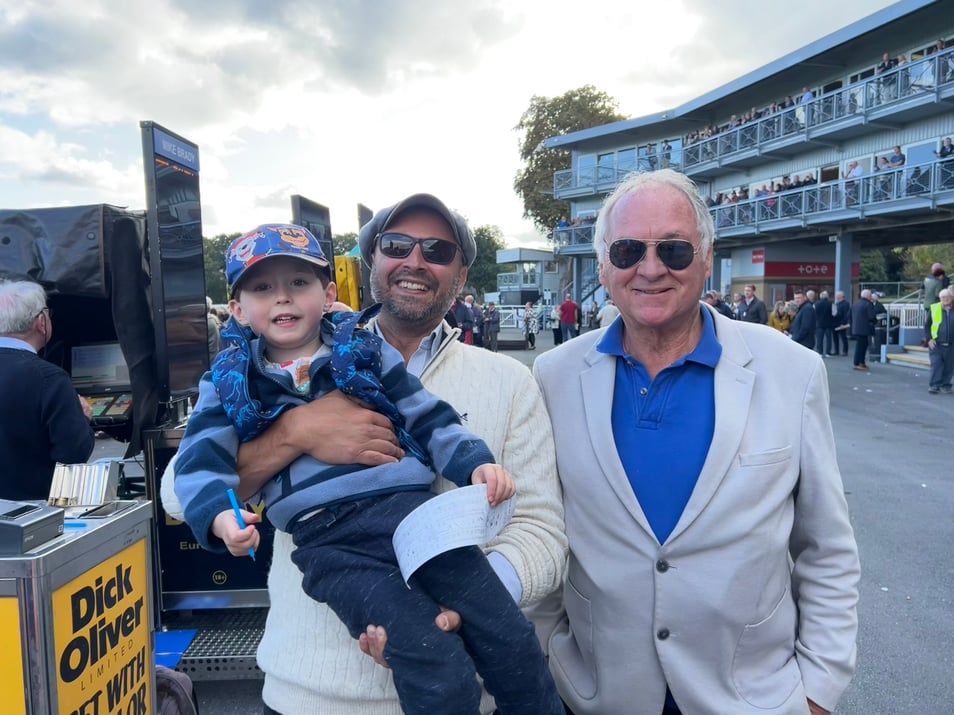 The had been plenty of action for the new recruit to learn from. For Pleasure had been very weak. Jo on the Ivor Perry joint couldn't understand why, 'He has to lead', he told me, adding, 'It's only got one way of running, I'm surprised the in-running boys are on to lay back.' Meanwhile, a punter had been going down the line with monkeys, unleashing a brace at 6/4 and another at 13/10, not a misprint, on Romanor. 'How do they know?' was the look of Jo's face after Romanor the 11/8 joint favourite bolted up. For Pleasure was never able to dominate and ultimately finished third a short head in front of 80/1 chance Creadan Grae, which would have been third with another stride.
There were still punters having it on in the concluding Pertemps Network RGB Handicap Hurdle. Tall Boy Watson pointed to the fairly modest by summer standards crowd, enjoying a big screen I should add, and told me that the crowd might look thinner today, but everyone here appeared to be a punter, the average stakes were high. Two bets laid early elsewhere in the ring were £1400 - £800 Paul Nicholls' Gaulois and £2125 - £250 Caspers Court. The bookie that laid the £800 Gaulois must have thought those readies were already in the back pocket when the gelding virtually refused to race, by the time he did set off in chase of the field he had plenty to do. His pilot Tom Buckley did well to ease him into the race and between the last two hurdles it looked as if an unlikely victory for the 15/8 favourite was on the cards. Ultimately, he had to give best to 3/1 winner Getalead for Claire Harris under David Prichard, but it was a valiant effort going down a length.
Sadly, this penultimate meeting of the year at Newton Abbot is my last visit. The last, Saturday 15th October clashes with Champions Day at Ascot and I've been booked by Star Sports to cover it for them. Next year kicks off here on April 8th, Easter Sunday 2023. If you've not been to Newton Abbot they race all through the summer, stick a date in your diaries.
Thanks for reading.
Simon
Bet Goodwin sponsor my blog. They offer BOG (Best Odds Guaranteed) on UK horse racing. Special concessions include a free bet of up to £100 if your selection is beaten a nose, the same offer if beaten less than half a length in a chase, if leading and falling at the last and if second to a horse priced 50/1 and bigger. If you don't already have an account with them. click through below, why not give them a spin. They take bets via their app, website or person to person on the telephone.