Newton Abbot 01/06/22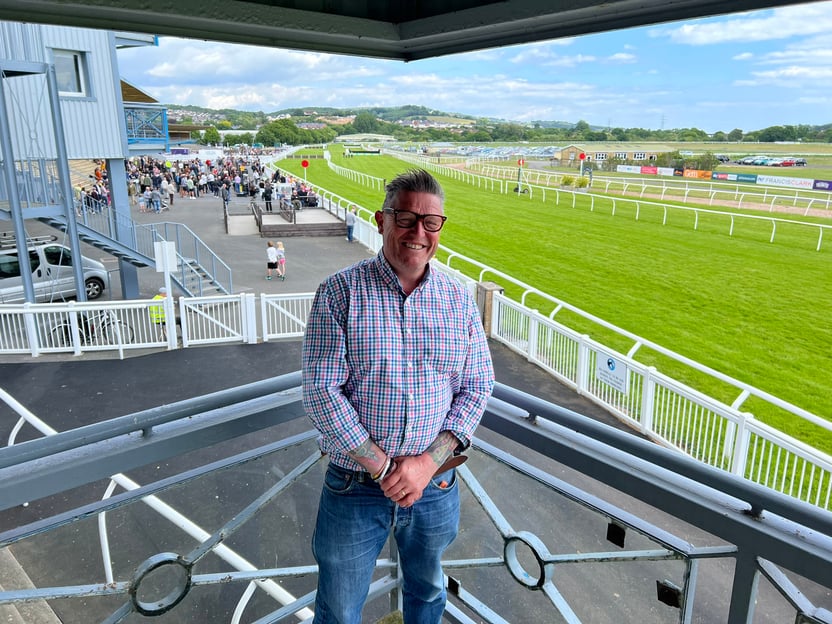 A cloudy but dry day in half term, ideal weather for a Newton Abbot mid-week meeting. It wasn't such good news down in the betting ring. I spoke to my friends Dave and Jane Hazell before racing. They weren't their usual smiling selves, and for good reason, they had over £10,000 cash stolen from behind their joint at Chester. They are understandably gutted, the money had, they thought, been well-hidden in their kit only for it to be stolen when Dave's attention was on taking bets. Beware, fellow bookmakers, people are watching and know you hold cash and will steal off you if they can. Absolutely desperate for anyone but particularly galling when the victims are a lovely family firm like the Hazell's.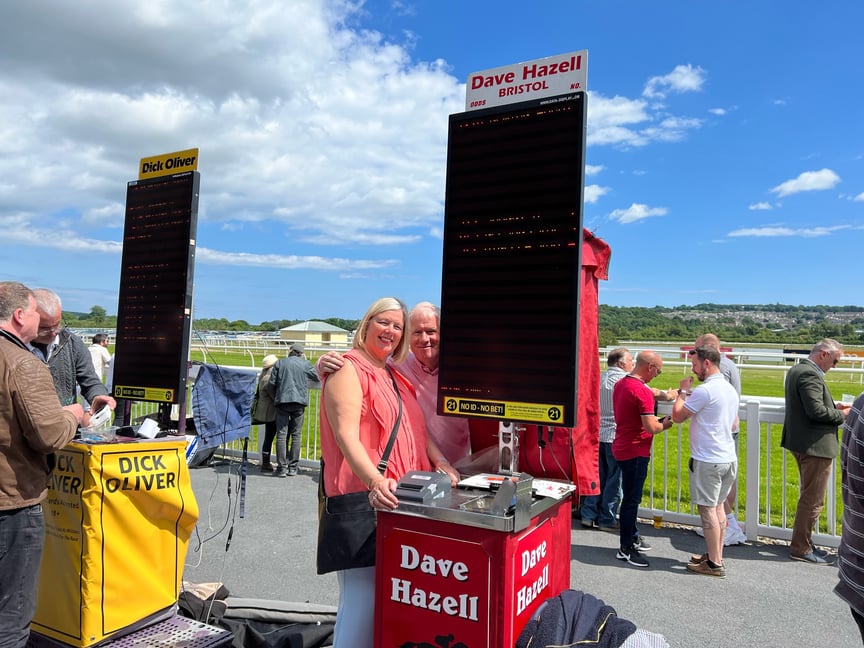 Dave and Jane got some back in the opening Talk Tidy Marketing Handicap Hurdle when a punter had £1000 at 13/8 Kapitaliste and another £200 each-way Agent Saonois at 13/2. Both were beaten, the latter out of the frame behind 7/2 chance Little Jessture for Ben Clarke under Ben Jones beating fellow 7/2 shot Lonimoss Bareliere a head in a driving finish.
Prior to racing, a helicopter landed, the occupants disembarked and were greeted by a trainer of some local repute. I didn't think any more of it given the news from the Hazell's. Five went to post for the next, the St Austell Brewery Handicap Hurdle. Three of the quintet that went to post were priced around the 5/2 mark. The biggest bet I heard of for any of them was a monkey at 5/2 Neil Mulholland's charge First Quest while another punter had a couple of hundred quid on the outsider Humaniste at 20/1. No it wasn't a lumpy betting heat. Both of those punters lost their money when Clearance won the race at 8/1, trained by Michael Blake, a trainer of some local repute, a coincidence? Who knows!
Only three went to post for the Newton Abbot Racecourse On Facebook Handicap Chase, a race that didn't give Newmarket based new racecourse commentator Alex Fussey too much trouble on his first visit to the course. It was a tight betting heat with Joe Tizzard's Nelsons Rock the favourite of the trio. In a roundabout way the race came up trumps for Dave and Jane Hazell. A punter went to their joint and asked for £1500 at 6/4 the favourite when they had 11/8 on their board. As they declined, their neighbour Joe Oliver went half-arm, the punter asked for the bet with him and was laid in full. 'We only wanted to take a bottle out of it' bemoaned his clerk Q Comber as jolly passed the post, the 11/8 winner.
Next up, the Racing Partnership Novices' Hurdle wasn't the sort of race the bookies need with a racecourse full of holidaymakers. JP McManus' owned Dan Skelton trained Quid Pro Quo the long odds-on favourite. Joe Oliver laid a bet of £500 - £2000 but that was apparently all there was on the course for the hotpot. With very little going on in the ring I took the opportunity to have a chat to some of the bookies. It was nice to see Ian back on the Bevan joint. Ian used to be Paul's right-hand man, not anymore, Archie, Paul's son has firmly usurped poor old Ian who used to take the tough jobs driving to Plumpton and the like. I'm a bit gutted too, I always fancied a few days a week with the Bevan firm, so often used to ask after Ian's health, looks like I'm way back the queue now too. Only joking Ian…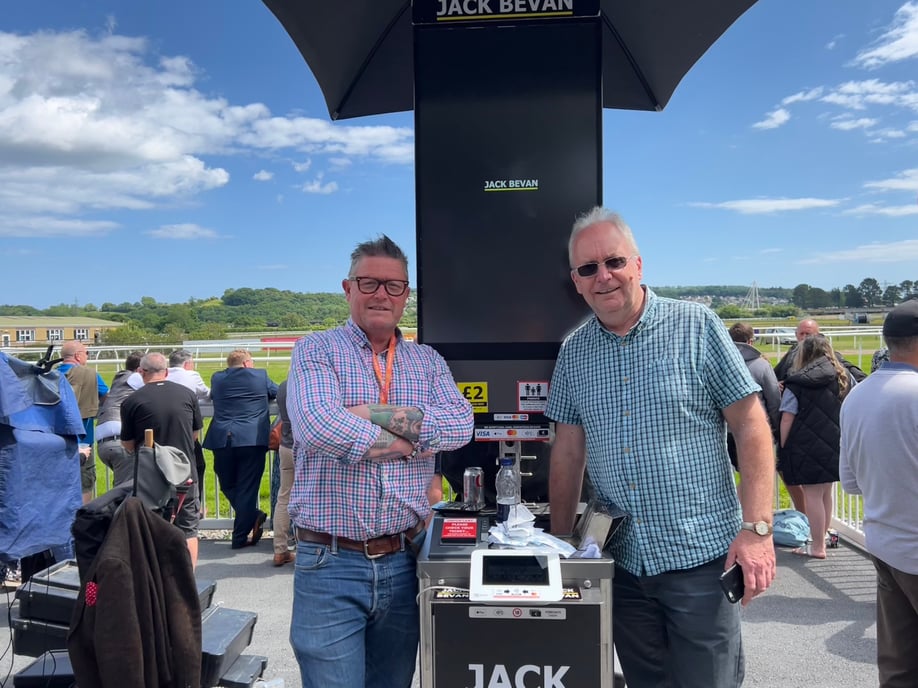 Further up the line and John Lee who bets under George Edwards had already had an exciting morning. While he and his team were packing the vans to come to Newton Abbot and bet in their two pitches here today, the dustbin men inadvertently picked his two lithium batteries with his rubbish. What followed was a Benny Hill style chase with John and his oppo in their van trying to catch the bin lorry while John's wife stood guard at the Plymouth City Incinerator in case their pursuit was in vain. Luckily, the batteries, worth a grand each were recovered before they were disposed of. It's an unbelievable story isn't it, try leaving anything that's not in a bin bag for your bin men to pick and it's normally a million!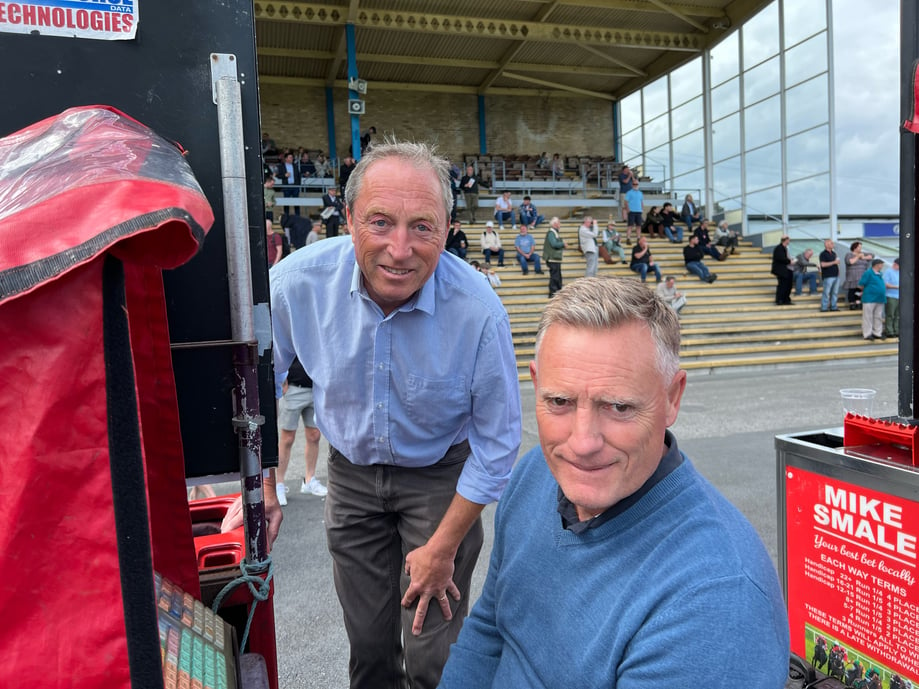 Quid Pro Quo won, returned 1/5, come racing.
I'm still trying to work out how a battery like this a grand a pop and that the bin men even picked them up, that's a fair old double, the treble getting them back again almost priceless and well deserving of an 'Aye Aye!'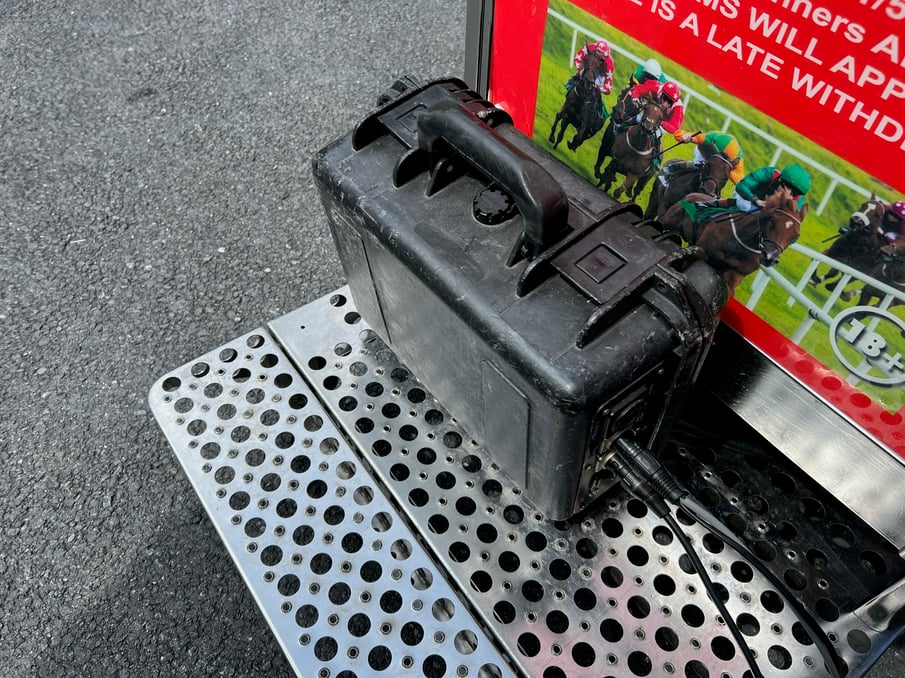 The race before the penultimate, the newtonabbotracing.com Mares' Novices' Handicap Hurdle was run under glorious sunshine and saw six horses go to post. The front two in the better, perhaps unsurprisingly, the best backed. Jack Bevan (established 1897) laid the jolly Danzini to the tune of £700 at 6/4 and Joe Oliver a monkey at 11/8. While the bigger punters wanted the favourite, there was sustained support for Christian Williams' Barden Bella supported from 7/2 into 2/1. The latter landed the spoils for the Welsh raider with the jolly the runner-up. They returned 2/1 and 5/4 favourite respectively, I've said it before and I'll say it again, punters, come racing.
The penultimate Visit attheraces.com Novices' Handicap Chase went to the David Pipe trained 3/1 chance Morgenstern under a determined ride from jockey Philip Armston to beat the easy to back 15/8 favourite Glendruid seven and a half lengths. It's always nice to see a David Pipe winner at Newton Abbot but David was nowhere to be seen. Neither was my old mate Armaloft Alex who had been keeping me up to date with all the gossip this afternoon. Let's hope he didn't back the jolly and chuck his arm in the air too soon.
The concluding Newtonabbotrace On Twitter Open Maiden National Hunt Flat Race which was a fairly lively betting race. Joe Oliver laid a punter an even £2000 Night On The Town early. Crisis Of Identity was nibbled from 20/1 into 14/1, Scoresby was supported from 12/1 into 8/1. The aptly named The Punt was best-backed 4/1 into 3/1, according to Jo on the Ivor Perry joint, money from the shrewd Alan Jones yard is always to be respected. This time it stayed with the bookies. Most of the ring reported that despite being returned 7/2 the winner, the Philip Hobbs' trained Far Sight, under Tom O'Brien was a fair result in the face of support for the others in the race. The bookies paid out those that did back the winner in some lovely later afternoon sunshine. Newton Abbot at it's best, if you've never been, please make a point of coming one day, it's a top day out at the races.
Simon Nott
If you don't already have an account with bet goodwin now could be a good time to open one. They offer BOG - Best Odds Guaranteed, and a whole host of concessions should you suffer an unlucky loser. Better still, open an account with them via the link below and you can get the ball rolling betting with their money by taking advantage of their £10 FREE BET OFFER.