Bet Better with Independent Bookmakers.
My blogs are sponsored by two very different independent bookmakers via their affiliate program. If you are fed up with the impersonal feel you get from the corporate bookmakers, or have been restricted by them, here are two to consider.
Star Sports - Star Sports employ me on a freelance basis to produce #BettingPeople interviews and write blogs for their website via my own musings or reporting from the betting ring. They are also the firm that sponsor the English Greyhound Derby and are famous for laying massive bets. They offer a special guarantee for owners, they can back their own horse win £10,000 from 10am each morning and £20,000 off the show. They take bets over the telephone, via their app, on-line or on-course at the big meetings where they are in attendance.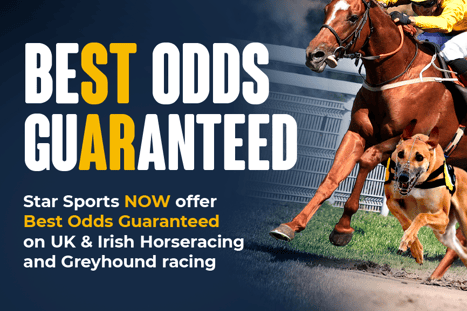 NOW ALSO OFFERING 'BOG'. OPEN AN ACCOUNT WITH STAR SPORTS HERE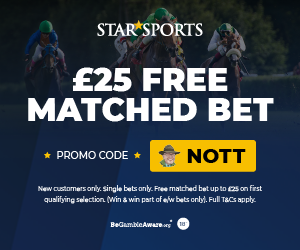 Bet Goodwin are another bookmaker for whom I have an affiliate deal. Now if you're the sort of person that likes a multiple on a Saturday or has a regular recreational punt Bet Goodwin could be for you. They offer BOG and all sorts of concessions to ease your pain if you suffer an unlucky loss, give them a go and get the warm glow of knowing that if you lose a few bob, I'm copping! Julian also puts a fair bit back into racing having a couple or three horses in training with Chris Gordon. Click on the banner below to join them.