Taunton - Betting Ring & Racing Report 16/11/23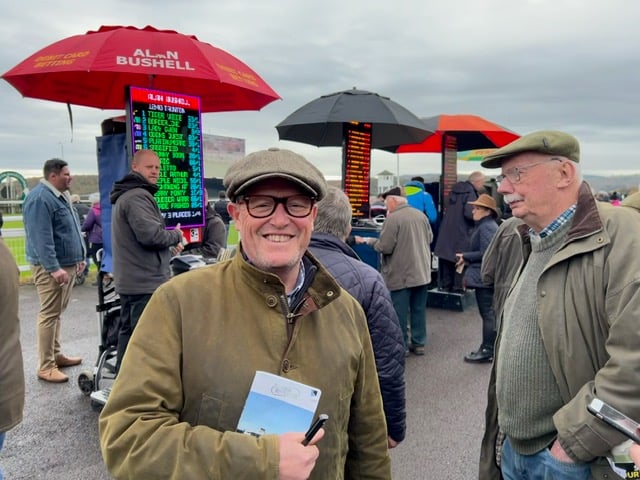 It's fair to say that it wasn't the most inviting weather to go racing in when I arrived at Taunton. It was lashing it down for it's season opener. I don't know what weather forecast the guy directing the carparking saw but he looked miserably underdressed soaked before 11am, it was going to be a long day for him. One chap on course would hopefully have a better day, Sir Rupert Mackeson was in the dry at his pitch by the owners and trainers bar nice and under cover. He was celebrating his 82nd birthday, and doing so in the right and proper manner, selling his new book celebrating Frankie Dettori's classic winners.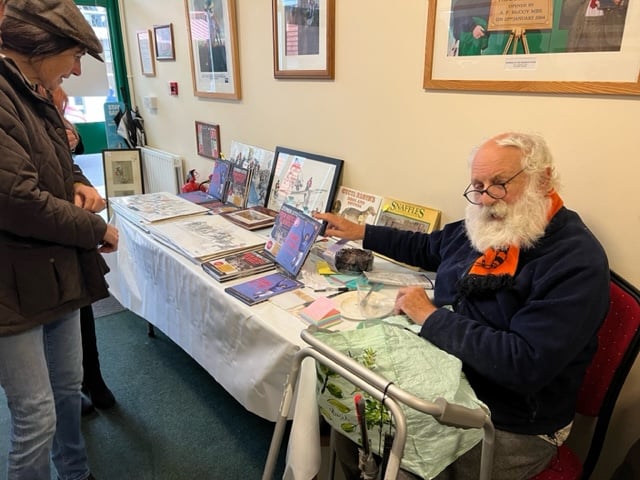 I bumped into top man and commentator Richard Hoiles as I ascended the stairs to the press room. He was dressed up like a trawlerman to walk the course, which did the trick weatherwise, by the time he got back the sun was blazing down. It didn't blaze for long but the rain held off thereafter. The weather forecast evidently didn't put the bookmakers off, there was a long line of them stretching down the track, no doubt in the hope that the punters would be as optimistic. We all got the treble up with the number of runners though, 15 in the opening Jeremy Parsons 60th Birthday Celebration Conditional Jockeys' Handicap Hurdle. The one the market spoke for, at least off course was Chris Down's Merry Monty which was well supported. On course there was a bit of money for Kim Bailey's Lady Gwen at 5/1 which ultimately proved inspired. The mare won nicely under Kai Lenihan from the one the bookies were calling for, 20/1 chance Johnny Boom in gallant second place.
The bookies got it right turning up in their droves as the crowd had swelled into a very respectable size. One of the bookmakers explained to me that Taunton only has 13 meetings this year, so they were hoping for a good turnout at each. There were some old school betting ring faces in evidence too. Punters Big Shaun and Armaloft Alex were too shy for a photo while Harvey Instance and his mate Tony weren't at all bashful. Next up and the Racing To School Bridgwater College Novices' Hurdle Div 1 in which Paul Nicholls' Matterhorn justified odds of 4/11 to win comfortably under Harry Cobden. There wasn't much money in the ring for the short-priced winner but those that bet £100 - £200 a couple of times and £200 - £500 got a bit of value if not excitement for their money. One lady bookmaker was seen rushing around the ring looking for the 6/1 each-way value the runner-up Titan Discovery so if she got on she'd have copped too.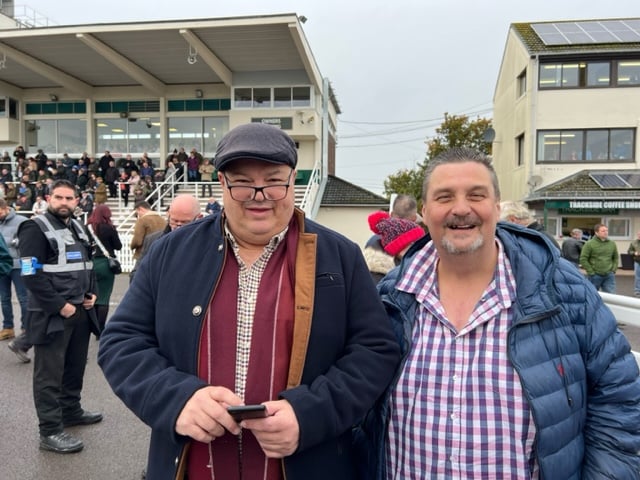 The third race, the second division of the Racing To School Bridgwater College Novices' Hurdle featured another short one in Paul Nicholls' Panjari. The gelding had been a shade of odds on in the morning but drifted in the face of support for Jeremy Scott's Diesel Line backed from 9/4 into 13/8. When I say backed, not to substantial amounts on course. There were just two bets of any note, an even £400 and £200 on Panjari, which won easily, from Breaking Cover providing a double for Harry Cobden, Diesel Line was back in fourth. One for your notebooks, a very respected race reader advised me that Plaisir Des Flos was the eyecatcher for him in the race and should come on for the run next time out.
Next up, and Venetia Williams 5/2 favourite Heros won the Colin Crawley Mad As A Hatter Novices' Handicap Chase under Charlie Deutsch. There no big bets reported by the bookies on the winner but Armaloft Alex was on, 'November is Venetia's month' he chortled as he rushed to the bookies to draw. 'She usually starts winning just after the John Lewis advert goes up' was the back-up quip from a well-known photographer who witnessed the joy. No such joy for the bookies, that was three winning favourites in a row, not great for those taking bets not having them. One of the bookies, down at the tough end of the ring included Barry 'The Tash' Pinno who has been known to venture this far south, and even down to Newton Abbot, but not often. He told me that his mate Eric, working with him at Cheltenham had never been to Taunton so thought they'd give it a spin. I asked Eric how he liked it, 'It seems good for front running favourites' was his observation.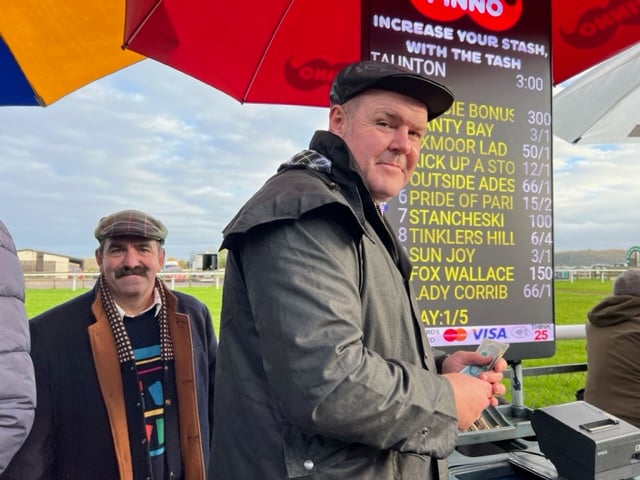 There wasn't a big bet, or even modest sized bet in the ring for the race before the penultimate Age UK Somerset 75th Anniversary Maiden Hurdle so I'll skip straight to the result, Emma Lavelle's Canty Bay had been steadily backed from 11/2 this morning before cruising to a 9/4 victory under Tom Bellamy from fellow 'top of the head' chance Sun Joy and 2/1 jolly TInkers Hill. Try as I might I didn't hear any bookmakers complaining that they'd been clobbered but it wouldn't have been the best result despite looking like most of the damage had been done off-course earlier in the day.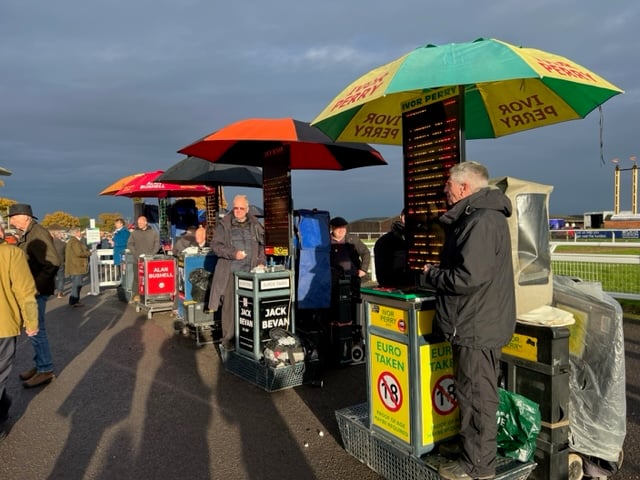 It's not that the bookies weren't doing any business in the penultimate Save Our Sport Sign The Petition Handicap Chase (the link to sign is HERE if you haven't already) or the concluding Thoroughbred Breeders' Association Mares' Handicap Hurdle but the bets weren't in the lumps that people like to read about in these blogs. Grace Harris' Justshortofabubble winning at 11/2 in the former wouldn't have been as bad as it looks as he had been easy to back and 4/1 in the morning. On the other hand Isabella Bee winning at 4/1 for Fergal O'Brien under Paddy Brennan in the lucky last wouldn't have been great as Fergal always has his fans. One big fan as it turned out, a lady went down the line having monkeys and grands on the winner. I'm told she gone on OK because the horse was drifting on the machine. That drift stopped one firm having as much back as they should have, at least in hindsight, at least going by the 'stewards enquiry' overheard in the gents at going home time! Any bookmaker looking to enhance their tank for the next three days at Cheltenham would have done well to do so today. Just look at the smile on Harvey Instances' face, that tells you doesn't it, it looks like he followed her in!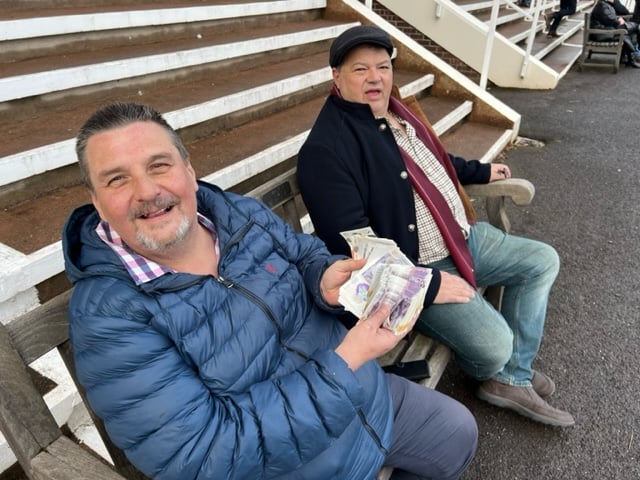 That's where I'll be, back in the betting ring reporting for Star Sports. Look out for my blogs published shortly after the last each day over on their website.
It's good to be back.
Simon Nott