Newton Abbot #Betting report 22nd August 2023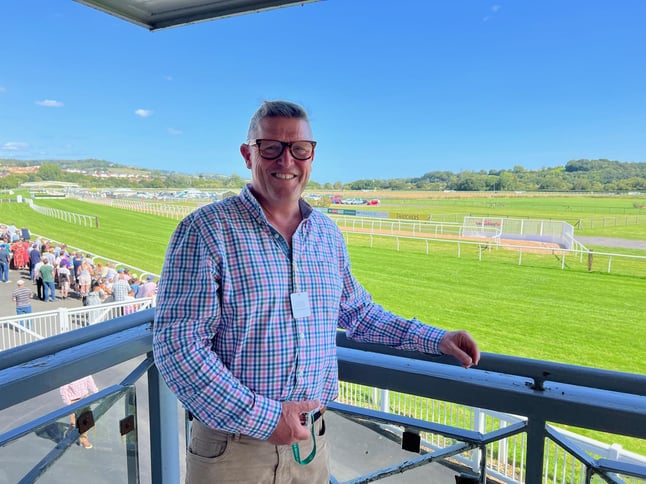 Newton Abbot on a glorious summer's day is a wonderful place to be. It was packed with 'faces' too. Stephen Little and Rupert Mackeson had teamed up along with fellow author Neil Price to promote and sell Stephan's new book 'From Bicycle to Bentley' here. Over on the rails Gary Wiltshire was taking bets from a packed crowd where creams, sun and ice were the aroma of the day. Renowned punter Harvey Instance was in the ring as he often is a gave me a tip for Worcester tonight which is always worth noting.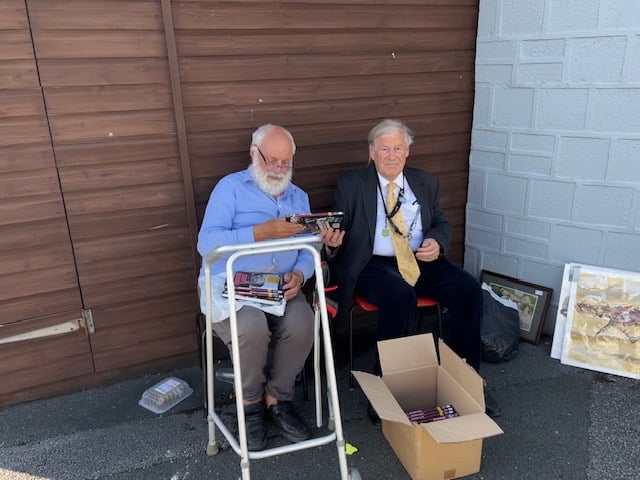 There were just four runners in the first, the newtonabbotracing.com Novices' Limited Handicap Chase betting was light but brisk, one bookmaker did get a £1000 wager on favourite Valentino Dancer which was the biggest bet I heard of. The punter took 4/6 about Fergal O'Brien's charge which drifted to 4/5 by the off. Jumping the last this grand backer would have been happy with his bet jumping the last clear. Let's hope he didn't put his arm up in celebration because Milton Harris' Stepney Causeway found a turn of foot in the shadow of the post under Harry Reed and mugged the favourite on the line. Someone that would have put their arm up had they'd been on, Armaloft Alex said that if he'd backed the jolly he'd be jumping in the river now, only to look out to it and see that the tide was out, just like that punter's luck.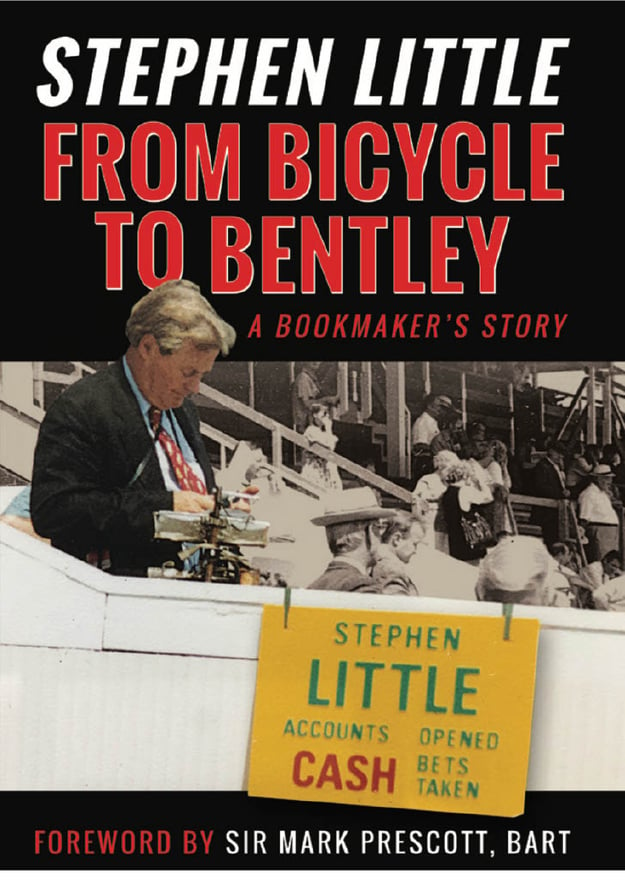 There was action in the second, the Joe And Sophie Finally Got Married Mares' Handicap Hurdle, bets reported to me included £1600 - £400 and £2000 - £500 Isabella Bee and £3200 - £200 each-way Ryder's Rock. The latter was the biggest of several reported at the price, apparently from the same trio of chaps. The punters, at least the lumpier ones, were unlucky again. The 3/1 Saddler's Quest winning under Joe Anderson for Debra Hamer deprived 7/2 Isabella Bee and her backers by a head at the line with 10/1 chance Krannelle an eye-catching third. Let's hope Joe and Sophie had a great day and were on the winner.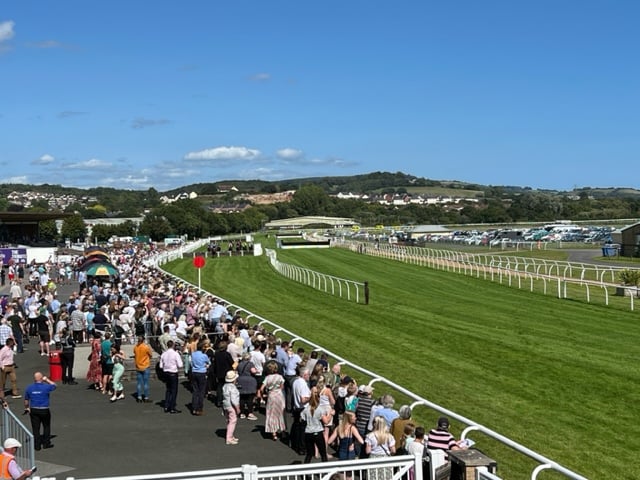 There were a couple interesting bets in the Heather And Jenny Joint Birthdays Celebration Maiden Hurdle, one firm laid a bet of £2750 - £1000 The Geordie Ginge and another £3500 - £1000 Littel Flour. Paul Metlcalfe trading as Jack Bevan (established 1897) laid a £150 reverse forecast The Geordie Ginge and Littel Flour. When I asked him what you do with a bet like that he gave me an impish grin and said 'There's not a lot you can do with it'. Stick it in your pocket Paul, that's what, the intrepid wager was thwarted. Only just though, both he and the punter got a bit of excitement for their money. Wonderful Eagle the well-backed late on-line and eventual 11/4 favourite got up close home under Michael Nolan for Philip Hobbs and Johnson White to deprive Littel Flour under the nose of the the judge. Third placed was the Geordie Ginge. The jolly won again but at least three bookies breathed a sigh of relief.
Over at the book selling and signing the best turn of foot of the whole afternoon was displayed by professional punter Alan Francis when Stephen Little asked him if he'd like to buy a copy of 'From A Bicycle To A Bentley'. To avoid any confusion, the impressive speed was away from, not toward the legendary bookmaker, which must have gone against the grain. Over in the betting ring, Andy Smith was betting as Festival Racing with his daughter Jessica, but looking a bit lame using a crutch to get around. He told me he'd been in an accident and had spent 17 days in hospital but was well on the mind. Mind you, the list of injuries he gave me would put the unluckiest jump jockey to shame so just as well. Wishing Andy a speedy recovery.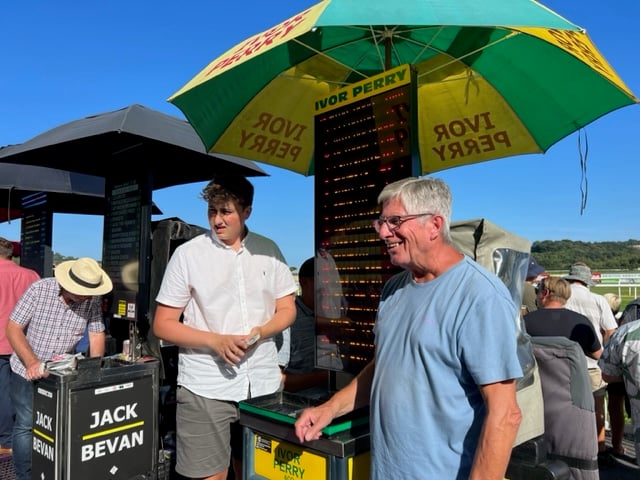 The biggest bet I heard about in the fourth race, the Andy Hobbs Memorial Handicap Chase was £2500 - £1000 Bagheera Ginge, with little else of note. That punter left it behind when his fancy could only manage to finish runner-up behind Joe Tizzard's Investment Manager which won nicely under Brendan Powell. The biggest bet of the day so far was in the penultimate the Talk Tidy Marketing Handicap Hurdle, £4500 - £2000 on Enthused. You have to feel for the punter, just a bit, Enthused was collared on the line, beaten a head on a course where they usually win if they are in front at the last.
The lucky last, the William Hill Leading Racecourse Bookmaker Handicap Hurdle was a real highlight for me. I was fortunate to be offered an owners badge by Roger and Sarah Bush connections of Nigel Hawke's Jack The Farmer. There's a real buzz about being in the paddock prior to a race and was very grateful for the opportunity. Out in the betting ring there had been plenty of money about for the getting out stakes. Ruby's Reward was the subject of some decent bets including £8000 - £2000 which was a fair bet for a competitive heat. Nigel, Roger and Sarah were hopeful of a good run from Jack The Farmer and got one, he had every chance turning for home but ultimately had to settle for fifth behind Nicky Henderson's Lelantos, Nico De Boinville's only ride of the day at Newton Abbot. Despite the obvious tip, yes easily in hindsight isn't it, he returned 8/1. Having said that he wasn't unbacked by the smaller punters but it was another winning race for the bookies that managed to lay the bigger bets offered. That concluded another excellent day's racing in the sun at Newton Abbot, if you've never been, put a 'Newton Abbot' in your diary.
I'd like to say thank you to the people that took the time to say hello and that they enjoy these blogs and work that I do for Star Sports, I'm terrible at remembering names but I really always appreciated it. Oh, and one final thought, did Alan Francis go back and buy one of Stephen's books? I'll try and find out the next time I'm at the races! When I got home, there was a ping on my phone, from Harvey, hoping I'd backed it. You know the answer to that already don't you. Bugger.
Simon Nott
I'll be writing York betting reports including their office, betting shops and on-course business from tomorrow.
Talking of Star Sports, they now offer Best Odds Guaranteed. If you have been holding back from opening an account with them, now's the time to get stuck in. They are on oddschecker too so you can pick them off with BOG at a glance. I'll wait, fill your boots, Click on the link below to open an account with them, there's a bit of commission in it for me too. They also offer bigger playing owners to back their horse to win £10,000 at 10am. Click on the link below, if you lose after opening an account, I get a bit of commission, if you win off them I get nothing, certainly not a pat on the pack for putting a shrewdie into them.
YOU CAN OPEN AN ACCOUNT WITH STAR SPORTS HERE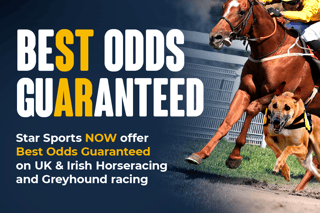 The other independent bookmaker I have an affiliate deal with are Bet Goodwin. If you've not got an account with them, it might be worth giving them a spin too. They also offer BOG but also specialise in special offers to compensate for bad luck you might suffer, falling at the last, being beaten by a rag etc. For full details please click on the link below where there's a money back offer, I get a few quid if you do your money with them, support your independent bookies.