Ascot 29th October National Hunt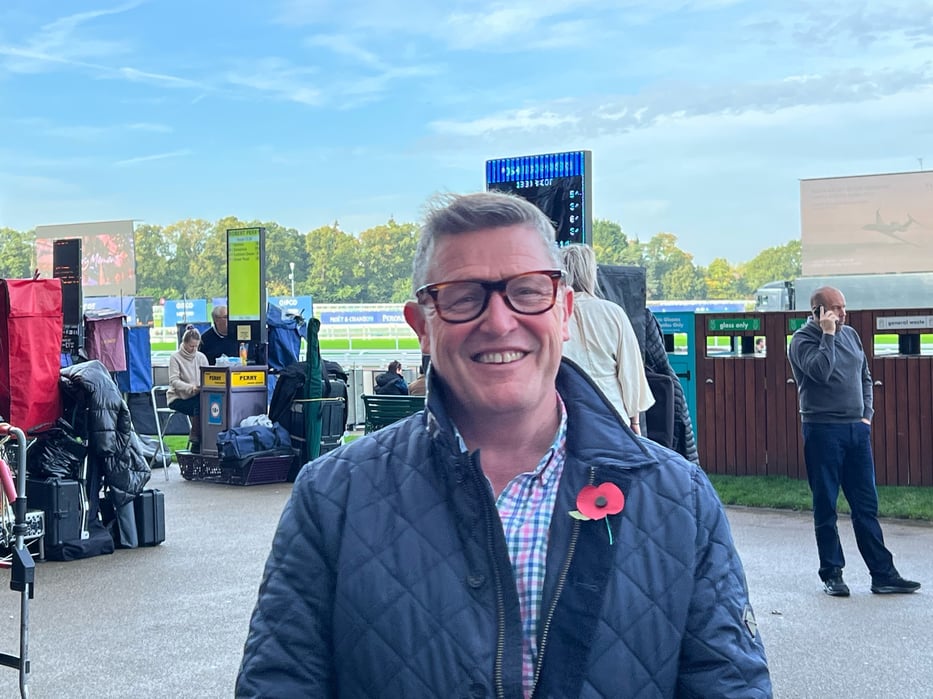 Ascot Racecourse is a different place when jump racing starts, just that little bit more laid back and earthy. My memory may be playing tricks on me, but I'm pretty sure the betting ring used to be partitioned by a fence when the flat season ended. Anyway, it now stretches the length of the stands, there's a lot of room for people to rattle around but it still looked OK for the books down that end. There's a different list of bookies for the jumps that the flat too. Veteran Warrington bookmaker Ron Wadey has just bought a pitch on the rails, his son Colin was working it and seemed pretty happy with the business.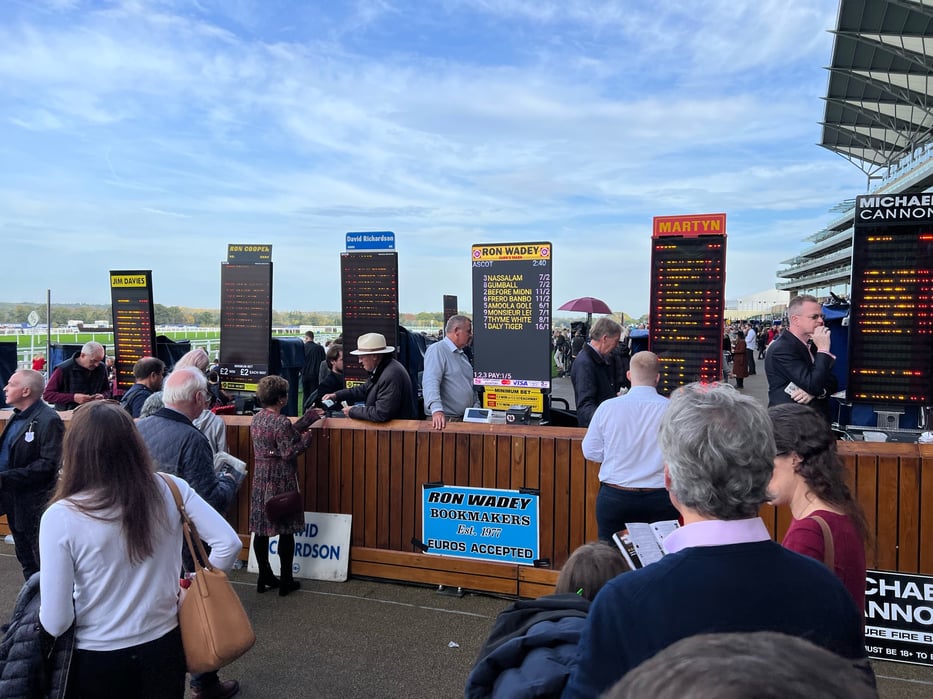 Four went to post for the opening Ascot Underwriting Novices' Limited Handicap Chase in which Goshen was sent off 11/8 favourite where reported bets of £550 - £400 twice and a grand at the price solidified his position. Samarrive attracted a bet of £5500 - £2000 laid by a bookie who told me 'From a punter I can't beat'. Another rails layer told me that someone was trying to get 'chunks' on at the off. In short, they were all backed in their turn in a steady market propelled by the odd lump. The jury is out as to whether Samarrive would have won hadn't he fallen two out. He did though, leaving 9/2 outsider of four Gowel Road to coast home unchallenged, Cobblers Dream finished runner-up while the jolly tailed in last having run no sort of race. It was a welcome good start for the layers, though Swampy on the Sid Hooper joint did bemoan laying a 'clever point to point guy' the winner at 11/2 which was ultimately over the odds.
Next up and the Bateaux London Handicap Hurdle, I struggled to find a decent bet in the ring, but business had been brisk with plenty of lower three figure wagers in the hods. Anyharminasking had been the subject of some early trade interest at 9/2, compounded by public money later on. The larger punters didn't get involved. For those that did, only backers of 'The Master Trainer' Chris Gordon's runaway winner Highway One O Two making all under Gavin Sheehan would have had any sort of thrill such was the ease of his win. Always good to see the Chris Gordon yard flying.
Speaking to bookie Simon Holmes before the Byrne Group Handicap Chase , he was very pleased with the size of the crowd. He admitted that they weren't really a betting mob, this was billed at the 'Fireworks Spectacular Family Raceday' after all. He added that as long as the racecourses kept doing a great job of getting the crowds in, betting would follow. There was plenty of betting going on up on the rail, the trouble was they all wanted to be on the one horse, Gary Moore's Nassalam. Bets of £2700 - £600, a couple of monkeys at 9/2 and a £1400 - £400 were noted by me. The gamble went astray, punter knew their fate quite early on. Frero Banbou, weak in the market after having been backed in the week did his best to win from the front but a couple of minor jumping ricks cost him the lead. Paul Nicholls' 9/1 Thyme White took the race by the scruff of the neck under Lorcan Williams between the last two and ran on to win from Frero Banbou who looked well-beaten then showed some mettle to run on again. Spare a thought for bookmaker Tony Styles who was unable to come today, Linda next door to where he'd have bet assured me he'd have been looking at the results on the TV and counting why he might have won.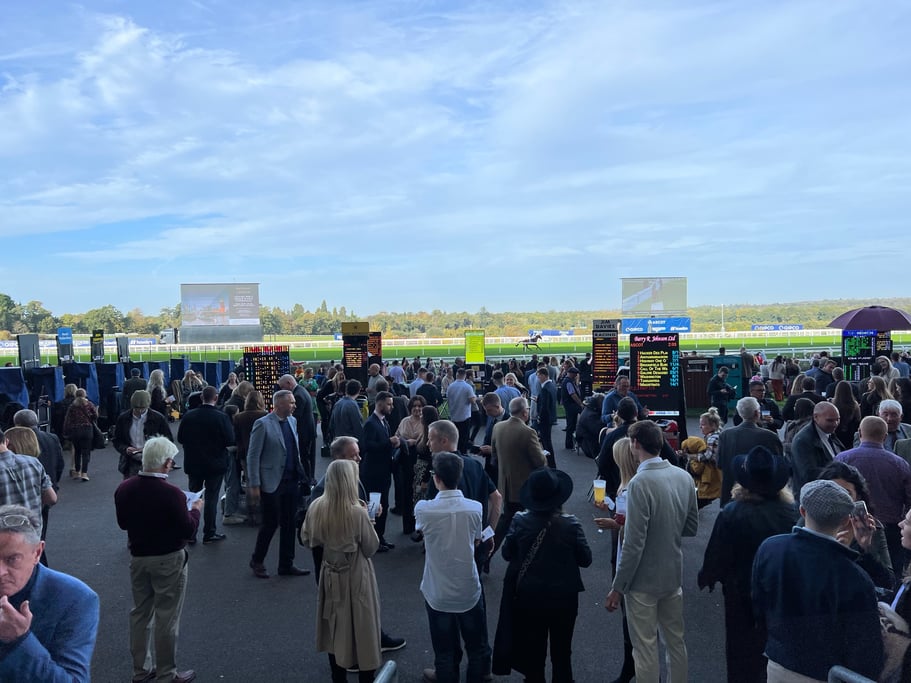 He's a very nice chap Tony, but even that genuine gentleman of the turf would have allowed himself a little smile and visualised the pile of 'might have won' money shrinking a bit when the Sam Thomas' 11/2 second-favourite Our Power got up after the last under Charlie Deutshu to deny 12/1 Danny Kirwan in the Bateaux London Gold Cup Handicap Chase. The 5/1 favourite Tea Clipper was third, in a race where each-way betting would have been popular, wouldn't have helped the books either. In reality, betting was just small and steady, as you'd expect in a 5/1 the field heat.
Bookmakers have different ways of doing things, some old boys would spin in their graves if they didn't bet overs when possible and others would have done a double spin at the very thought of it. There were those that stood every favourite for a certain amount and so on. An opinionated bookmaker has to be very good to make it pay. 'The Master Trainer' Chris Gordon's Leave Of Absence opened at even money and was backed into 8/11 for the GL Events Novices' Hurdle. There wasn't a fortune for the gelding on course but I did hear of a few roufs and monkeys at various prices down. One layer who shall remain anonymous was having a right old lean up the jolly. I've seen video nasties with less claret than his book, virtually the only green in it was the favourite. He saw my expression and announced defiantly that he'd backed it at 7/4 last night and besides' 'It's a novice hurdle'. Proform users, tell us if there's anything in going for jollies in Novice Hurdles please. Anyway, that was his book. Several bookmakers reported money for Gary Moore's Invincible Nao, including a bet of £4500 - £500 each-way which was really the only other one supported on course. The bookie with a sea of claret copped, the backers of Invincible Nao did their money, even on the places, and Tony Styles would have imagined giving a lump back from the 'what he would have won' pile and felt better about missing the day. Leave Of Absence won nicely under Tom Cannon at 8/11 and The Master Trainer copped a Saturday double on the card.
Chris Gordon had a sporting chance of a treble in the penultimate Grundon Waste Management Conditional Jockeys' Novices' Handicap Hurdle where he saddled Alto Alto partnered by Fergus Gillard. Surprisingly the combination were easy to back in the ring, 10/3 drifted to 4/1. Mind you, that's easily explained as not a negative for the horse. There was a real move for Emma Lavelle's Dream In The Park, 'The bag men are on' one bookie told me. Indeed it seems they were, at least one of them was, to the tune of £4500 - £2000, other bets included £900 - £400 and £1125-£500, the latter was laid by bookie Simon James who makes the trek up from Plymouth. Dream In The Park wasn't the only one supported, there was also money for Sophosc with bets of £1750 - £500 and £1400 - £400 recorded. After what had been a lively betting heat, we were treated to a humdinger of a race. Fergus Gillard rode what looked to be a winning ride on Alto Alto with a brave jump at the last overhauling the favourite and take it up on the run-in, the bookies cheering them home. I'd already started thinking of the superlatives to splurge congratulating Chris Gordon on his treble in this blog. My words and those premature celebrations were stifled as the treble for Chris Gordon and a cop for the layers was cruelly snatched from all their lips. Jockey Jack Wildman got Dream In The Park back up to win a neck at the line. The winner's name flashed up on the big screen informing punters that the SP for those that backed at home was 6/4. 'Did the right price there didn't I?' laughed Simon James stoic as ever. Swampy was more upbeat, 'The first two home were the best two in the book for me' he beamed, 'Hooray' then added, 'But I lost on the race laying the forecast'. 'Boo!' Meanwhile, somewhere not at the racecourse Tony Styles would have seen the result and forgotten all about that pile of imaginary 'what I would have won' money, and possibly allowed himself a little smile.
The Lucky Last, in this instance, the Molton Brown Standard Open NH Flat Race looked a hot heat where they opened a tentative 3/1 the field early. With 10 minutes to got before the off, I wandered down the line asking if there'd been any action. I got 'dead', 'more like a point to point', 'very small' then '£10,000 - £3000 Billy Boi Blue' which was a bit of a shock. I was also told that there had been consistent small money at big prices for Ledders at 66/1 and Bar Thyme at 50/1. None of the aforementioned made the frame, no doubt to the relief of the firm that laid the lumpy one. The race went to Paul Nicholls' original favourite, returned 7/2 chance Fire Flyer which won nicely under Lorcan Williams. That was a double on the card for both trainer and jockey and concluded an excellent day on the turf. There were fireworks to follow, but I'm heading back to the Shire. The next blogs from me will back back to back Exeter and Wincanton next Friday and Saturday, the big Westcountry Weekend, Thanks for reading.
Simon Nott
Bet Goodwin sponsor my blog. They offer BOG (Best Odds Guaranteed) on UK horse racing. Special concessions include a free bet of up to £100 if your selection is beaten a nose, the same offer if beaten less than half a length in a chase, if leading and falling at the last and if second to a horse priced 50/1 and bigger. If you don't already have an account with them. click through below, why not give them a spin. They take bets via their app, website or person to person on the telephone.