Exeter's Back! Betting Ring Report 18th October 2022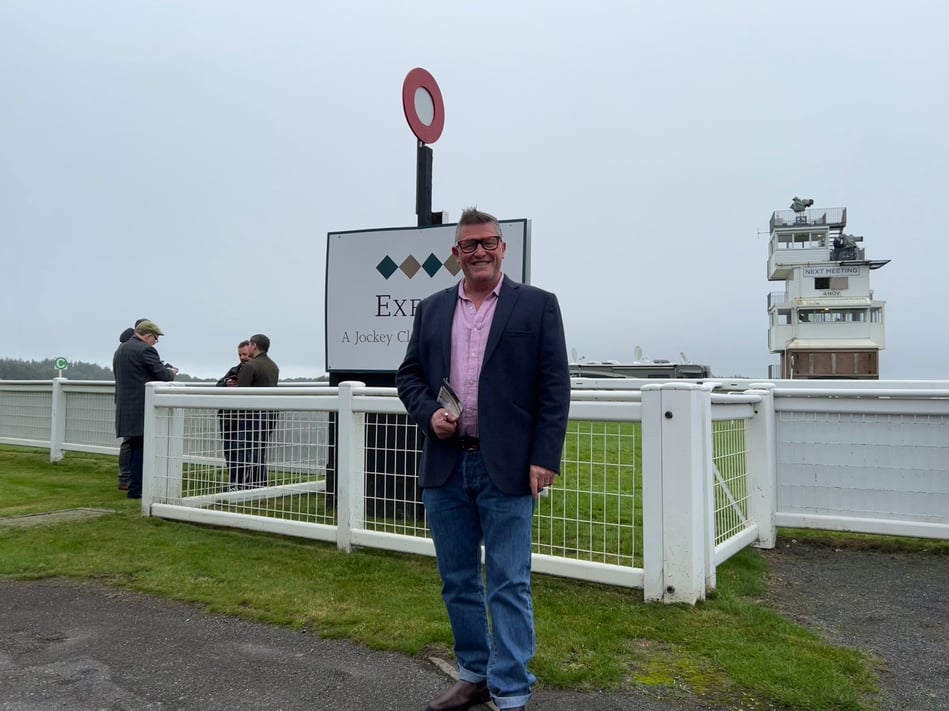 We're back at Exeter, a meeting late, but as always, it's great to be on top of Haldon Hill where the racecourse is perched. By the time I'd got back from my brisk morning walk this morning, Mrs Nott had gone to work, but she left a note saying, 'Wear what you like but I've laid something out for you'. I'll point out that it was sunny in Witheridge and Mrs Nott has never been to Exeter Racecourse. I'd look well turned out because Mrs Nott has impeccable taste, but I'm glad I wasn't working on a pitch, it's often degrees colder up here and today was no exception. 'You should know better, how many years have you been coming here?' was Betting Ring Manager Andrew Collins' summing up as the drizzle got thicker. Archie Metcalfe hasn't been coming that long, but his family have for five generations, I guess they all learned the hard way!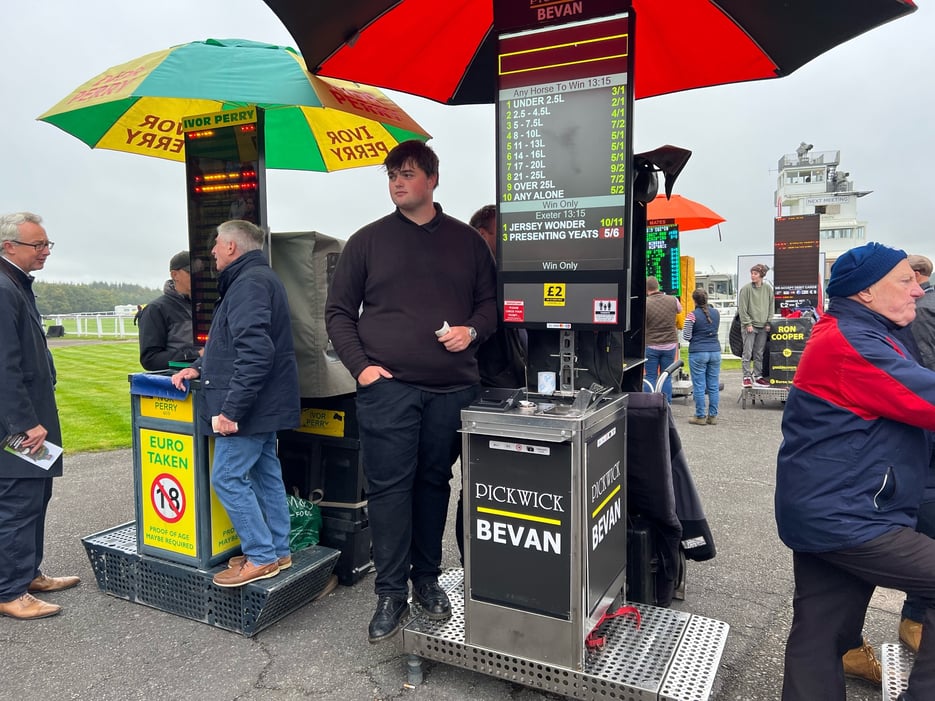 The opening Exeter 'Challenger' Staying Handicap Hurdle was reduced to a match between Jersey Wonder and Presenting Yeats. The market could hardly separate them, though the racecourse was devoid of any big bets for either. The horses could hardly separate themselves in the race which was as good as you're likely to see in a match. They jumped the last neck and neck, impossible to pick between the two before Paddy Brennan managed to urge Milton Harris' Presenting Yeats clear on the run-in. The Industry SP was a rather cheeky 10/11 second-in the winner.
I spoke to professional punter Alan Francis between races, he didn't envisage getting too involved today. He was interested in the Racing TV Profits Returned To Racing Amateur Jockeys' Handicap Hurdle where he thought jockeyship looked like it was going to play a big factor. Caspers Court ridden by Josh Newman and Mi Laddo piloted by James King were backed accordingly. The market got it wrong, it was 10/1 chance Herecomeshogan trained by Martin Keighley that won, ridden very stylishly by Mr Harry Atkins. Big bets were rarer than shorts and flip flops in the ring, but the layers did report a good winning race. Caspers Court had been as big as 9/2 with the on-course bookies and finished runner-up returning 9/4 favourite.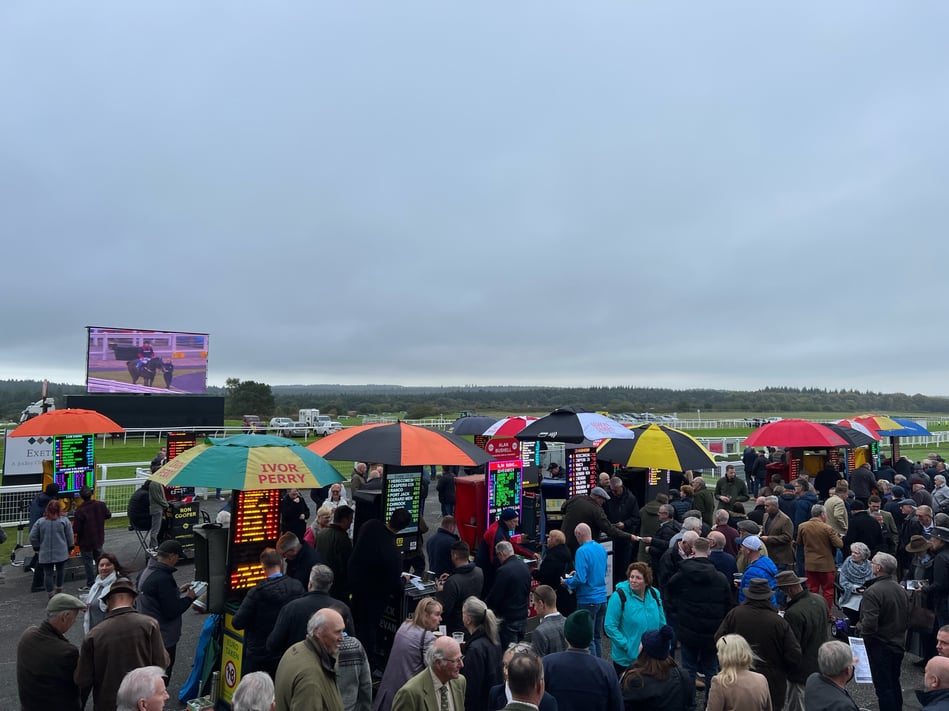 Next up and the Paul Ferguson's Jumpers To Follow Best Mate Chase Handicap Chase. There were just four runners but a competitive heat none the less. 'Nobody knows!' was Jo on the Ivor Perry pitch summing up. He added, 'We've laid every horse plenty of times, but to small amounts.'. It was a similar story around the ring. I didn't appear that there was a big staking punter on course today, but the modest bets were keeping the bookies busy. Over on the Norman Barnes joint, bucking the trend, Jack Barnes told me that they'd laid a punter £300 Mr Mafia. Jack is a third-generation bookie, Derek, father, on the keys today, took over from his father Norman when he passed away in the early 1990's. I mistakenly assumed that Jack had been named after Jack Lynn, but no, Derek told me it was actually, his and Jack's great uncle, his father's brother. He was apparently well-connected, bet in modest stakes and win every season. Jack has also been coming racing a while, he had a nice warm coat on. David Pipe's Red Happy was sent off at 9/4 and won the race nicely by three and a half lengths under Tom Scudamore. At least one well-known Westcountry face was on, 'I had little bets with six of them' he told me, beaming from ear to ear. As much as I'm fond of the bookies I do like to hear of punters having it off.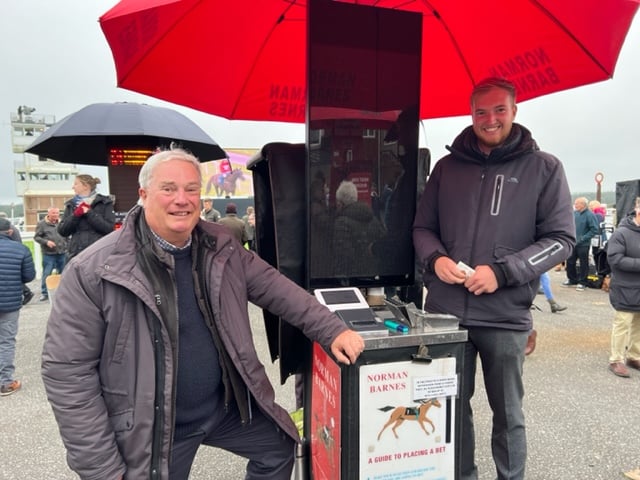 The on-course bookies were taking no chances with Paul Nicholls' Lallygag in the Watch Race Replays At racingtv.com Maiden Hurdle. He was the hot favourite of the trio that went to post, as short as 1/20 when the first prices went up. You'd still have been hard pressed to beat 1/10 when they set off, but rivals Vanderbilt and Dannystory had opened 12/1 and 16/1 respectively. As you'd expect most of the punters here either backed the outsiders or had a go on the forecast. Jack Barnes told me that they'd laid a bet of £400 - £500 the jolly to beat Vanderbilt but that he'd hedged some of it at 10/11 with another bookie. He'd have been glad that he did. That was the way that they came home, poor old Fergus Gillard on the runner-up did his utmost on his mount but Harry Cobden had far too much horse under him and sauntered to a very cheeky win by a couple of lengths. That wouldn't have pleased the punter that had it spark off with in the previous race, he had told me that the bet of the day had been for Lallygag at even money with Skybet to win by over 15 lengths. Incidentally, the forecast off course paid £1.75 come racing.
On paper, the Racing TV HD On Sky 426 Handicap Chase was far more competitive, but still resulted in the market leader winning. Though backers of Jackie de Plessis' jolly Forget You Not were better rewarded at odds of 15/8, bigger earlier. The largest bet I heard of was a couple of hundred quid at 2/1 and a similar bet on the runner-up Pens Man which returned 10/3 second favourite. I'd like to give previous Star Sports #BettingPeople interviewees, professional punters Mark Holder and Andrew Lowrie's new 'Pro Bet Podcast' a mention. I'd like to think they've become friends of mine since I interviewed them, they are both top chaps and this really is a great listen if you aspire to bet profitably for a cumulative 50 odd years as these two have, here's the link https://probetpodcast.buzzsprout.com/
The penultimate Love Devon Legends Novices' Handicap Chase featured flip-flopping favourites; Jamie Snowden's Braveheart opened 2/1 but was usurped by Philip Hobbs' Majestic Merlin backed from 7/2 into 9/4 whilst the former took a walk to 5/2. Meanwhile the Barnes firm laid a bet of £1500 - £150 each-way Begoodtoyourself, a fair bet to lay in a seven-horse race. That one could only manage fourth behind victorious Braveheart which belied market weakness to win by nine lengths under Jonathan Burke. Majestic Merlin was pulled up, the assumption being something amiss as the betting suggested more was expected. At least Derek Barnes would have been happy, but sadly no, he told me that the winner was no good despite the each-way bet being beaten.
The concluding South West '3 Yrs Old' 'Junior' NH Flat Race had been the talking race of the day. That's because not many people would expect to see 'a Frankel' running up here at Exeter. Archie Watson's Poleman is just that, picked up for 17,000 guineas in July. 'I'm on' said a local shewdie who told me that he'd been having a good day. Meanwhile, down on the Ron Cooper joint, Athena has never been to Exeter before. She had been braving it out taking bets all afternoon, sans coat. She told me a couple times she wasn't cold, I had a feeling she might having been telling fibs. When she borrowed a substantial hat, I was pretty sure she was. Jeff, who was well wrapped up behind the joint, if you've had a winning day, buy her a coat mate! Back in the betting, Ralph Beckett's, Daryl Jacob ridden Twentyfirst Lancer was the other one the punters wanted in the betting and made tips-on favourite to win the race of the five that went to post.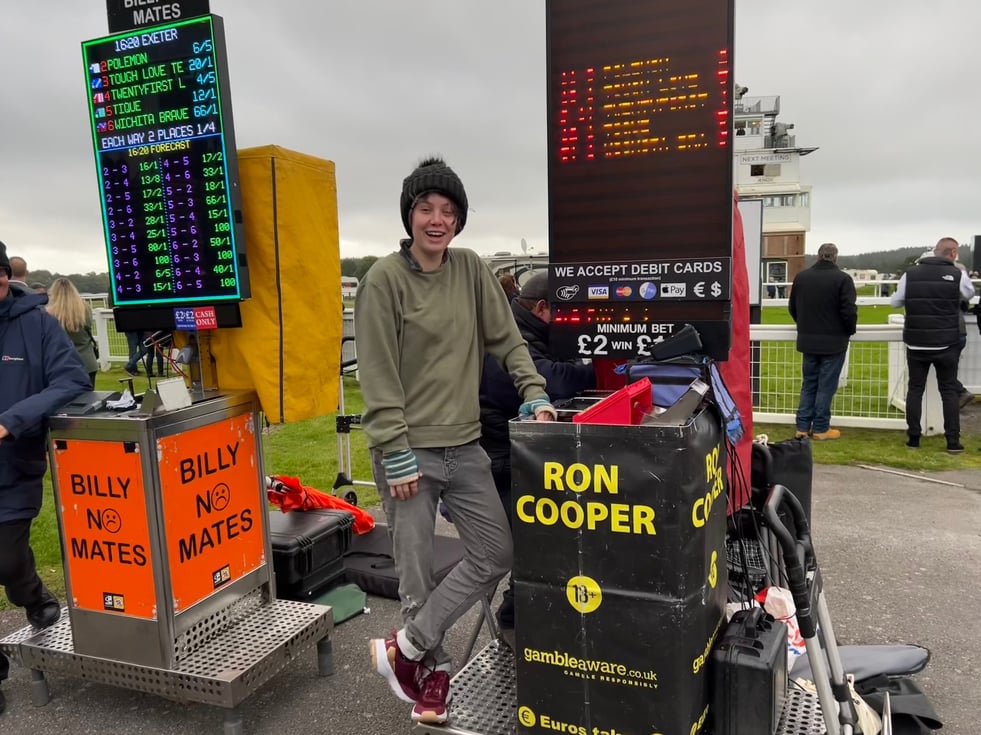 Sadly, for backers of Poleman, he doesn't appear to have inherited his father's ability and finished third. Up front there was a hell of a tussle between the jolly and 12/1 chance Tique. The latter really gave the favourite a scare and the bookies' hope in equal measure, going down by just a shorthead in a photo. The bookmaker's misery was compounded, given the virtual rubdown by a Rizla reversal on what could have been the getting out stakes. Still, we'd all been reaquainted with Exeter and Archie and Athena have learned that a coat's handy at Exeter, sadly there are unlikely to be any honours today to pay for one.
Simon Nott
Bet Goodwin sponsor my blog. They offer BOG (Best Odds Guaranteed) on UK horse racing. Special concessions include a free bet of up to £100 if your selection is beaten a nose, the same offer if beaten less than half a length in a chase, if leading and falling at the last and if second to a horse priced 50/1 and bigger. If you don't already have an account with them. click through below, why not give them a spin. They take bets via their app, website or person to person on the telephone.