AK Bets at Punchestown Festival 2023 Wednesday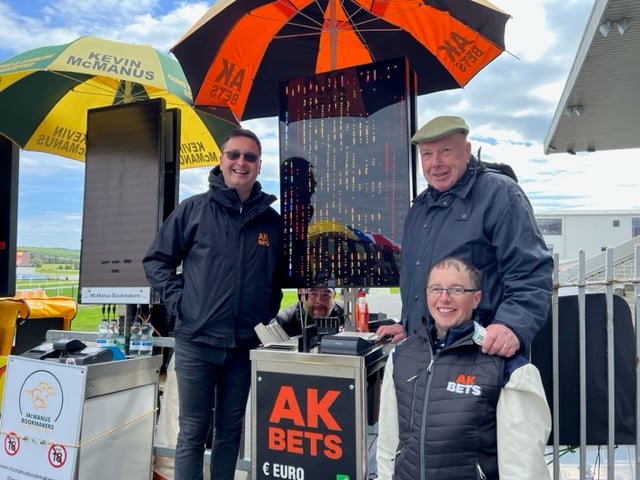 Day two of Punchestown and it was warmer than yesterday and promised to stay dry so a day to look forward to. We were all treated to a meal in Dublin last night so nicely fed after a good winning day. It was booked prior though so don't worry it wasn't a case of knocking out the winnings prematurely. AK was a non runner today due to other commitments so it was Dave Tyrell at the helm in Tatts then Des, Tony, Graham and Jamie on the rail. Dave O'Reilly was up in the corporate charming the gentry. Des was a bit miffed his photo didn't appear in yesterday's report so he's up in lights with his team today.

Before racing I met one of my Irish racing heroes Kieran Fitzgerald whose twitter account I follow but have never met the man, it was a real pleasure. That followed by a visit from Simon Banks, Rachael and Paul Wing from the greyhound scene as well as horse racing. Betting on the opening Adare Manor Opportunity Handicap Hurdle started a bit slow but picked up near the off. There were plenty of decent bets taken but without any real chunks. At the off, the jolly Unanswered was the bogie for a couple of grand with a handful more horses losing a few hundred apiece. The winner Ballybawn Belter wasn't one of them and the book copped €1500. The winner returned 17/2 but you could have beaten that easily on course 9/1 at the off with AK. In other news, it was so sunny I had to shed my coat.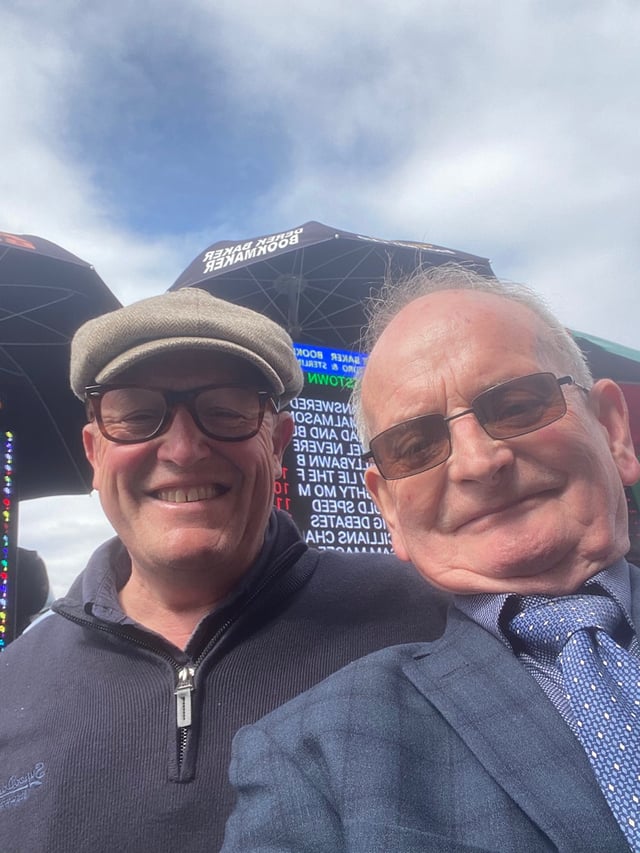 Betting was better in the next, the Connolly's Red Mills Auction Hurdle looked easier on paper with fewer runners. The rails pitch laid a monkey the at 9/4 Three Card Brag but the jolly Sandor Clegane also appeared to be popular as other bookies were calling in hedge bets. The Tatts pitch was steady but not lumpy with several sterling bets including Johnny from Manchester who has been coming here for years and asked for a mention. Also spotted was Q Comber who was still hanging in there but his pint looked more of a challenge to him than a pleasurable beverage. Senior Chief had been well backed on the rails pitch which ensured it was the worst in the book losing €2000 at the off. The jolly Sandor Clegane won the race, the book won too, €1500, which was very handy indeed. Stop seething Tim Brown.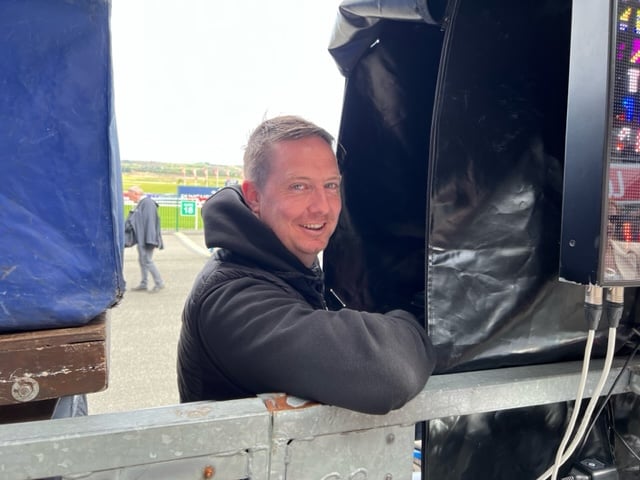 A gentleman I met marked my card that Grangeclare West was the nap on his well marked card for the third heat, Louis Fitzgerald Hotel Hurdle. He opened at 6/4 so a move was expected and came, a monkey at the price on the rail. I had a bit of a shock during betting, I thought we'd been gassed by some sort of noxious weapons grade stink bomb. But no, those in the know said it was a flatulent punter nearby renowned for 'silent but deadlies' that had been responsible but of course it could have been anyone. In the meantime, the firm laid another monkey the jolly, this time at 7/4 having drifted. There was a delay to the race, nobody seemed to know why, but the punters had settled into the stands and stopped betting. The favourite was a loser this time blowing €2500 in the book should it win along with 16/1 chance Port Stanley, laid at 25/1, losing €1000 too. The gentleman card marker was right, Grangeclare West won the race and the firm had the first losing heat of the meeting.

Gaelic Warrior was the subject of very early skirmish bookie hedging at 5/6 in the fourth, the Irish Mirror Novice Hurdle which resulted in a rapid collapse only for it to bounce back out again. That may have been partly due to money for Salvador Ziggy backed from 6/1 into 9/2 including a bottle each-way at the top price. Late on they came for the favourite again, the 5/6 went in a flash followed by a flurry of punters that had been stood back waiting for evens trying to bet 5/6 when it was 4/5, you can't change punters. As the horses were going down a group of ex professional footballer Dave Tyrell's fans started chanting 'Tiddler' from the stands. I say fans, he said that when he played against Shelbourne they'd give him abuse from the terraces then go for a pint with him afterwards. At the off 16/1 chance Favori De Champdou was the bogie losing a grand with the jolly also losing over a monkey. Well, what can you say, the favourite sprinted clear impressively and the book lost again.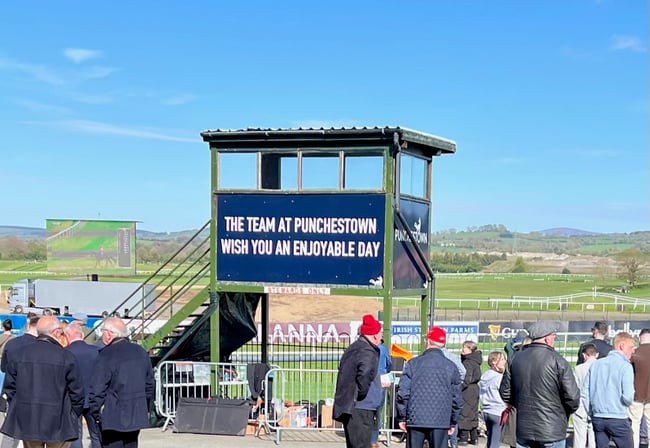 The sun had disappeared behind the stands so coat was back on for the The Ladbrokes Punchestown Gold Cup. It was an expected to be the race everyone wanted to see but weren't going to bet on. That was sort of proven true but punters did get involved just betting each-way to very small stakes. There were more €2.50 each-way bets in this race than I've seen in all the time I've been writing betting ring reports from Ireland. Nobody wanted to back the 4/11 favourite Galopin Des Champs instead backing everything else, mostly shrapnel each way. They all added up too, at the off everything bar the jolly and Fastorslow was losing, Envoi Allen the worst taking out €9000 should he win. Well there was a turn up, Fastorslow won the race from the favourite. The book won €2300 despite not laying the runner-up to bets of any size which skinned the places. The winner had been 28/1 and returned 20/1 so not unbacked, just not with AK Bets.

Next up the Race & Stay at Punchestown National Hunt Flat. One thing I've learned quickly is that Irish punters love a bumper. The first bet in the book was £1200 at 5/6 A Dream To Share, the second £10,000 - £500 each-way Rath Gaul Boy followed by plenty of others to decent sums. At the off the favourite lost a monkey with no prizes for guessing the bogie. The favourite won under John Gleeson which was a popular winner with the punters while the absolute bogie unplaced was popular with AK Bets. A punter came up after the race having lost his winning ticket, winning tickets are like money, you need to look after them. Graham explained this to him, he eventually understood and went off with an email address to contact to claim it. A calmer exchange was when a punter came to the joint lamenting that the Racing Post no longer publish big bets in their results section. I agree, it's sad they are no longer in there I used to love reading them but you can at least get some of them here!

Ilikedwayurthinking was the punt in the penultimate Handicap Steeplechase backed steadily at 7/1 and would have lost €5000 had it won. Luckily, it didn't run as well as the punting public expected it to while Hereditary Rule outran his odds of 14/1 and was a cracking result to get the firm back on a winning footing going into the lucky last.
The concluding bumper was quiet betting wise but judging by some lewd comments made by a fella to Elizabeth on Derek Baker joint next door it appeared there were time travellers from the 1970's in evidence. Well at least I thought so until he started calling her Cleopatra so God knows when he came from, only Guinness can do this! Luckily for him Elizabeth laughed his remarks off instead of clobbering him back to the future which is what he probably deserved. Back in 2023, the favourite Fun Fun Fun was popular but only to modest money though up on the rails they laid €100 each-way twice 40/1 chance Miss Gherkin which made the book interesting. Having said that the punters love a bumper they didn't get stuck into this one. 4/1 winner Junta Marvel copped a bottle in the book, the bogie was out of the money too and concluded day two with another winning race. Just when it appeared the last had been a non event word came from Dave O'Reilly, the corporate punters had lumped on the jolly and he'd copped €4000 plus up there. An OK day had just turned into a good one. Aye Aye!

They tell me we might get soaked tomorrow, let's hope not. Still, whatever the weather we'll be back. Thanks for reading.
If you enjoy these betting ring reports can you do me a massive favour and please share them with one of your mates. Thank you!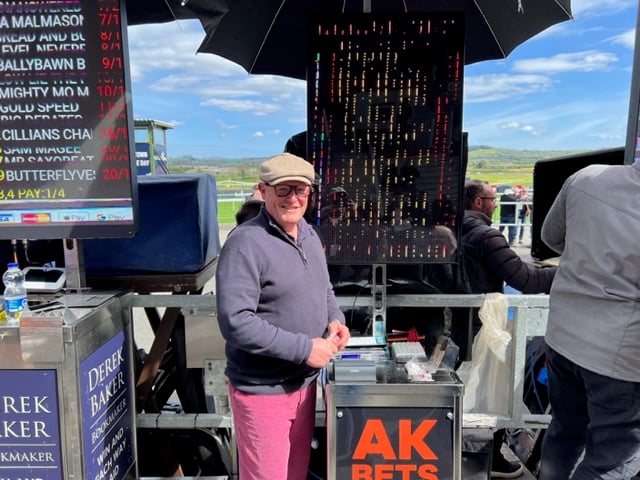 Simon Nott