AK Bets at Punchestown Festival 2023 Tuesday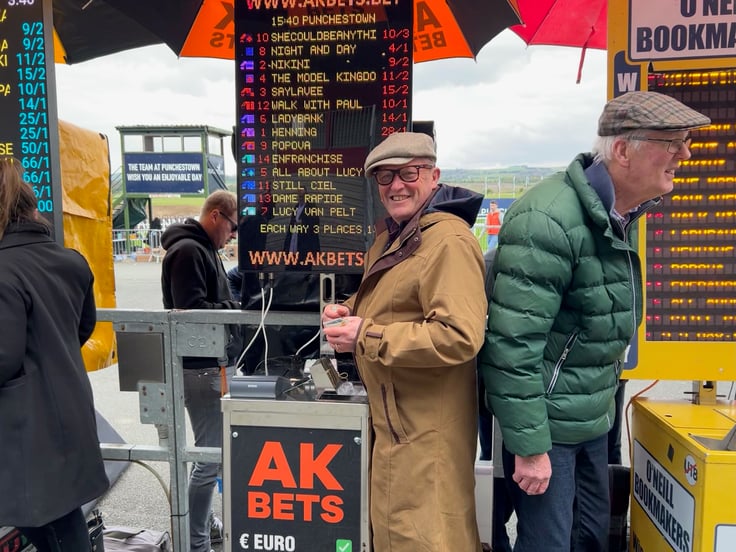 Punchestown. Aye Aye! My first visit today and another ticked off my racecourse map of Ireland. Well, not literally it's framed on the wall but you know what I mean.

I'd worked with most of the AK Bets team before but not Des. Des is a 50 year veteran of the Irish betting ring so I was chuffed when he said he'd bought a copy of my book Skint Mob. Even more so when he said he was going to bring it for me to sign. Sadly, he couldn't find it, I asked if he'd enjoyed it, he just laughed and said 'Jesus no, I've not read it!' Oh well at least he'd bought one.

There were plenty of UK based racegoers on the plane from Bristol, not least my seating neighbour Peter Collier and Q Comber and pals across the aisle. Peter came to the pitch early on as did top snapper Al Crowhurst and bookies Kevin Myles and Andy Smith, not even hobbling from his London Marathon exertions, it was almost a home from home.

The AK team was Dave O'Reilly in corporate, Jamie, Dave Tyrell, Graham Sullivan and Des White on the rails and Tony and AK in Tatts. Business was good for the opener the Howden Insurance Brokers Mares Novice Hurdle though the biggest bet was €700 on Night And Day which lost €4000 odd in the win book with a handful of smaller losers and takers. The bogie was well-beaten behind 7/2 jolly Shecouldbeanything which was a winner for €700 in the book. One race down with 39 to go and a plus in the book over a jolly which was a great start.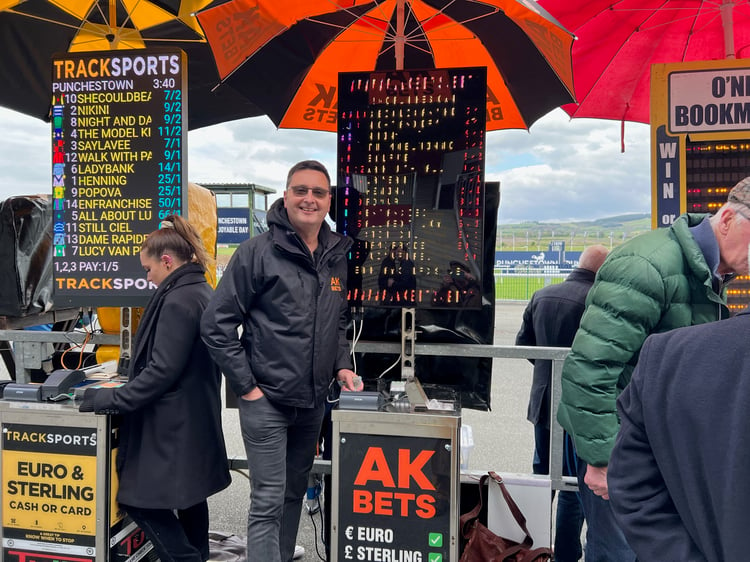 The second race on the card, the KPMG Champion Novice Hurdle featured the odds on Facile Vega which opened at 4/7 with AK. There was very little of interest, even when the jolly went 4/6. That is very little of interest in any bets, not just on the short one. AK didn't want to chase the jolly to the 8/11 it went. By off time business had stayed quiet in Tatts but was thankfully much busier on the linked rails pitch, as the starter let them go, the jolly was the only winner in the book. AK isn't a stranger to having lean ups the jolly but must have feared the worst when Facile Vega nearly came down three out but showed his class by winning anyway. The book won €800 and added to the winnings despite two favourites.

The Killashee Hotel Handicap Hurdle was a 5/1 the field affair and didn't augur well for a punter pile on after a quietish first two races. The rails pitch was way busier than Tatts which equalled things up a bit. Bialystok won the race at 14/1 which copped half the book, whereas had Brazil won, it would have blown €3500. It's a hairy old game when you only lay a few horses. Still, they won't run that race again and the result was that AK Bets won again.

Energumene was the subject of a monster bet when winning Cheltenham. It wasn't out of the question that the money-buyers would get to work punting in the William Hill Champion Steeplechase as at 2/7 he was priced accordingly. There were no takers with AK for the favourite so once again as they set off the jolly was winning in the book, that wasn't a lean up they just didn't want to bet the short one. Any bookmaker that did get Energumene bet on could be excused for thinking they'd got it beat after he clobbered four out. The horse must be nails, he still won despite that rick, getting up close home to out battle Chacun Pour Soi. The book won enough to pay for tonight's drinks and starters in a posh gaff. That's four jollies out of four and copping in the book.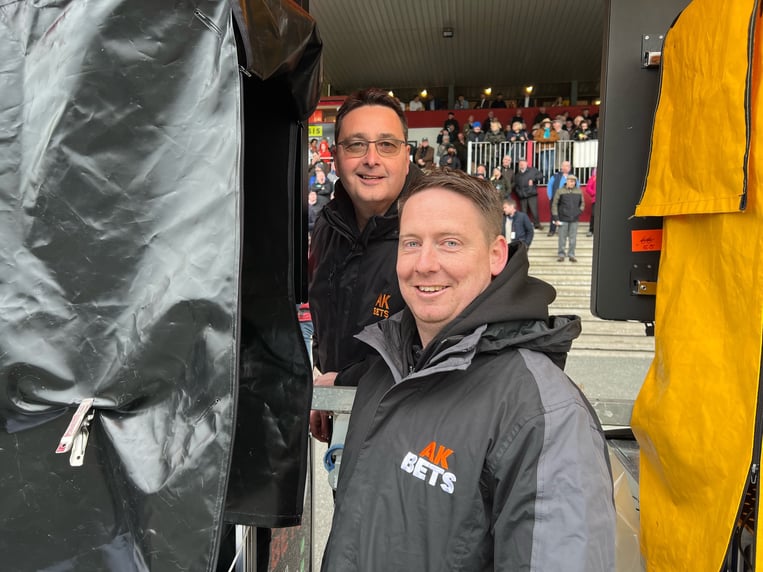 Before the firm got to work on the Goffs Defender Bumper ex professional footballer Dave Tyrell came up with welcome half time teas. The Goffs Defender Bumper was the race where it really came to life. Bet after bet on numerous horses that kept the AK Bets team busy. One chap asked for a fiver 'the winner', I'd have asked for more just in case i was accommodated, though that was a big price. Having been informed the idea was to name the winner before the race he chose Predators Gold. At the off the book was how the punters made it with three bad losers Nouvotic, Tactical Affair and Aruntothequeen as losing enough to knock out the day's winnings. Luckily none of them troubled the judge and the winner Predators Gold was nicely green in the book and at least one punter went away thinking he'd found the golden goose of betting. We had a surprise visit at the joint from former greyhound supremo Simon Banks out here on a jolly and enjoying his visit, he had a bet next door though!

The race before the penultimate, the Dooley Insurance Group Champion Novice Chase boasted six runners with Journey With Me installed the top of the head favourite. There were takers too, Dave laid €4500 -€2000 on the rail and Tatts took a monkey out of it at the same price. At the off she was losing over €6000, AK had stuck his neck out, but why not when things were going so well. Favourites had gotten away with what looked like race losing mistakes in previous races but not this time, Journey With Me eventually fell unhurt after already hitting two obstacles. Nobody likes to see horses fall, but once he had the rest of the field were winners. Feronily won the race at 7/1 and was a tremendous result, despite £100 and £200 bets struck at 11/1 the winner.

It's true the last result was probably a good result for most of the ring despite the move. Even so, when AK's dad Tony was going to ask other bookies for elastic bands with which to bundle the winnings, it was deemed to be seen as a potential rubdown. So the idea was vetoed for PR purposes. Thanks to the gent who brought his daughter over to say hello, she reads the blogs and is glad I don't swear in them, not tonight anyway.

The penultimate was the Kildare Hunt Club Cross Country Chase For The Ladies Perpetual Cup, as with Cheltenham and a race of this ilk, the ideal ablutions break for those working and hopping from leg to leg. This one had a short priced favourite in Vital Island which opened at evens. It remained to be seen if they'd run around and around until it won, as the favourites seem to at Cheltenham. The first bet struck wasn't on the jolly though, it was a bookmaker's hedging money £2000 - £120 each way with the fractions (come racing) 16/1 chance Jet Fighter.

The second bet was €300 on De Nordener so the market suggested there could be a race on. Q Comber came to the joint for a bet and divulged that today was an Exeter members reciprocal day, now there's a bargain. He then blagged 14/1 a 12/1 shot but didn't ask for the fractions, probably just as well. A very nice punter named Dan came to draw and said he enjoys the blogs and that there was a lot of talk about a #BettingPeople interview I did with Dave O'Reilly today, word gets around fast, but it is worth waiting for I promise! Back to the race and it went to 8/1 chance Three By Two which won a round of drinks in a very posh pub.

There was a jump inducing bet in the closing Oak Lodge Landscapes Flat Race when a punter had a £15,000 - £150 each-way on Shengai Enki. There were decent bets for several horses which resulted in four bad losers at the off, the aforementioned, Williethebuilder, Rainbow Lily and Joyeux Vivo. The 12/1 winner Angelo Dundee was another blinding result, but with two bad losers filling the places it could have gone horribly wrong. That's Tuesday over, there was great fun had with the punters, it didn't rain and the firm nicely up. Aye Aye!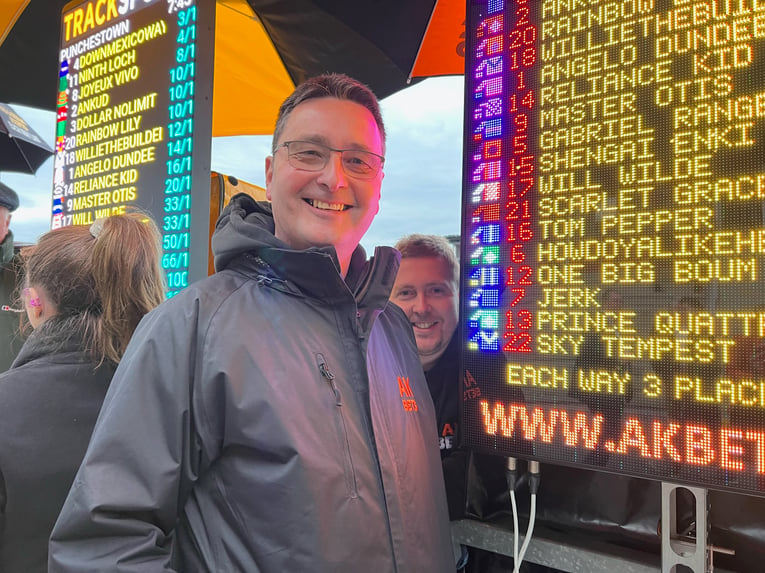 We're back tomorrow.

Simon Nott