Newton Abbot 11th May 2022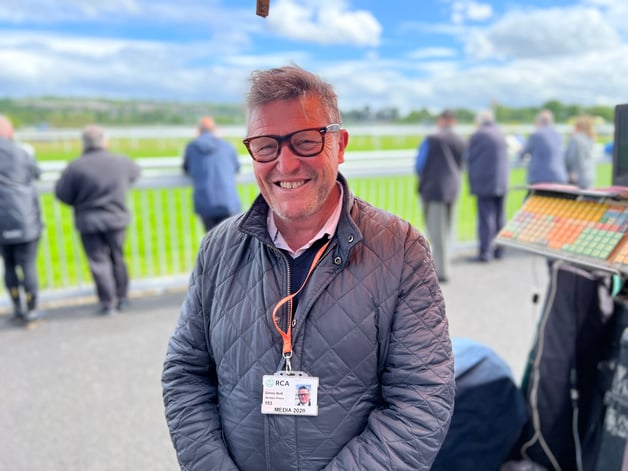 The Press Room was quite lively with Richard Hoiles in good form and Luke Harvey quipping a joke a minute as well as helping me problems I've been having with newly purchased microphones. In addition to Luke's wit we were lucky enough to have often retired but never truly gone away SP validator and Pontins Bluecoat who once shared a dressing room with the Kinks, Terry Allen with us, a man who it's always a pleasure to have around.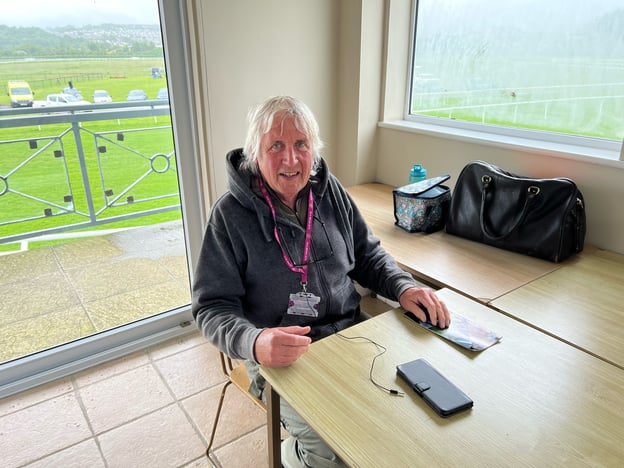 There had been persistent rain in the part of Devon I live, so expected the same at Newton Abbot, less than 50 miles as the crow flies, though it didn't seem quite as bad, despite driving through some nasty weather. I managed to collar Clerk Of The Course Jason Loosemore before racing. He told me that there had been less than 2mm of rain so nothing too significant. It was enough to ensure the bookmakers were still huddled under their mushes when betting started on the racecourse sponsored first though. There was a decent crowd in evidence despite the rain, in their midst was a punter keen to back Paul Nicholls' Gaulois. He made his way up the line where he had several bets of £2000, £1000 and £1200 at 5/6 with the long line of bookies keen to lay him. The punter got the money but with another couple of strides it might have been a different story. After looking like an easy winner for most of the race, the gelding was in desperate need of the line and reached it just in time scrambling home from market rival Jean Genie by a head, returning 4/5 favourite.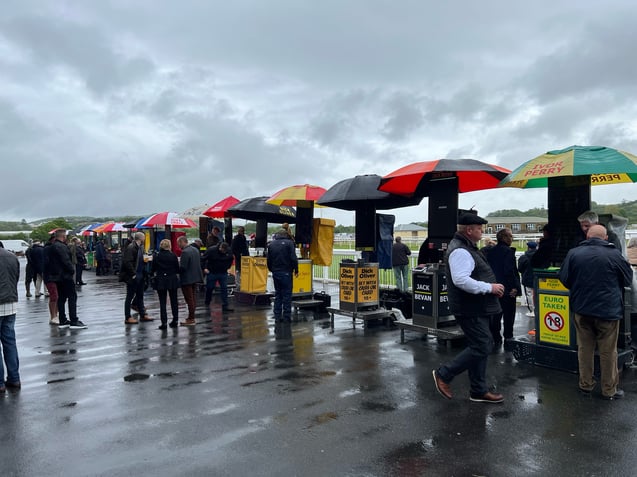 While the bookmakers were paying out, I heard a story from Dave Phillips regarding the last race at the point to point at Upcott on Saturday. Upcott is point to point meeting, anyone who follows me on twitter might have seen some of the videos from there. I was helping with the livestreaming on Sunday. The last race ended with an objection bar the Clerk of the Scales to the first past the post which left the 4/6 favourite runner up promoted to winner. Punters were seen and photographed rummaging through the bins looking for their or other people's losing tickets after the race. One 'punter' approached Dave Phillips the president of the Devon and Cornwall bookies to draw over a £40-£60 ticket laid by a bookie who had already left. Dave paid in good faith only to find out today that the bookie had already paid his regular client over his lost ticket. The real rub though, Dave Phillips sponsored the race in question. Had there been a Betting Ring Manager once the ticket had been paid any punter trying to draw over wouldn't be. It'll now be down to someone trying to persuade whoever stole the money, because that's what it is, from Dave to repay it. Those sorts of things are certainly not fair game despite punters appearing to think that they are.

There was spirited betting in the next race, the St Austell Brewery Novice' Chase. Business included a bet of £1500 - £300 each Getaway Mission, two bets of a monkey each-way Baily Gorse at 15/2 amongst steady money flowing into the bookies. Neither of those made the frame behind the winner My Lady Grey, trained by Joe Tizzard and ridden by Tom Scudamore. That might sound like good news for the bookies, it wasn't that great though, even though I didn't hear of any bigger bets, the public latched on and backed the grey mare from 6/1 into an SP of 9/2.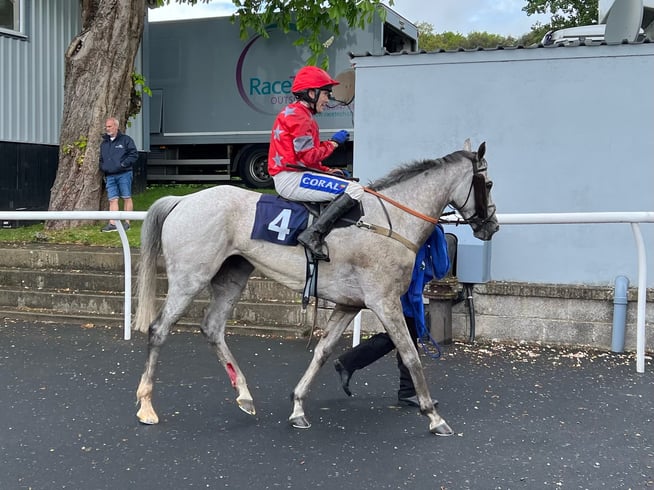 The sun started to show through the clouds just as the going changed to Good – Good to Soft in places as the market opened for the third. The sun certainly didn't shine on the bookies. Diligent was the well-backed winner of The Racing Welfare Mental Health Awareness Week Handicap Hurdle for Tiverton trainer Nigel Hawke under Kieren Buckley. 'Like taking sweets from a kiddie' smiled one punter as he went to draw. It wasn't shaping up well for the layers. To keep them on their toes, the big punter who had it spark off in the first was still lurking too, so the fat lady wasn't even limbering up yet. The winning jockey is off to Ireland to ride for Gavin Cromwell as his conditional so was a great way to sign off with a winner.
In the NewtonAbbotrace on Twitter Handicap Chase, Scrumpy Boy was lumped on to the tune of at least three bets of £2250 - £1000 and £1200 - £600 while Oxwich Bay attracted a wager of £300 each-way at 8/1. The latter looked the likely winner before clobbering the last, Adam Wedge doing well to stay on, leaving David Pipe's Al Rock to battle on to victory under Philip Armson from Oxwich Bay a length and a quarter back in second. At least the luckless carpet punter got their place money. Scrumpy Bay, backed in 13/8 favourite was pulled up. The winner returned 6/1 but had you been on course at the off you could have easily got 13/2. A good result for most of the layers, but at Newton Abbot a Pipe winner rarely goes totally unbacked.
Philip Armson enjoyed a quick-fire double when he rode Alexandra Dunn's Kapitaliste to victory in the race before the penultimate. In doing so the combination landed quite a gamble, the winner had been 25/1 to shrapnel last night, then backed from 10/1 into 15/2 on course. It was a race where plenty of horses had evidently been fancied, Port Or Starboard was well-punted from 5/1 into 7/2 on course, while Jimmy Frost's Presgrave had been backed in a similar style big prices last night then shortened to 6/1 on course. Neither of the latter pair were involved in the shake-up. One hapless bookmaker laid a bet of £4000 - £500 the winner, a wager which probably ruined his day.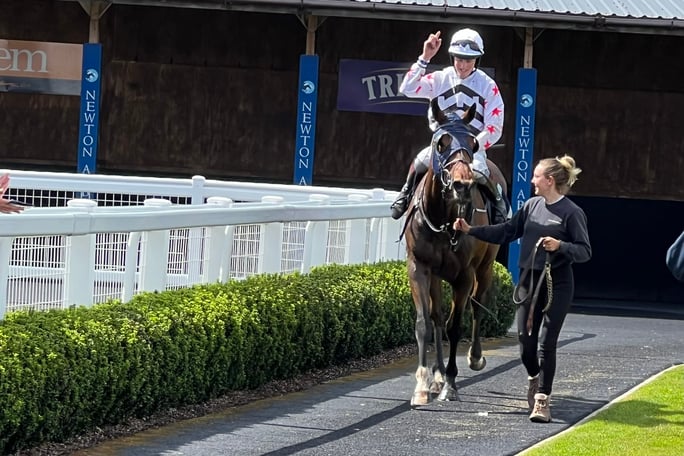 There had been yellow and green scarves in evidence all day, it turned out that they were sported by the extremely enthusiastic members of The 69 Racing Team syndicate, headed my Simon Prout owners of Sharp Note running in the Sky Sports Racing Sky 415 Mares' Open NHF. The sharp money appeared to be on Rosy Redrum which saw at least one bet of £1000 at 5/6 readily available in the ring. Sadly, both The 69 Racing Team and the grand punter were to be disappointed. The interestingly named 15/2 chance Kiss My Lucky Egg won the race for Noel Williams under Tom Bellamy beating the favourite into second, the runner-up returned 4/5 favourite. For all those smutty folk out there who might be sniggering, The 69 Racing Team isn't named why you think it is! Incidentally, shrewd race readers tell me that the one to put in your notebooks from the race is third placed Shady Daisy which had terrible luck in running and did well to finish where she did. There were huge grins on the Dick Oliver firm who'd had their cards marked about the chances of the winner and bet accordingly. 'First I heard about it was when they aye aye'd it after the post' was neighbour Dave Spice's wry observation.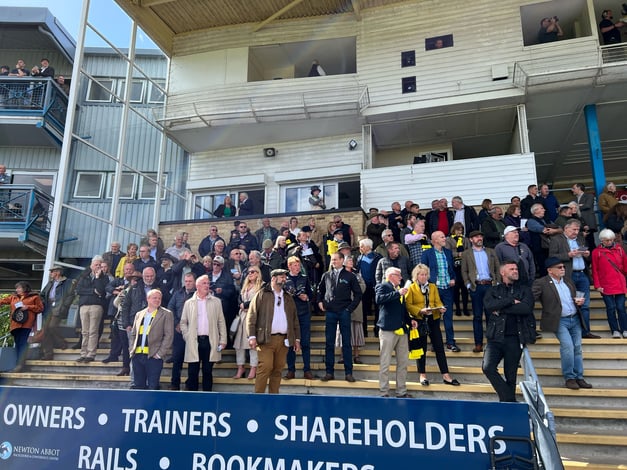 The 'Lucky Last' The Totnes And Bridgetown Steeplechase Company Open Hunters' Steeple Chase was a match. Diane Ward's Wotzizname was sent off the 1/6 favourite to beat Smithscorner. A good half of the bookmakers and what looked like most of the crowd decided to take an early bath. I did see one punter have £117 on the favourite at 1/4. He got the value and had few worries. The favourite bolted up as his odds suggested it would providing winning rider Megan Bevan her first winner under rules after already doing so her first between the flags. The winning distance was 45 lengths, unchallenged. That concluded an excellent afternoon on the turf.
Simon Nott
Anyone who doesn't already have an account with Bet Goodwin, they offer prices on racing and a range of sports and special offers including BOG and various consolations for unlucky losses. Click on the link below, grab a free £10 bet and see if you can sock it to them.