Newton Abbot Racing & Betting Ring Report 31st May 2023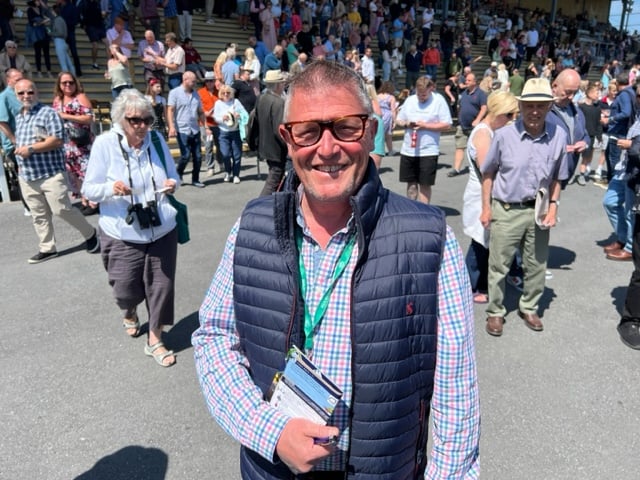 Where better to be on a glorious early summer Wednesday than Newton Abbot? Nowhere that's where, if you've not been before and don't want to take my word for it, there'll be lots of opportunities to find out for yourself. Click here for their racing days. Newton Abbot Racecourse
There were plenty of bookmakers here today, which was just as well as the people had turned up too. Down in the ring, Paul of the Jack Bevan organisation was telling me that they'd enjoyed a good winning day at Monday's Upcott Cross Point to Point meeting. There had been some turn ups for the books, which you don't often get at point to points, so most, though not all, of the layers when home with bulging hods. The day didn't start well for the bookies today though, Fergal O'Brien's Carrigeen Kampala had been backed from an overnight even money to 4/7 for the Newton Abbot Racecourse On Facebook Mares' 'National Hunt' Novices' Hurdle and won in a canter under Liam Harrison. The bookmakers were relieved that there hadn't been any big money for the winner but did see a couple of £200 and £300 wagers, mostly at 4/5. Liam Harrison lost his claim after winning this race, number 75 for him under rules. He told Luke Harvey on Sky Sports Racing that his success was all down to Fergal O'Brien's yard and great advice from Mick Fitzgerald and Paddy Brennan. I'm told he puts the extra hours in at Oaksey House honing his craft too so he's worked hard for his success.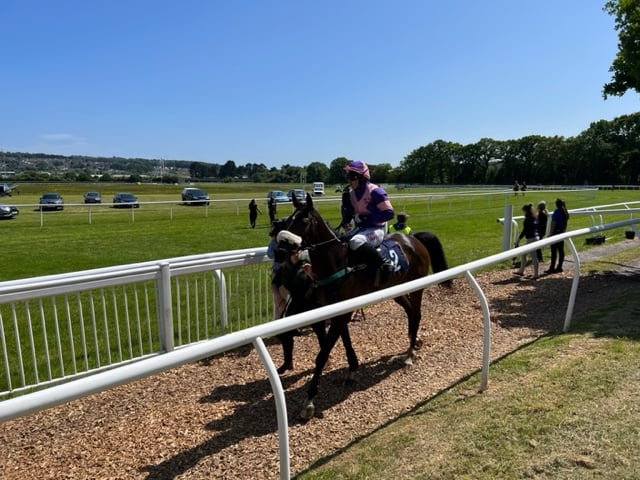 I interviewed the owner of Tommie Beau the well-backed Seamus Mullins trained winner of the Talk Tidy Marketing Handicap Chase for Star Sports a few weeks ago. Simon Prout is a real character and huge racing enthusiast. I did manage to shake his hand down in the ring before racing which was I admit a tad premature, but it was in greeting not congratulation. The winner was well-backed including bets of £1400 - £400, £700 - £200 and another bet the bookie wouldn't tell me. The bookmakers added that the winner was also popular on the machine which probably accounted for the SP of 3/1. I'm sure the connections are still celebrating now and there could well be a car in the carpark overnight!
Jennie Candlish's Basford was sent off the 1/5 favourite for the William Hill Maiden Hurdle and won as expected. Mind you, had you lumped on at five-on you might have had a few anxious moments before the gelding put the race to bed under Jonjo O'Neill Jr. Luckily for the bookies, nobody did lump on at the track, in a race where there was very little of interest from the punters. There's a footnote to this race that people might not be aware of, 40/1 chance Kylenoe Dancer which finished third under Ciaran Gethings will be the last runner we'll see sent out from trainer Paul Henderson's yard. I was told as I left the racecourse that today's runner was his last and that he's handing in his training license. I don't the know the details why but I'm sure we all wish him all the very best in whatever he does next.
While I'm at it. if you don't have an account with Star Sports, you might considering opening one. They are known for taking huge bets, so if you like half a million on, they are for you. They might also be for you if you have been closed down by other bookmakers, they'll give you a go, I don't really want shrewdies signing up via my link though because it's an affiliate deal so if you like to blow your trumpet on twitter saying you can't get on, please don't ruin my commission. For everyone else, here's one of their click through adverts.
I was almost afraid to walk past Richard 'Tall Boy' Watson's pitch, he does like a bit of a moan up, today was no exception, I won't transcribe what he said but in a nutshell he took more money at Salisbury on Saturday night. I expect the Newton Abbot pubs did too, but there's no point mentioning it. It's actually made worth while to watch the expression on his side-kick's Steve's face when Tall Boy starts. Elsewhere, the bookmakers reported bets were plentiful but small and did so with a smile. The wasn't a lot to write about the betting on the Racing Partnership Novices' Handicap Chase where Chief Black Robe was sent off 4/6 favourite for Fergal O'Brien and won, landing a double at the meeting for the yard with some ease under Mr Tom Broughton claiming 7lb. The only bet of any note at all was £240 - £300 on the winner.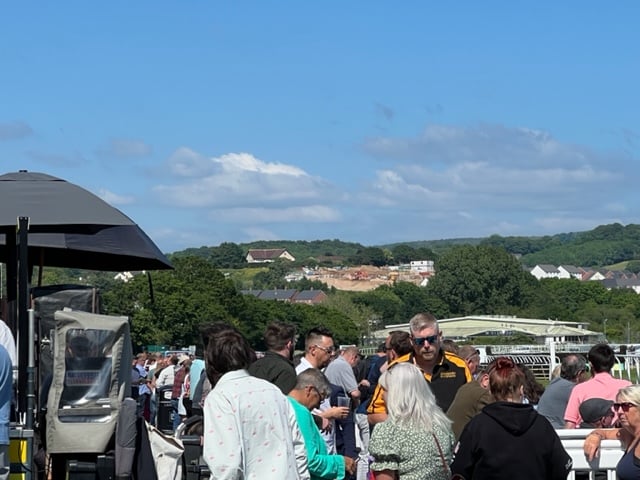 Between races Richard Hoiles pointed out a rather large building site on the hill above the course. So far rumours that the development has been funded by high-rolling in-running punters have been unsubstantiated. The Download The At The Races App Handicap Hurdle was a competitive betting heat at least in respect of bets worth mentioning. Itcacre attracted a bet of £2000 - £200, Hunting Special £5000 - £100 each-way and a monkey at 5/2 Sherborne were all noted to me. Just a note to anyone who fancies the life of a bookmaker standing at Newton Abbot on a lovely sunny May afternoon. Sherborne won the race at 3/1 and runner-up in this seven-runner heat was 80/1 Hunting Percival, now look back at the only mentioned bets. You might be pleased to know that the bookmaker that laid the outsider managed to hedge profitably on the machine though.
The final plug of the blog, Bet Goodwin are another bookmaker for whom I have an affiliate deal. Now if you are a professional punter, you won't last long with them. I recorded an interview with my great mate and shrewd punter Andrew Mount for Goodwin a while back. Their owner Julian Head wouldn't use it because he said he'd feel a hypocrite because Andrew isn't the sort of punter whose business he'd want. That's honest, but if you're the sort of person that likes a multiple on a Saturday or has a regular recreational punt Bet Goodwin could be for you. They offer BOG and all sorts of concessions to ease your pain if you suffer an unlucky loss, give them a go and get the warm glow of knowing that if you lose a few bob, I'm copping! Julian also puts a fair bit back into racing having a couple or three horses in training with Chris Gordon.
There were just three runners in the penultimate Totnes And Bridgetown Chase Company Open Hunters' Chase though a bookmaker laid what was the biggest bet so far of the meeting £800 - £1300 Espoir De Teille closely followed like a London bus £2100 - £1200 for Diligent. As they set off I met Harvey Instance, dad of up and coming jockey Jack that I recently interviewed, he was enjoying a celebratory ice cream having backed every winner so far today, he's a shrewdie that Harvey. I also met a group of punters from Plymouth who every year get the train up to Newton Abbot and are then tasked with buying hats to wear at the meeting from local charity shops on the way to the races. I couldn't get them all in shot, the bald guy was the red fascinator was elusive. Meanwhile, it was time for the bookmakers to celebrate, No Getaway the outsider of three won the race at 10/1 trained by Robbie Llewellyn and ridden by Sean Clarke who claims 7lb. He was great value for his claim arguably winning the race with his tactics. It looked a great result for the bookmakers, mind you, everyone has heard of the outsider of three being a good thing, especially holiday crowds!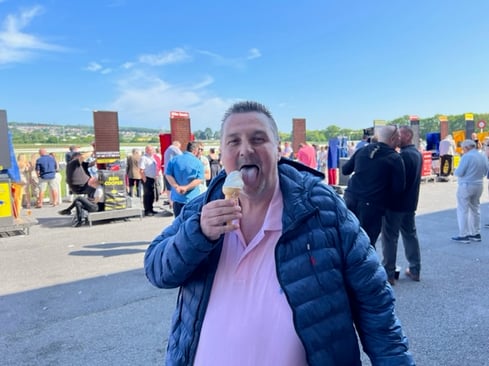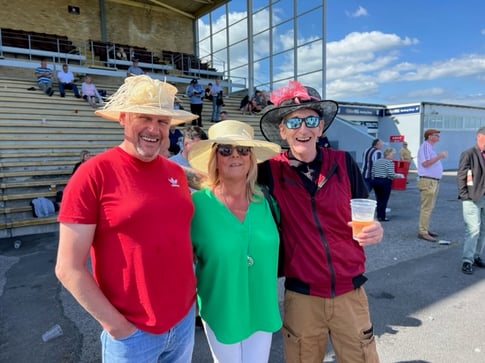 The last race on the card, the newtonabbotracing.com Novices' Handicap Hurdle looked the most competitive of the day with 13 runners. Sadly, for the bookmakers at least, it went to another market leader, the well-backed Keiran Burke runner Charlie My Boy which was sent off 9/4 favourite and won under Harry Kimber despite hanging and making a rick at the last compounding the misery for the books. Still, it had been a beautiful weather and concluded a lovely sunny day at the races, though I'm guessing that many of the bookmakers would rather forget it despite topping up their tans.
Next stop for me, The Derby for Star Sports, fingers crossed. More news on that in my latest diary blog Racing and Devon Diary
Thanks for reading, see you on the turf.
Si