Newton Abbot - May 25th 2022
The weather at Newton Abbot was best described as changeable today, rain then sun playing tag but it didn't deter either the punters or the bookmakers turning up and remained dry for the rest of the meeting rewarding those that came. That pretty much always the case at the country's southerly most course. It was a bit early in the season for weather to have sent holiday makers from surf to turf to bolster the attendance but there's a loyal crowd here. There's also Jack Bevan and Co, including Archie, who I'm guessing is one of the only fifth generation bookmakers working on course continuously.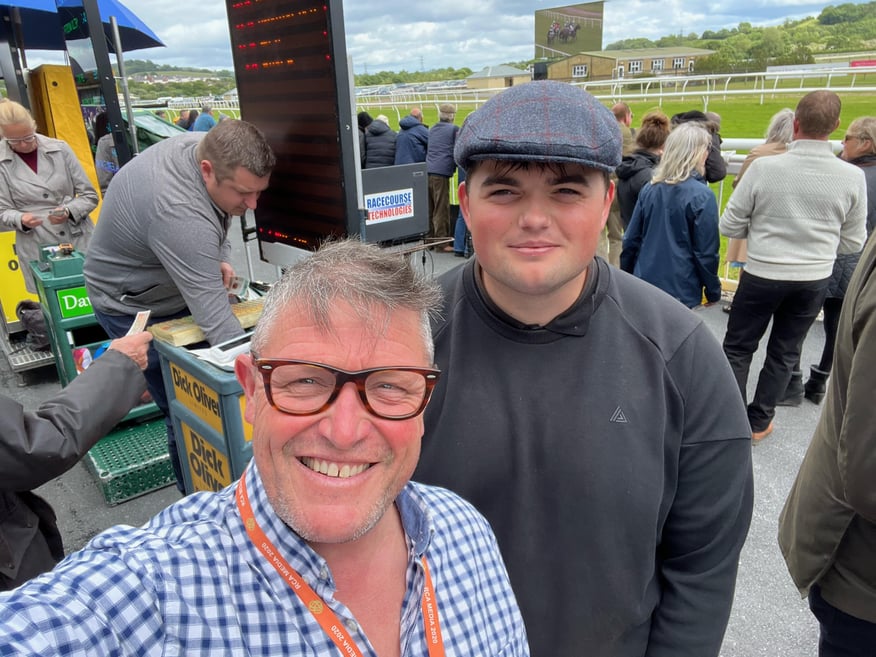 The first race wouldn't have inspired many casual racegoers to have a bet in the opening Newton Abbot Racecourse On Facebook Mares' 'National Hunt' Novices' Hurdle. Gentle Connections was sent off the 2/13 favourite and won as its price suggested it would. Down in the betting ring, there wasn't a dinar for the favourite. One bookmaker told me that anyone that really wanted to lay it would have done so on the machine. There were plenty of layers offering forecasts and the like so the race wasn't a total dead loss as a betting heat. Sadly, there were no men with wads of notes in plastic bags to regale you in tales of.
In a previous blog I mentioned that the staff of the Joe Oliver firm had it spark off on the bumper. I also remarked that the first most the rest of us knew of it was when they roared it home during the race. It's nice to know that Joe's number one clerk Q Cumber reads these blogs. How do I know? Because he told me that just so I wouldn't accuse this team of after timing again, he'd tell me their tip for the second race, the Talk Tidy Marketing Handicap Chase, before the event this time. Flying Verse, sent off at 17/2 ( 9/1 everywhere on course ) but was no match to the winner Sizing Cusimano backed from 16/5 ( yes I know, sorry but that's the best price on course I was told ) into 9/4f. The winner is owned by Colin Tizzard, trained by son Joe and ridden by Tom Scudamore, who enjoyed a winner on his birthday. I spoke to bookie Dave Spice after the race who advised me that hearing Q's tips after the race is financially more rewarding than prior, noted Spice, noted.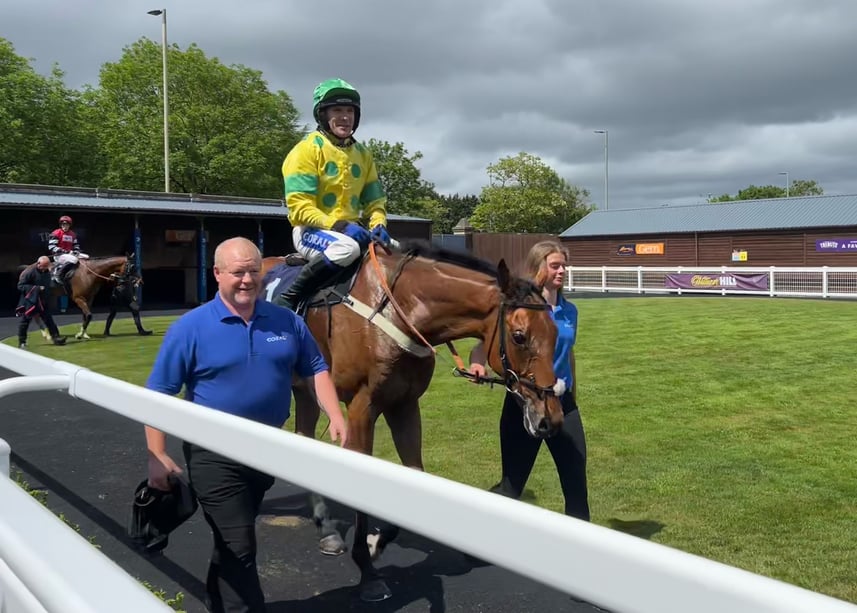 Next up and the Brian And Gill's Golden Wedding Anniversary Maiden Hurdle. Down the ring talk was about the RDT/BritBet contract replacing that of AGT for running the betting rings. Nobody is the wiser due to everyone still being keep in the dark. For anyone that's interested, the topic was covered by Nick Luck on his daily podcast last week. Let's just say the RCA's representative David Armstrong did a great job of avoiding answer questions put to him, which of course leads to even more rumour and speculation. Given that a lot of people are worried about their livelihoods they can't really be blamed. At least talk of business took the bookmaker's minds off the third winning favourite of the day bolting up. Glengeever was backed from 5/4 into 6/5 and won accordingly under Rex Dingle, providing Ben Lund his first Newton Abbot winner as a trainer.
The Racing Partnership Novices' Handicap Chase saw the fourth favourite of the day go in. Imperial Joe sent off the 5/2 jolly, trained by Tim Dennis and ridden by Sean Houlihan won by a cosy 17 lengths. Backers still got a thrill from the bloodless victory, as I'm sure the pilot did, as the combination made a bad rick at the last. It wasn't totally bad news for the bookmakers though. Whilst there were no sexy huge figure bets, there plenty of bottles around at prices from 7/2 into 11/4 Arizona Glory, but Evan Williams' charge ran no sort of race and was undoubtedly expected to do better.
There was a buzz around the ring from those old enough to remember the glory days of Martin Pipe. The great man himself was seen down there during the build-up to the Download The At The Races App Handicap Hurdle In the 'old days' Martin was very rarely seen in the ring, though his father bookmaker father David held top pitches in the Westcountry and beyond. I can just imagine back then he'd have looked like the Pied Piper, though rather than being followed by beguiled rats or small children, it would have been floormen. Needless to say Martin didn't appear to have a bet but it was really lovely to see him on the betting ring side of the racecourse. I had far too much respect for him, and in truth was far too star struck, to ask for a selfie, sorry! Jo on the Ivor Perry joint betting in Dave Pipes old number one spot, told me that there had been plenty of money for Philip Hobbs' Guernesey early on into evens but then was very hard to lay. Paul Metcalfe, Archie's dad, told me that he'd laid Tim Vaughan's charge Mourzouk at 4/1, a quick glance showed 11/4 on his and the other bookies joints so he'd done it wrong. The late weakness of Guernesey proved prophetic as did the support for Mourzouk which won the race under Charlie Price, the eventual 11/8 jolly was back in third back in third. At last the bookmakers got one beaten, I didn't ask Paul Metcalfe on the Jack Bevan (1897) joint how he got on though.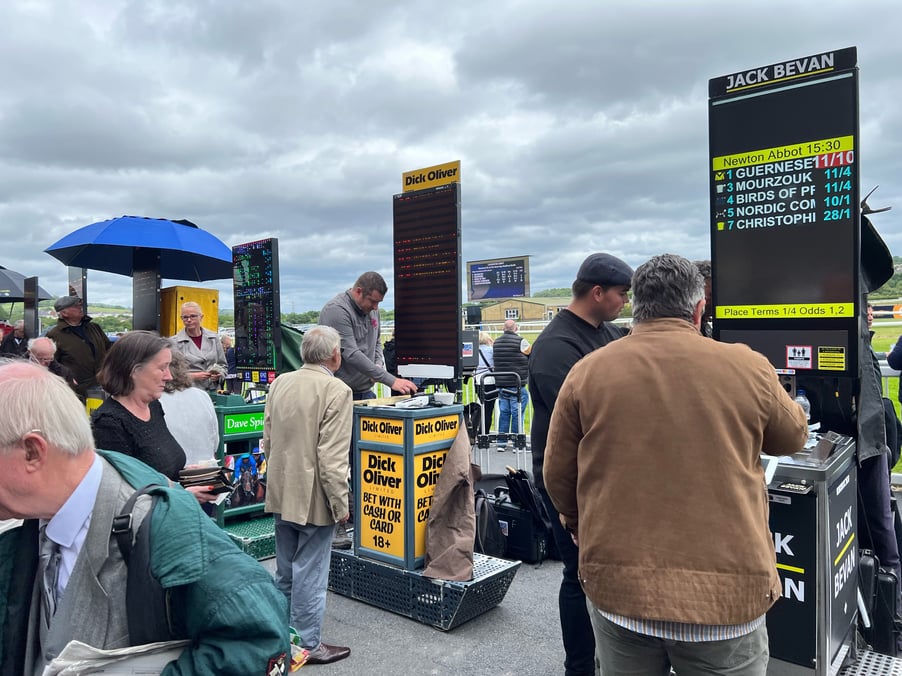 Down in the betting ring for the penultimate, there was action in the betting of the Totnes And Bridgetown Chase Company Open Hunters' Chase. A point to point regular whose family are between the flags shrewdies, prompted a bit of a move. His score each-way at 16/1 started a ripple effect in certain circles including young Archie Metcalfe who'd had the not to be sniffed at sum of £100 on Syd Hosie's charge Story Of Friends, quite a courageous bet I'm sure you'll agree. Archie was trying to look cool but the 2" red hot end to cigarette he was puffing on gave away his nerves. 'It's beat' shouted his dad as the front two quickened in the country, 'No' objected Jo on the Perry joint, adding, 'They have gone too fast, he'll get back at them'. Jo was right, as the subject of the gamble took it up just before the last to go and win, Archies fag end was so red I'm sure it could be seen from space. He was of course delighted and celebrated with a resounding 'YES', before showing me his ticket grasped in a shaking hand, he'd only gone and bet it with his dad! The winner returned 11/1, another result for most of the ring, but not all.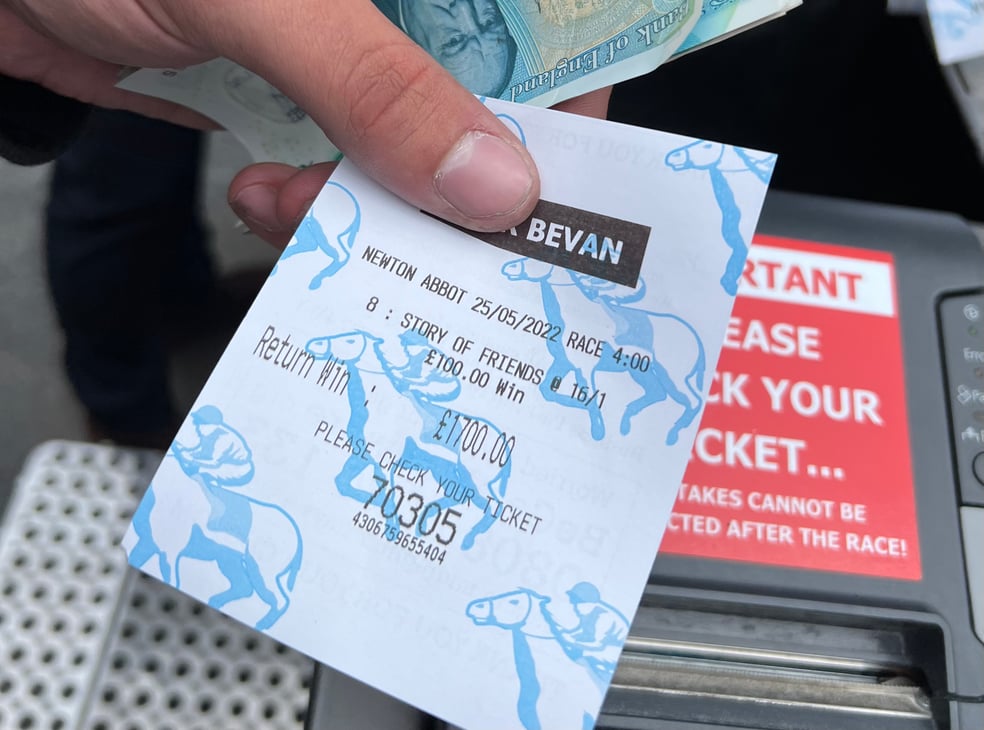 The concluding race of the day, the newtonabbotracing.com Novices' Handicap Hurdle saw money for two horses, Getaway Cory was backed from 9/1 into 9/2 and Kapitaliste was the other one the punters wanted to be on, most books had a two horse book. The latter rewarded his backers winning by 19 lengths for Alexandra Dunn under Philip Armson and returning the 3/1 favourite, the fifth jolly from seven races. It was reported by the bookies to have been a good betting heat. I'm trying to conclude on a high note there but I imagine most bookmakers lost on the day.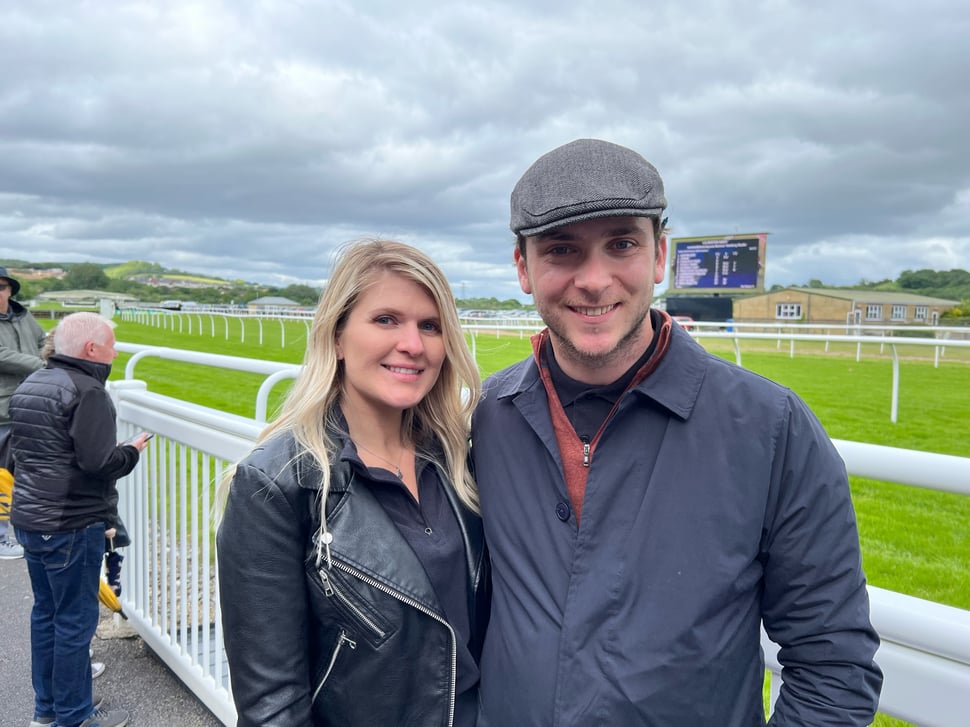 Between races I bumped into my old mate Telf and partner Mikki, both of whom work for Bet Goodwin. Telf used to give me betting info from the Goodwin offices to include in my blogs. The last time I saw him was at Fairyhouse during the Dublin Racing Festival, so was good to see him again and meet Mikki. They said they'd both enjoyed their first visit to Newton Abbot, if you haven't been yet, do make the trip, it's a lovely racecourse.
Simon Nott
Talking of Bet Goodwin, if you don't already have an account with them, they have a new app and website as well as taking bets on the phone. They offer BOG and a wide range of bonuses and consolations should you have an unlucky loser. If you call, you might even get to speak to Mikki or Telf too. If you want to give Bet Goodwin a spin, click on the link below and you can get started with a free tenner bet and start punting with their money.