Have You Opened An Account With Star Sports?
This is a blog to draw your attention to Star Sports and to ask if you have an account with them? If you are not getting on with 'Soft Bookmakers' or just don't like the way that they operate, you may get on better with Star Sports. The offer on-line, app and telephone betting AND ARE NOW BEST ODDS GUARANTEED. Yes of course there are lots of other bookmakers out there, some of whom offer lots of gimmicks which you my benefit from for a while to tempt you in, but if you are hoping for a more long-term relationship, Star Sports could be the bookie you are looking for. There's another reason too, they give plenty back to the game. They have sponsored the Greyhound Derby since 2017 as well of plenty of horse races during the year and a three day festival at Brighton as well as sponsoring jockeys and giving young people keen to get into the game a leg-up too. On a personal level they also fund the #BettingPeople series of which I have played a role and am very proud of. #BettingPeople was Star Sports' owner Ben Keith's brainchild and he is of course, a top man, more about him later.
By the way, owners can back their horse to win £10,000 from 10am and £20,000 off the show, that's any day not just the big days.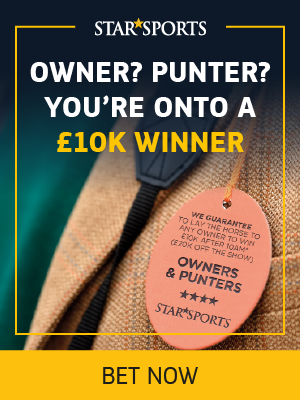 Open An Account With Star Sports
But first, here's another fact that you punters that don't bet with Star already are going to like, they take big bets and even better they don't hedge them. If they take a lump and it wins, they lose. Even better, Star Sports take bigger, even huge, bets on course. They bet at the major meetings of the year. Kempton, Cheltenham, Aintree, Epsom, York, Ascot and Glorious Goodwood as well as Towcester and Oxford Dogs. Back to their owner Ben Keith, he's a colourful chap that wears his heart on his sleeve and has built the firm up from nothing, well not nothing exactly, he was working for Victor Chandler, had £10,000 - £300 ( that's 33/1 with the fractions ) on a tip which won then trousered the ten grand and set off to become a bookie in his own right. Yes, one of those sorts of people with a drive and vision that make their own way in life. Oh and Star Sports open the plushest betting shops you are ever likely to step foot in. Here's Ben Keith watching a race where he stands to lost £500,000 in real money on one race.
Although everything I have typed is hand on heart, I must add that this is an advertising pitch, if you open an account with Star Sports via these links and do your cobblers, you can take some consolation that I get a few quid of it in commission because that's how these affiliate deals work. If you want to get involved betting with a bookie that you can actually take on, please click on the blue link below and see if you can beat them. Good Luck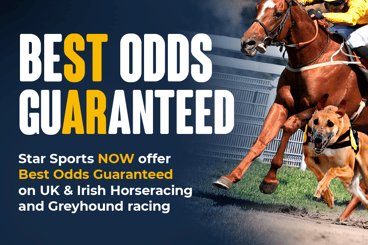 SIGN UP TO STAR SPORTS HERE AND DO YOUR BEST TO BEAT THEM!