Bath - 12th July 2022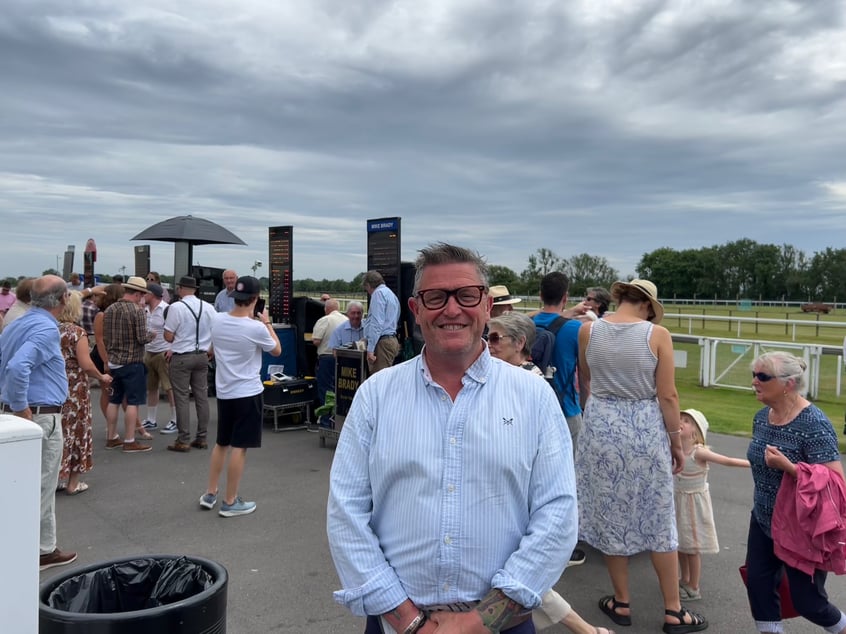 It was nice to be back at Bath. When I left the Army I had a brief stint as a steam cleaning contractor, 'Superlative Power Cleaning', I had the contract at Exeter and Bath races, cleaning the stables, I'd cleaned them before coming to the racecourse on race day. My first time on the turf here was with the Jack Lynn firm, I made a rick and nearly backed the wrong horse as a back-bet on my first visit, I coughed and spluttered when I got to John Tovey's pitch. In my eagerness to not miss the price, I neglected to register the name of the horse I was supposed to back in my brain. My other early Bath memory was Harry Metcalfe of Jack Bevan and Co (est 1897) bouncing across the extremities of the grassed carpark, in a very nice motor, going way too fast for the terrain. The occupant's heads were almost hitting the car roof as he hammered along trying to outwit the queue to get out. Seeing the look of shock on observers' faces he wound down the window and shouted with glee, 'Don't worry, it's Ian's car!' Ian was his son, not present.
Sadly, neither Harry or Ian are still with us, but the Bevan firm were represented here today by Paul Metcalfe. Pickwick-Bevan occupied two of the twelve pitches bookmakers bet in today, with Q-Comber ably single-handed in the other pitch. The weather had cooled since Newton Abbot yesterday, which was roasting. Incidentally, I'm back writing for Racing Ahead magazine, a title I've been with on and off for a couple of decades. Newton Abbot will be related there in the August issue. For those unaware of Racing Ahead, you can visit their website here Racing Ahead.
The betting ring looked a bit thin, as did the number of runners for the six races. Those 28 were reduced to 27 when the favourite in the early betting for the opening Free Tips Daily On attheraces.com Handicap, Gordon's Aura was withdrawn with about 15 minutes to off time. That would have thrown betting into turmoil in normal circumstances, an 11/10 favourite withdrawn resulting in a 45p rule four. Today, the punters here appeared to be small-staking fun-bettors, so not as bad as things could have been. Hidden Depths was installed was 6/4 favourite but there appeared to be few takers. The one they did want was Sir Joseph Swan, which flip-flopped the initial jolly but had to settle for runner-up spot behind hitherto 28-race maiden, John Berry's Hidden Pearl, sent off at 5/2 and a three-length winner. I did hear of a dispute, a punter was aggrieved that the bookie in question deducted the 45p Rule 4 from his winnings. By all accounts the customer was talking nonsense about contracts etc. When the bookmaker, who was working on the computer, chipped in to say that the man was wrong he was told to 'Mind his own business' to which he was politely informed that it literally was 'his business'. As it turned out, the punter was paid the equivalent of 11/4 to his money a horse which returned 5/2. The Rule 4 is almost never in the bookmaker's favour, something punters rarely understand.
Next up and there were just four runners for the Sky Sports Racing HD Virgin 535 Restricted Maiden Fillies' Stakes in which Highland Mac was put in as a tentative 2/5 by the intrepid dozen. News had broken earlier about the new whip rules and potential multitude of horses disqualified on a daily basis as the rules sink in. It could really mean the end of paying the double result off course couldn't it? On course bookies will all have to wait until the 'weighed in' too that's for sure. 'Fun' times ahead. Back to today's action under the current rules and despite Highland Mac being the hotshot at 1/3. Bookmakers described the business as OK, but the punters here today weren't the type to have bundles on short ones. There were two bets of £100 - £300 but precious little else. Punters hoping to nick an easy £100 did their money as Crikey Juicey won the race at 9/2 for team Charalambous and Clutterbuck a short-head in front of 9/1 chance Royal Agent, favourite Highland Mac was a further 3/4 back in third.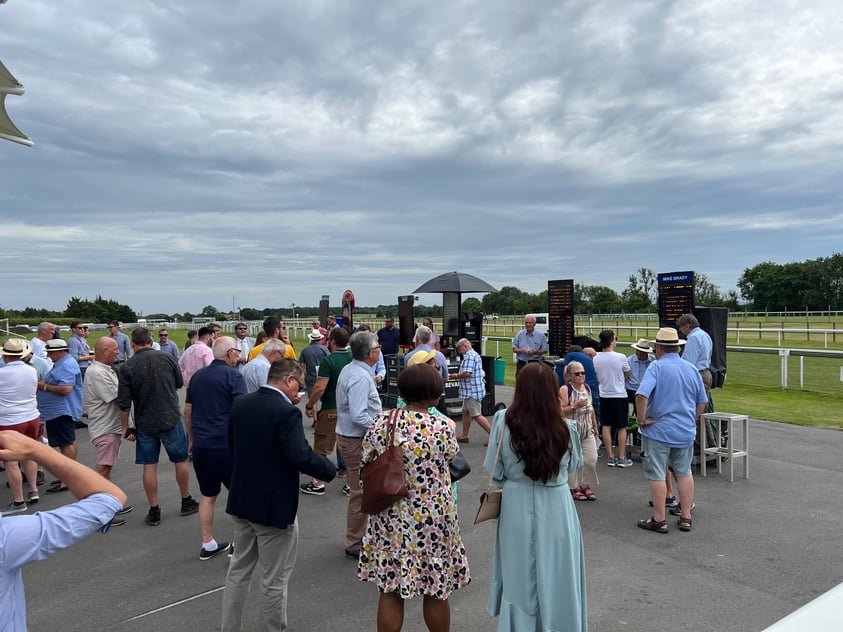 Three went to post for Sky Sports Racing Sky 415 EBF Restricted Maiden Stakes Harry Dunlop's Polly Pott was sent off 6/5 favourite and beat 2/1 Saucisson second-in on the line. It hadn't looked likely until the winner found a gear she didn't look to have for most of the race. That observation was backed up with the winner hitting 200/1 in running and the runner-up 1.02. Spare a thought then, not only for those in-running punters trying to pick up the crumbs doing their cobblers. No, not just for them, but for the bookmaker that laid a couple of punters a bet of £1400 at 11/10 the winner topped up with a £1000 forecast in the right order. No, before anyone asks, the didn't hedge at 200/1, why would he, she looked well beat!
The race before the penultimate, The Cazoo Handicap Stakes saw another handful of runners. There was very little going on in the betting ring. Not one bet of note was passed on to me. The race went to Clive Cox's Watchya which returned 85/40 winning after a masterful ride from jockey Adam Kirby.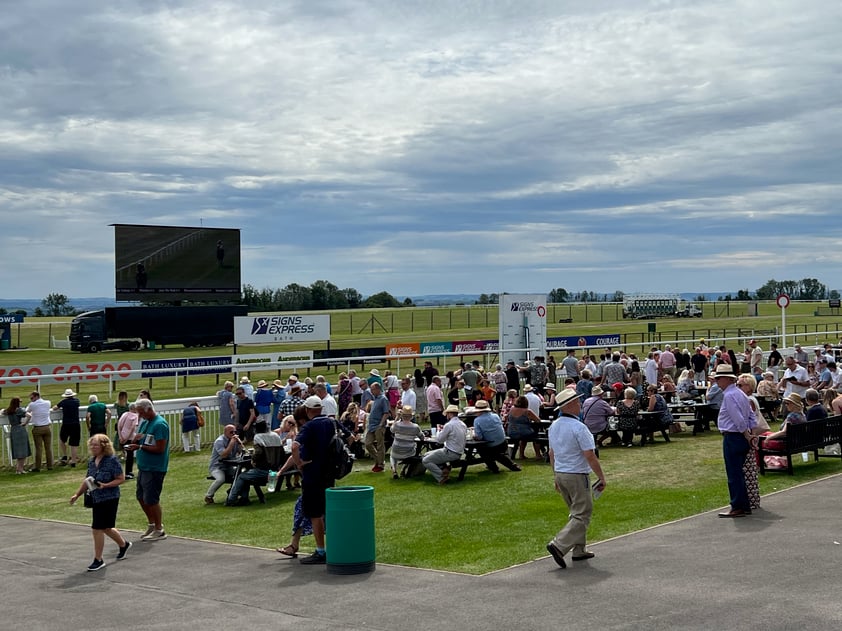 The penultimate Follow @AtTheRaces On Twitter Handicap saw four runners go to post. Only one attracted any money of size, I saw a bet of £1680 - £420 Charlie's Yard on the rail and that was it though. Asking around the ring, at least one layer was pleased that the money this afternoon was 'all recreational'. The down side to that was that there was no money to speak of for the odds-on favourite Overstate. When it's like that, unless they are laying the short ones on the machine, the on-course bookmakers are unlikely to be cheering home 11/1 outsider of four winners like Cafe Sydney in this. Those recreational punters are far more likely to back the bigger-priced horses when having a guess-up, especially if they'd even been in a cafe, been to Sydney, knew a Sid.... One Sid Hooper on the rail was happy that Charlie's Yard finished runner-up though.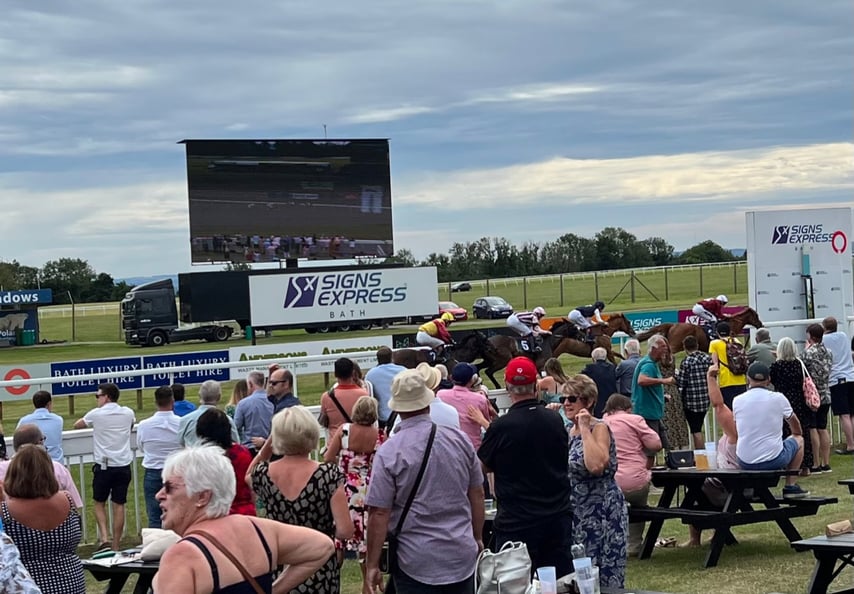 Talking of Sid Hooper, I heard that one of the firm's regular staff down here in the South West was badly shaken up having been involved in a car crash on the way to the races today. Let's hope we see you back on course soon Jessica.
The concluding Cazoo Search Drive Smile Handicap was a competitive betting heat, one rails firm laid a bet of £2000 - £500 Alexandra Dunn's charge Monaajez and £2000 - £1000 Rod Millman's Hurricane Helen. The latter looked a very good bet to lay, she drifted to 5/2 hawking on course at the off. It looked ever better when she missed the break and still looked to have a lot to do with a furlong to run. It didn't look quite so special when she took it up and quickened away to win for the punters and her enthusiastic owners from 13/2 chance Aviary. Indecently, the SP for people at home was 9/4. Come Racing.
Simon Nott
Bet Goodwin sponsor my blog. They offer BOG (Best Odds Guaranteed) on UK horse racing. Special concessions include a free bet of up to £100 if your selection is beaten a nose, the same offer if beaten less than half a length in a chase, if leading and falling at the last and if second to a horse priced 50/1 and bigger. If you don't already have an account with them. click through below, why not give them a spin. They take bets via their app, website or person to person on the telephone.