Newton Abbot - Ladies Night 21st June 2022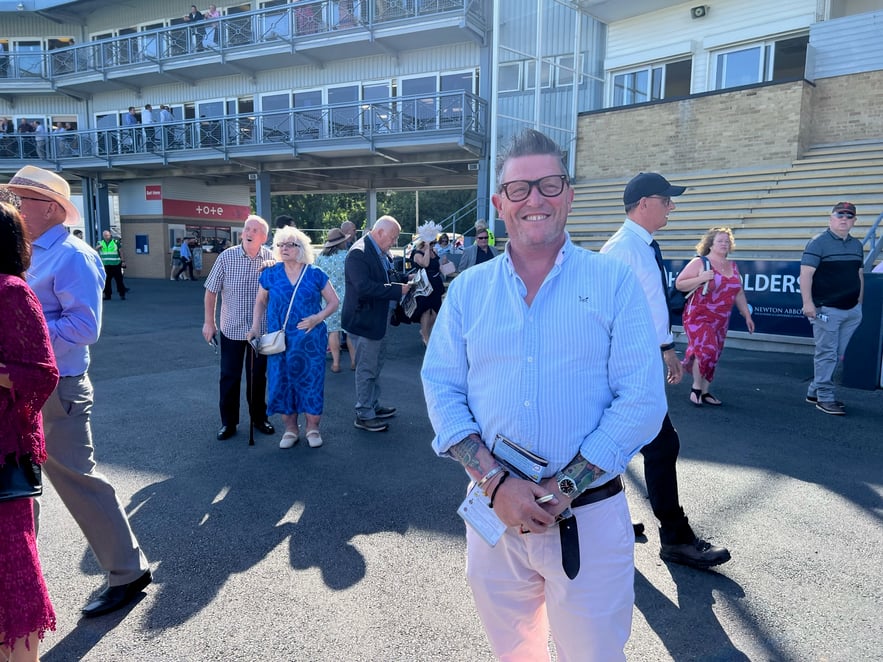 Ladies Night at Newton Abbot to top off the longest day, where else would you want to be?
There's a correction to my blog report yesterday, the bookmaker who broke down at Ascot didn't get home at 4am, but 4pm the next day, what a nightmare after a long week. He was still fuming about it, but did break into a smile when I asked if he'd won on the week. His smile didn't last long, he was one of the on-course firms that laid 3/1 about Joe Tizzard's charge Mascat in the opening Janet Denning Fifehead Farms Memorial Amateur Jockeys' Handicap Hurdle, the price then tumbled into 5/4 by the off. The market confidence was justified. The gelding won by an easy seven lengths under George Hiscock. Joe Tickle's Humaniste was withdrawn at the start which resulted in just seven runners taking part. Bad news for those that backed third-placed Ayr Of Elegance each-way who'd no longer be paid. The racecourse did a great job announcing what had happened and the betting ramifications. One firm of bookmakers didn't appear to have been victims of the gamble, indeed they appeared to be part of it, Mutley and his mate Mark on the Jim Clarke pitch roared the winner home, that, ladies and gentlemen is called 'the rub down'.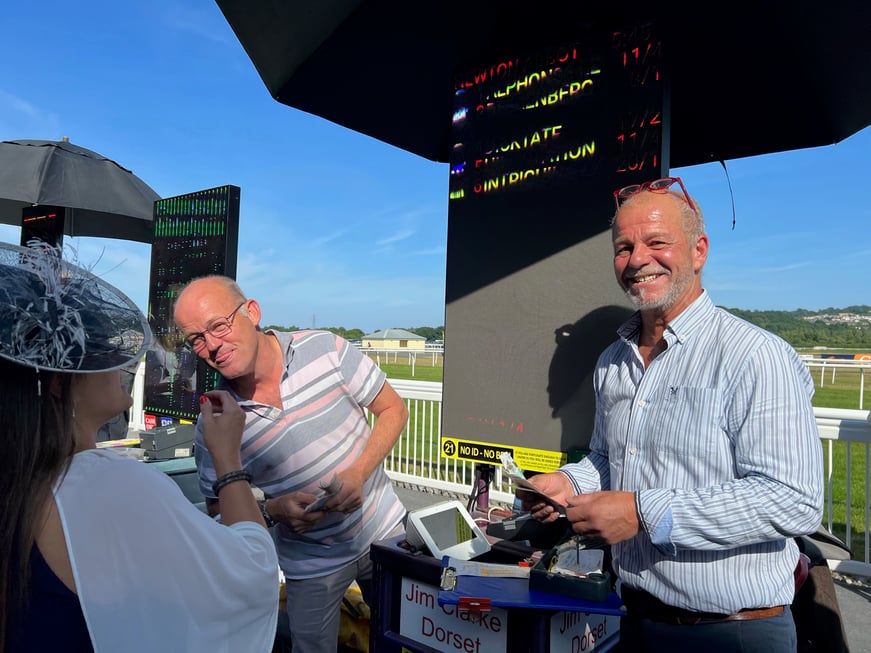 Gary Wiltshire betting on the rail missed it but Dave Hazell laid a £500 - £200 as did SMC. How do I know? The punter sent me the tickets.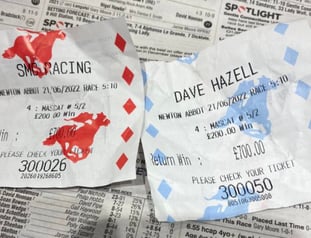 Gary Wiltshire also ducked Gary Moore's Hill Station in the St Austell Brewery Juvenile Maiden Hurdle which had been well-backed from 11/4 into 7/4 favourite. The gamble looked certain to be landed until the gelding fell when in command at the second last. The horse was instantly back on all fours and caused chaos as the remainder of the field jumped the obstacle. Alphonse Le Grand fell at the last and stayed down long enough for the black screens to be pulled around him. When he got back to his feet and the screens came down, it was to a bigger roar from the crowd than the winner. That was the 2/1 chance Captain Square coasted home for Tom Lacey under Stan Sheppard. The winner had been the favourite all day until flip-flopping with the gamble late. While he can be considered a lucky winner, they all count, the same punter copped again, to the detriment of poor old Gary Wiltshire, 'He's a nice lad though' he stoically told me of the winning backer.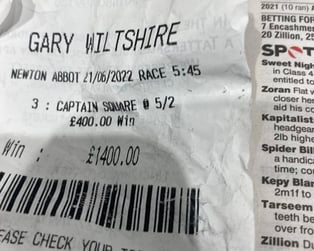 The newtonabbotracing.com Mares' Novices' Hurdle looked to be between Dan Skelton's Gentle Connections and Ben Case's Belles Benefit with the former going off the 8/11 favourite backed from an opening even money on course. One bookmaker laid an even monkey and another a bigger bet though sadly for the blog he asked that neither he nor the amount he took be published. The jolly duly obliged landing a four-timer in the process under Harry Skelton with 11/1 chance Miss Chantelle separating her from her market rival back in third. The ring was quietly but definitely knocked a bit bandy by the result. The winner didn't just win, they did their dough in cold blood. Jim Clarke's wayward staff didn't though, they'd had it spark off again, allegedly having it on, get a grip on them Jim!
Between races I spoke to Sir Bob Cooper who was on duty here for Sky Sports Racing. Having worked with the Devon and Cornwall Point To Point live streaming during their season he was quite pleased to recognise some of the less familiar faces here. In addition after having his card marked, not by me I hasten to add, correctly pronounce some of their names too. It's all about the local knowledge, which the punters certainly appeared to have in abundance this evening. Still, next up the EBCS Leisure Giddy Up Novices' Handicap Hurdle looked harder to solve.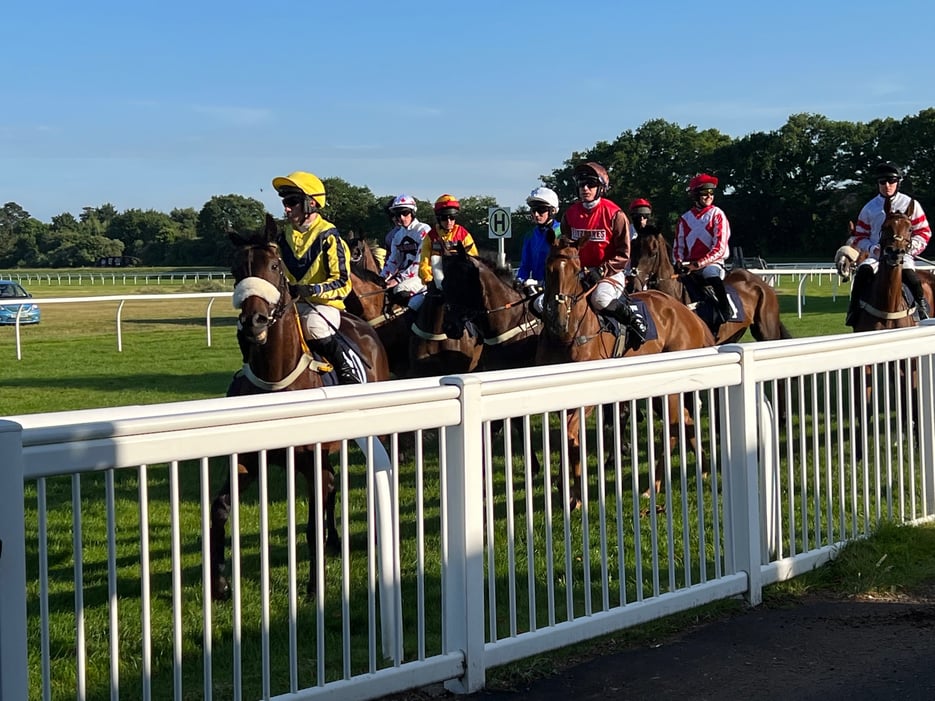 And so it proved, Joe Tizzard's 10/1 chance Allsfineandandy won the race under Harry Kimber. Most bookmakers reported a good result but the winner had been 14/1 in places. I watched the race near Joe Tizzard who was delighted to land a double on the night. The best-backed horses in the race had been Little Jessture and Kapitaliste. Generally it was a little back back for the betting ring. Things hadn't gone so well for the racegoer sending me his betting slips. This time he was on the runner-up, all you punters bet-maxed to a couple of quid at home, come racing.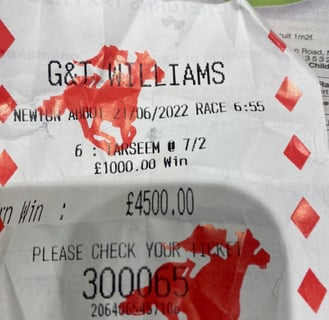 The race before the penultimate, the Racing Partnership TRP Handicap Chase saw some decent bets placed on Henry Oliver's Kilchreest Moon down in the ring. Two bookmakers laid bets of £4000 - £1000 each while down the line another laid a bet of £1600 - £400. The bookmaker that laid the last bet said that a lady had come up to him and asked for 4/1 the horse, he thought she was going to have £2 each-way said yes then she pulled up a rouf in readies. What a race, Kilchreest Moon looked cooked on several occasions, not least when commentator Alan Howes told the crowd missing the big screen that he'd jumped 'sideways' out in the country. Nick Scholfield would not give in, though jumping the last was third and three lengths behind Jimmy Frost's charge Treacys Jim looking all over the winner. It's a short run-in here at Newton Abbot but the gamble was landed when Kilchreest Moon got up in the last stride breaking the heart of Angus Cheleda on the reluctant looking runner-up who appeared to think it had done enough despite the jockey's urgings. 'You nearly got him' was the trainer's stiff upper-lipped reaction when the combination walked back in. Meanwhile the Henry Oliver team were no doubt celebrating and bookmakers were paying out again, gamble landed in spectacular fashion. Spare a thought for those in-running punters who like to nick a few quid, I'm told about £20 was matched the winner at 999/1 on the machine.
Just three went to post for the Get Daily Tips On attheraces.com Handicap Chase in which Joe Tizzard's charge Kauto The King was sent off the 4/6 favourite and bolted up under Brendan Powell, that was a treble on the card for the yard. At least one bookmaker laid a bet of £400 - £600 the winner but that was the tip of the iceberg, unfortunately the layer that laid a much bigger lump didn't want me to report it. Tall Boy Watson was, as he often is, wating to go home, but a lady punter who'd had a £900-£200 the previous winner still hadn't been to collect, yep, 9/2, it was a bigger punt than I'd thought.
The betting on the lucky last the NewtonAbbotRace On Twitter Novices' Handicap Chase was a bit tepid compared to the action in earlier races, the punters appeared to have either gone home or retreated to the bar. Joe Tizzard was back in his usual spot where he'd watched his winners tonight. I asked if it was a winning system I should follow from now on, he laughed and said no, he just hadn't wanted to risk not watching from the same place again. The punters that were betting had understandably latched on to the yard's My Lady Grey, once again ridden by Brendan Powell, backed from 15/8 into 6/4 but then drifted back to 15/8 but still favourite on course. It may not have been Joe's lucky place to watch the races at Newton Abbot before tonight but it may well be from now on. My Lady Grey looked to be destined for second before the leading and going well Kennack Bay fell, leaving her in front, only to make a right old rick at the last. Not only did Brendan Powell do well to stay on after the jump but also up the run-in with everything appearing to slip. The combination kept it together to win a neck from Belle Jour then parted company. Brendan Powell took a fall as his mount shot off as if to do another circuit with her saddle slipped under her. He made a gallant effort to catch her as she doubled back, he just failed but she was soon caught, tack intact able to weigh in making Tizzard four-timer on the night official, and how, a tremendous night for the yard.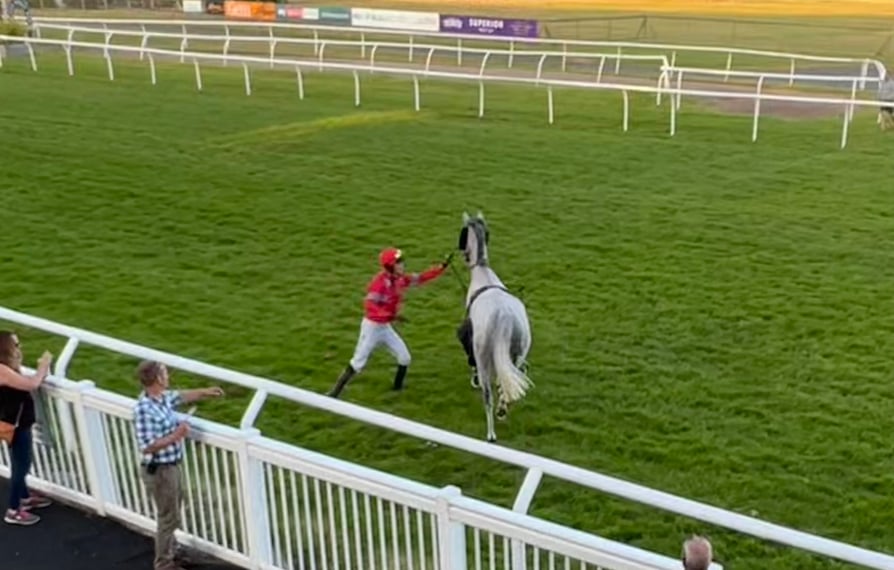 The bookmakers? Well, they are sportsmen all, but would have been paying out over yet another winning favourite ruing their luck tonight. What an excellent evening's sport it was at Newton Abbot though, if you have never been, stick it in the diary.
Simon Nott
Bet Goodwin sponsor my blog. They offer lots of concessions and BOG (Best Odds Guaranteed) on UK horse racing. Special concessions include a free bet of up to £100 if your selection is beaten a nose, the same offer if beaten less than half a length in a chase, if leading and falling at the last and if second to a horse priced 50/1 and bigger. If you don't already have an account with them. click through below, why not give them a spin. They take bets via their app, website or person to person on the telephone.