THE BIKINI BOTTOMS
'MONSTER LOVE'
(Mental Records – Download)
Coming in as a download only from Mental Records this psycho rockabilly romp it hits you right between the ears with a double bass and drums that roll like a pair of creepers in a tumble-dryer. It bloody relentless in a you'll not be able to stop stomping your feet kind of way. The lyrics pay homage to all things good about vampire monster girls, kissing, killing and fighting of course. Cascading guitar runs, howls and angelic backing vocals come in salvo after salvo punctuated by a searing guitar solo while those creepers keep rolling on. The evil cackle that concludes the song will signal one thing, hit repeat.
Simon Nott
http://open.spotify.com/album/6Ni7gvcYniBK1BrW4oKhs3
VARIOUS ARTISTS
'LUX AND IVY DIG INSANE ROCKABILLY'
(Righteous)
Yes, it's another rockabilly double CD with what some would consider to be an extremely tenuous link to Lux and Ivy of the Cramps. Before anyone goes down that road, these compilations with their name pre-fixing them are here to stay for a while. Besides, this is a wild collection of rockabilly with some of the tracks certainly bordering on the insane. It is also a compilation that contains 52 tracks that most people who have been collecting rockabilly CDs for a lifetime will know. So, who is it aimed at? A seasoned rocker that wants a double CD that they can just stick on and bop around the room to some great rockabilly with no duff tracks maybe. The other scenario is, and this is the best one, that someone who has only really had a flirting interest in the Cramps as part of their Goth portfolio picks this up, cops an earful of insane rockabilly that Lux and Ivy certainly would have dug and digs it themselves. It's all about keeping the music alive when the exponents are largely long-gone, job done.
Simon Nott.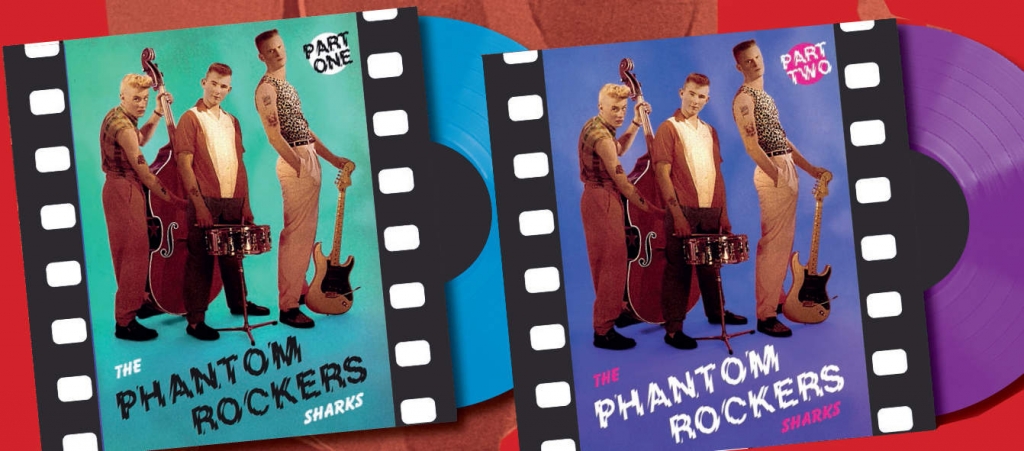 THE SHARKS
'PHANTOM ROCKERS'
(Trophy)

The Sharks debut 12" released to huge acclaim way back in 1983 gets a novel new format and a new lease of life. The whole album, the extended track list from 1991 onwards, has been released on Western Star's spin-off Trophy Label as two 10" coloured vinyl. Each side contains four tracks, or should I say barely containing. Unless you really are new to psychobilly, I imagine we all know the music, stomping psychobilly, the missing link from neo-rockabilly some would argue, you won't have heard it like this before though. Remastered and sounding amazing all over again. I'd describe it as the aural equivalent of those old master paintings that get a clean and a whole world of colour is revealed for the first time in years. Of course, plenty of us love to collect vinyl and these are beautiful things to look at as well as rocking like crazy in the grooves. Sharks fans will want them, look out here comes Charlie, all done up in his Sunday best doubly dangerous.
Simon Nott
RED HOT RIOT
'Hopeless Romantic'
(Western Star)

The young band making waves with a ten-inch vinyl album EP running parallel with their CD album full-length 'Forget Me Not'. Two of the six tracks featured on here don't appear on the album. This band are a breath of fresh air, not least because of their youth. They use the classic rockabilly line-up of guitar, drums and double bass, all which are prominent in their place. It's rockabilly inspired very sellable stuff though apart from the musically ancestry has very little to do with rockabilly, but in a good way. The song-writing is intelligent and self-penned, most of it restrained, at a pace that wouldn't be troubling a brothel creeper's toes. As I said, a breath of fresh air, certainly not for people who have to wear 1950's Y fronts and still have round plug elements in their house. Mind you ,even those guys could get down to tracks like 'What's A Boy To Do' it's all there, rockabilly, just done young with nods, but no ties to the past. Their future is as bright as the vinyl is pressed in.
Simon Nott
CONWAY TWITTY
'THE ROCK N ROLL STORY'
(Bear Family)

This is another in the series of coloured vinyl reproductions of extremely rare original 10" albums. This one is a Japanese release from 1962. The original had 8 tracks, Conway's versions of rock n roll classics, 'Jailhouse Rock' 'Treat Me Nice' etc. As you'd expect with such an excellent voice and band, he does them proud. This album has four extra tracks, there is some confusion, the press release says they are 'Platinum High School', 'I Vibrate (From My Head To My Feet)', 'It's Only Make Believe' and 'Long Black Train' but the sleeve suggests that the big hit 'It's Only Make Believe' was on the original and 'Heartbreak Hotel' is the bonus. Either way, it's the Conway Twitty – Jack Nance penned bonus songs that are the highlights of the collection. For those that don't know, Jack Nance was responsible for the trumpet on Sonny Burgess' classic Sun recordings, a talented songwriter as well as multi-instrumentalist. The vinyl is a beautiful light blue, the cover a facsimile of the original and it's limited to 500 copies worldwide. Wonderful it is too.
Simon Nott
VARIOUS ARTISTS
'JAMES DEAN – REBEL WITH A CAUSE'
(Bear Family)

This is something a bit leftfield from Bear Family, 1950's icon James Dean paid tribute by way of a real mash of music, everything from jazz to film scores, excerpts of James Dean chatting, interviews, playing bongos in a nightclub and ominously giving a talk on road safety for a public service advert in 1955. Potential purchasers will need to be huge fans of James Dean, movie history buffs and lap up a wide range or music to enjoy all of this. Film scores listened to as an isolated entity can be a bit unnerving. It is none the less a remarkably interesting journey through Dean's life via music and as you'd expect, contains excellent sleeve notes. The 28 tracks conclude with The Jets 'James Dean' from 1978 but don't expect much else of that ilk. None the less, it's fascinating stuff but almost certainly not a CD to put on to get a party swinging.
Simon Nott
ROGER C WADE – MARION WADE
'COOKIN' AT HOME'
(Steeplejack)

Hot on the heels of the 'Lockdown Sessions' and I mean hot, the Wades have delivered a blistering blues, boogie R&B and swing platter to cure your ills and soothe your soul. It'll get you dancing in plenty of places too.. This is a group effort with a whole host of guests contributing to what is a hugely impressive and authentic album. It's mostly self-penned which shocked me as the lyrics on some of these brand-new songs had me thinking they must have been lifted from obscure blues outtakes from the mid-50's, as I said, authentic, harmonica, piano, sax, and washboard all add to the party, except it wasn't a party, it was all cooked at home, by a husband-and-wife duo, who with their friends have all the right ingredients.
Simon Nott
BOBBY VEE
'SUZIE BABY'
(Bear Family)

A much maligned 'Bobby' by many of the modern rock n roll fraternity gets to fight his corner as a genuine rock n roller. This is the latest is 'The Drugstore's Rockin' series, this time where Bobby V's career is put into focus. There's a lot to learn for those of us, and I include myself in this number prior to listening to this, who dismiss him as 'Rubber Ball' and little more. The truth is Bobby V was fronting his own band at the age of 14. His first single was recorded in 1958 and is the title track to this compilation, it was new to be, never having really given Bobby V a chance. If that's you too, you need to hear it, in particular its wonderful guitar. Bobby V and The Shadows replaced Buddy Holly on the Winter Dance Party tour for a show. That was quite fitting given his vocal similarity to Holly on many of these tracks. Yes, a lot of it is string-drenched watered down rock n pop, but so were Buddy's last recordings. Like it or not, it was the way things were moving, even before the day the music died. The era of savage rock n roll was over, at least if you wanted to hit the charts, this is a collection of quality early 60's hits and misses, performed by a genuine rocker who still had the credentials but just went with the flow.
Simon Nott