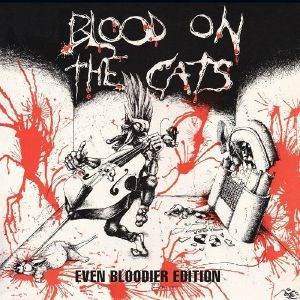 VARIOUS ARTISTS
'BLOOD ON THE CATS – EVEN BLOODIER VERSION'
(Cherry Red / Anagram)
It was fantastic to get this, back in 1983 when it came out and again now. It's not seen a reissue since it original release until now, complicated licensing the reason I'm reliably informed. Indeed, two of the original tracks by The Jazz Butcher and Shockabilly are non-runners here too. Back in the day and living in the sticks this was a confusing listen, the only psychobilly I'd heard, and loved was The Meteors. The album was sub-headed 'The Psychobilly Compilation ( A collection of Blood Groups ) so who I was to suggest the genre didn't apply to all. The two missing tracks both falling outside of it in hindsight but was devoured in equal measure by yours truly. What is left of the original album is really the cream of what was about at the time, though The Meteors track was already 'old'. The absolute treasure on here is as far as I know the first time on CD for the very early Guana Batz 'Cannibal Run' as well as classics from The Ricochets, Sting-Rays and others. Just 11 tracks make up the 56 including in this comp which carries on in a similar vein and are very welcome padding to the origins of a genre bedrock.
Simon Nott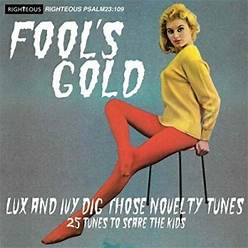 VARIOUS ARTISTS
'FOOLS GOLD – 25 TUNES TO SCARE THE KIDS'
(Righteous)
The series of compilations that Lux and Ivy of the Cramps would have enjoyed continues. As the title would suggest there are 25 tracks here that are undoubtably in the novelty bracket. There are some real oddities in the line-up too. There are songs that people will know and possibly enjoy, Sheb Wooley's 'The Purple People Eater' and The Five Blobs' 'The Blob', there's Dickie Dee And The Don'ts 'Nee Nee Nana Nunu made a hit by Bad Manners in the 1980's, Jim Backus' salaciously weird 'Delicious' and the truly creepy Danny Kaye's 'Mommy, Gimme A Drinka Water' which I never want to hear again as long as I live. It's fascinating stuff, for the curious of a rocking persuasion as most of it's in that bracket.
Simon Nott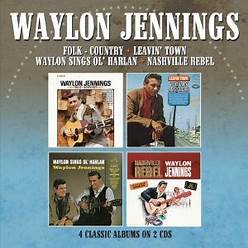 WAYLON JENNINGS
'FOUR CLASSIC ALBUMS'
(Morello/Cherry Red)

Four classic Waylon Jennings albums contained in a two CD collection. Known these days as one of the main protagonists of the 'Outlaw' country movement. In his early career Jennings had been a close associate of Buddy Holly, recording with him and giving up his seat on the fateful plane to J P Richardson. These four albums are taken from the time 1966-1967 when his career was about to take off, signed to RCA Victor he was record under the supervision of the legendary Chet Atkins adopting the Nashville sound. The four albums included are, 'Folk - Country' which hit number nine in the US country charts, 'Leavin' Town' number four, 'Nashville Rebel' number three and the 1967 offering 'Waylon Sings O'Harlan' all of which are premium examples of the fine country music of the time.
Simon Nott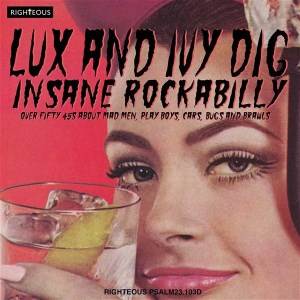 VARIOUS ARTISTS
'LUX AND IVY DIG INSANE ROCKABILLY'
(Righteous)
Yes, it's another rockabilly double CD with what some would consider to be an extremely tenuous link to Lux and Ivy of the Cramps. Before anyone goes down that road, these compilations with their name pre-fixing them are here to stay for a while. Besides, this is a wild collection of rockabilly with some of the tracks certainly bordering on the insane. It is also a compilation that contains 52 tracks that most people who have been collecting rockabilly CDs for a lifetime will know. So, who is it aimed at? A seasoned rocker that wants a double CD that they can just stick on and bop around the room to some great rockabilly with no duff tracks maybe. The other scenario is, and this is the best one, that someone who has only really had a flirting interest in the Cramps as part of their Goth portfolio picks this up, cops an earful of insane rockabilly that Lux and Ivy certainly would have dug and digs it themselves. It's all about keeping the music alive when the exponents are largely long-gone, job done.
Simon Nott.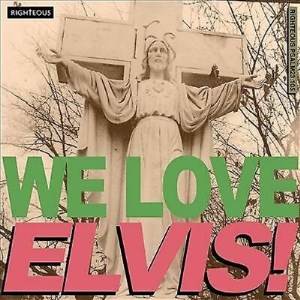 VARIOUS ARTISTS
'WE LOVE ELVIS'
(Righteous)
Yes, we all still love Elvis, even though he now has been dead longer than he was alive. I'm guessing that such was his talent people will still love him way after we are all long gone. They were loving him within the first couple of years too of course. There are no dates or all that much info in the notes about these 29 tracks but anyone with a rudimentary knowledge of the King can hazard a guess. There are quite a few lamenting Elvis' departure into the army at the bequest of Uncle Sam so 1958 ish, Janis Martin's 1956 'My Boy Elvis' was possibly wishful thinking but they were briefly label mates so who knows. This might at first glance appear to be a cheesy cash-in compilation, but it's certainly not, it's actually quite a fascinating glimpse into the blindingly obvious impact Elvis had on a whole generation, the bulk of this is good stuff, there was no doubt an ultra-turgid reject pile too, I'd like that lot to make a volume two though. This is a lot of fun.
Simon Nott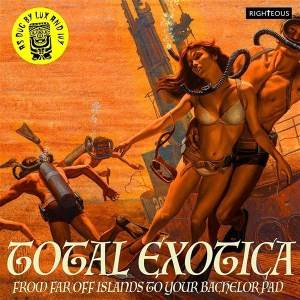 VARIOUS ARTISITS
'TOTAL EXOTICA – AS DUG BY LUX AND IVY'
(Righteous)
This is a double CD compilation exploring the weird and wonderful world of Exotica, of which there has been a recent rise in interest of what's described as 'space age' and 'bachelor pad' music. The 'world of' is very apt as this whole collection is infused with musical influences from all over the globe, one of the albums pictured in booklet is entitled 'Music For Batchelors'. The mind boggles, as it does with much of what is contained here, rarely has a genre been more perfectly named. If you want ambience and a soundtrack for your 60's inspired or indeed jungle room you have it on these beauties. It's a whole new and weird world of musical discovery which if played to make your pad madder will surely do the trick. While the sleeve notes are entertaining, they are an overview rather than informative, I'd like to be able to learn more detail about all these exotic tunes.
Simon Nott
For anyone who enjoys a bet, maybe open an account with betgoodwin, you get a free tenner to kick off with then BOG and various other generous concessions. Click on the link to get betting with my affiliate supporters.