Taunton Christmas Meeting 21st December 2022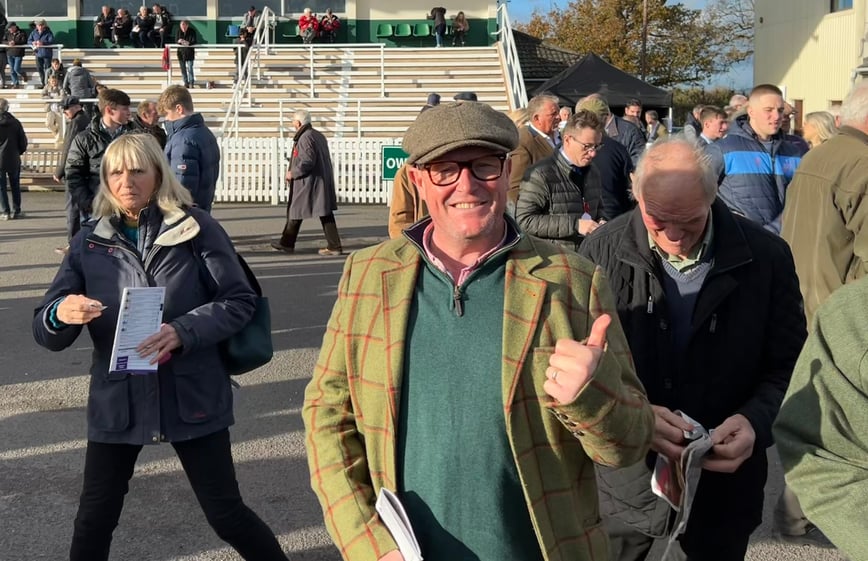 What better than to clear the lungs and head of all the colds that are going around than a day at the races. I blame Nativity Plays for the bug. At Betsy's we could hardly hear Mary and Joseph say their lines due to the crescendo of coughs and splutters from the rest of the cast and audience. Anyway, less of the Bah Humbug, today's crowd was a large and very festive one. 40 of their number were made up of builders from the Tiverton area, all nice fellas and keen racing people who had hired a box for the day. The last thing you want to hear from any of them though is 'Have you got any tips?' but was. I was given a tip as I walked in from the carpark, Ooh Betty in the opening Summerfield Developments Mares' Novices' Handicap Hurdle so being an honest sort of chap I had no option but to offer that one up when the question was posed. I didn't expect one of the guys to have a bottle each-way on. I don't expect my name was ever spoken positively during the running of the race either, Ohh Betty never really looked to be going well and ran very disappointingly. The race went to Neil Mulholland's 28/1 chance Gata Ban which would have at least received cheers from the bookies.
I steered clear of the 40 strong builder's box whilst the betting got underway in the next, the Paul Kelson Barber Handicap Chase just in case anyone had the hump. I didn't have any 'tips' as such for the second but was hoping that Nigel Hawke's Some Detail would win. I've been going over to Nigel's Thorne Farm fairly regularly since pro-punter Andy Gibson took me there back in the summer. Here's a video of that visit Nigel Hawke and Andy Gibson. The punters in the ring seemed to think Nigel's charge had a favourite's chance and backed him from 5/2 into 9/4 in the ring. Jockey Harry Cobden rode a very confident waiting race only getting into it turning for home to win very easily, SP 85/40.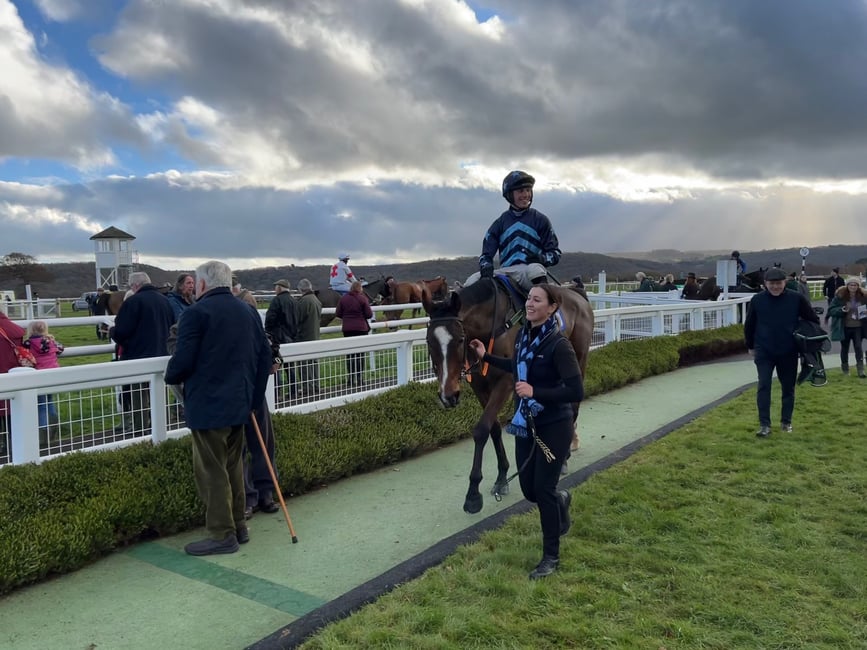 Incidentally, Nigel Hawke is running a competition on twitter to win a share in one of his horses, all training fees paid for 12 months. Check out his tweet here to enter for free.
🎄WIN a share in PROFESSOR CALCULUS - including all training fees for a year. Simply follow, like, tag a mate & retweet this tweet to win. Closing date 5pm 22nd. Winner drawn by Nigel on 23rd. Follow the link for more details of Nigel's horses. Good Luck. https://t.co/bDMW8Qki55

— Nigel Hawke: Thorne Farm Racing (@ThorneFarm) December 17, 2022
Next up, and Lallygag was sent off 4/6 favourite for the Cornish Rock Gin Novices' Hurdle and won as the market thought it would for Paul Nicholls under a delighted Freddie Gingell who we later found out was celebrating his 17th birthday today. Happy Birthday Freddie, what better present could you ask for. One judge whispered in my ear that the winner's stablemate Urban Soldier ran a very promising race considering it's still a 'big unit'. The gelding ran on well from a long way back catching at least that one shewdie's eye. Down in the ring there was at least one punter who decided to open his shoulders, lumping £4000 on the winner with Dax and Joe Oliver. The was a rumour abound that the winner would be aimed at the Imperial Cup, if that's the case then there's little wonder the big punter had a go today.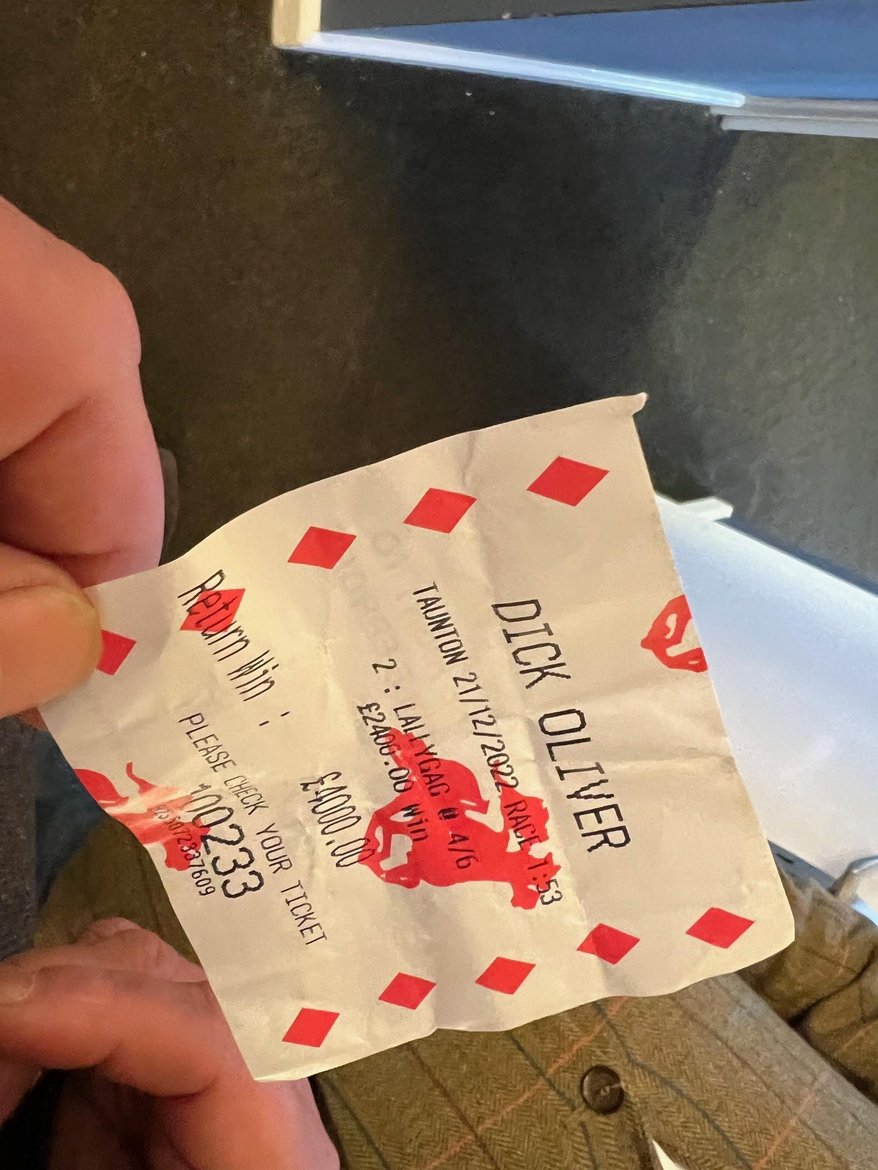 Next up, the Rowcliffes Maiden Hurdle and no bets of note, at least none that I got wind of. Nicky Henderson's Bold Reaction was sent off 6/4 favourite but could only manage fifth behind Paul Nicholls' 3/1 winner Holetown Hero which bolted up Harry Cobden, a double for the pair of them on the card. The same in-running dark horse watcher from the previous race told me that Philip Hobbs' second string Dark Duomo had run a better race than it might look at first glance. Maybe another for the notebook.
Between races, I heard a shout, it was Paul Wing and partner Rachel who I usually see when I'm blogging the dogs for Star Sports. They were here for the first time, their 51st racecourse on their quest to do the lot, one that Paul told me is going to be completed in the summer. It was excellent to see them, they are off to Lingfield tomorrow where they have a runner, good luck you two.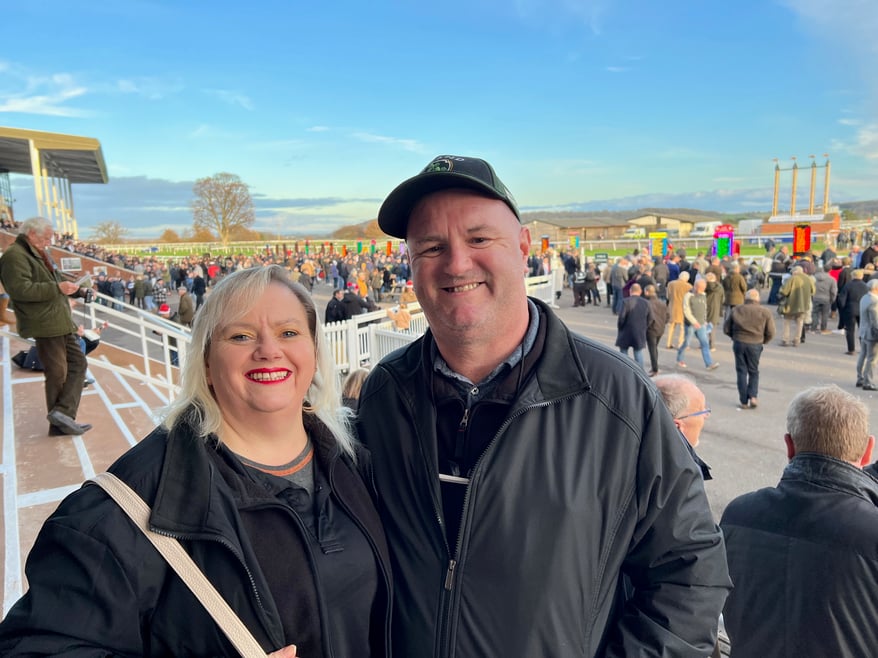 The was a very strong favourite in the Stables Business Park Handicap Hurdle, the punters were very keen on Charlie Longsdon's Parramount and sent it off 13/8 favourite. I say the punters, most but not all. One backer had £6500 - £1000 Norley in the ring. Sadly, for those backers, but of course happily for the layers, 10/1 chance Amelia's Dance won the race for trainer Robert Walford under Bryan Carver with the favourite back in second and Norley in third. There was a bigger than the rest cheer from the Bevan joint, Archie and Paul had backed the winner at 14/1 with the fractions, £1000 - £70 a piece. 'That's paid for Christmas' beamed a jubilant Archie who will be celebrating the festive season for the first time as a dad.
Between races Nigel Hawke landed an across the card double when The Imposter cruised home the 13 length and eased winner over at Lingfield. Don't forget to enter the competition, the yard are flying.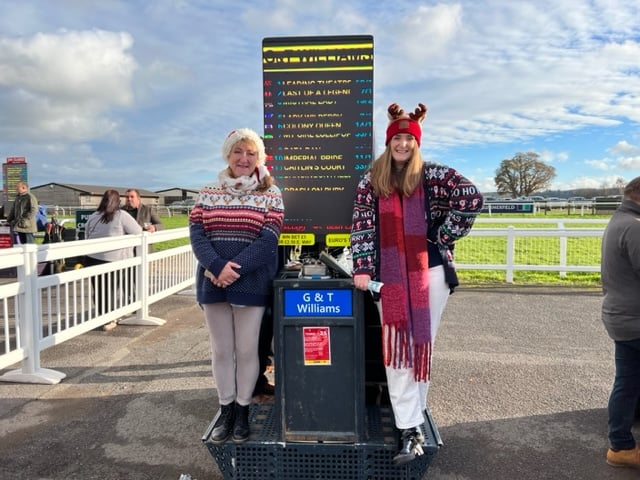 The penultimate Invest Southwest Novices' Handicap Chase saw a dramatic conclusion. The well-backed 11/2 chance, at least one monkey in the ring, Gaelic Thunder attempted to make all and looked likely to do so until approaching the last. Jane Williams' Folly Gate appeared about to take it up when jockey Peter Summers saw a stride jumping the last only for his mount to put down on him leaving little chance of staying in the saddle. That mishap left Gaelic Thunder back in front but was run down close home by Keiran Burke's Letsbe Avenue which went on to win a length and a quarter under Harry Kimber. At 17/2 it was a middle pin result for the bookies.
When one bookmaker chalked up 11/4 Philip Hobbs' Island Run early for the lucky last , the More Christmas Racing On 30th December Handicap Hurdle a punter immediately pounced with £2000 at the price. The murmur around the ring was that connections had arrived on course by helicopter so a tip in itself maybe. I hasten to add, the punter wielding the readies was carried to the Taunton via more modest means and not the owner. There was a delay to the start of the race when Samatian was withdrawn after rearing up unshipping jockey Kai Lenihan as the horses were leaving the paddock, he needed and received medical attention on the spot. Ramifications for the betting was that there was a Rule 4 deduction of 15p on all bets place prior to the withdrawal. By the time 5/1 chance Turnaway got back up to win from 4/1 shot Pottlerath from what looked an unlikely position it was getting quite dimpsy. The winner was ridden by Bridget Andrews for Dan Skelton and concluded an excellent day's sport where the bookies probably came out on top.
Next up I'll be reporting from Leopardstown on 28th and 29th for AK Bets. Until then, I wish you all a very merry Christmas and winning Boxing Day. Thanks for reading.
Simon Nott
Bet Goodwin sponsor my blog. They offer BOG (Best Odds Guaranteed) on UK horse racing. Special concessions include a free bet of up to £100 if your selection is beaten a nose, the same offer if beaten less than half a length in a chase, if leading and falling at the last and if second to a horse priced 50/1 and bigger. If you don't already have an account with them. click through below, why not give them a spin. They take bets via their app, website or person to person on the telephone.