THE HOLLOWAY ECHOES
'STACK 'EM UP'
(Western Star)
It's fair to say that the Holloway Echoes' debut album 'Murder In Soho' was a surprise hit for Western Star. So not so much of a surprise that the all-star band have returned with follow up. It's packed full of 1960's and 1970's nostalgia and atmosphere, dinner ladies, bin men and even the Phantom Flan Flinger all making notable appearances. The song-writing has been split between vocalist Pat Winn and label boss and multi-instrumentalist Alan Wilson with Nick McNulty throwing one into the ring too. The music is not so much 'Chas and Dave' as the first album though it does have that flavour in the mix. Some of the stuff that really shouldn't work really does, that's no doubt down to the talent performing, consistancy and topic. The music itself is varied while in the same vein, 'Dinner Lady Rock N Roll' loosely based on Wabash Cannonball and rocks along despite the topic being mash and semolina, 'Who'd Have Thought' an instrumental which oozes 1960's and so it goes on. The song-writing is fun and often tongue in cheek while the musical skill on display is a deadly serious heartfelt rock n roll tribute to an era that's gradually fading into the London fog.
Simon Nott
VARIOUS ARTISTS
'GOOD OLD SUMMERTIME'
(Bear Family)
An album that's ideal for blotting out all things 2020. It's feel good but not entirely timeless music harvested from 1946 to 1964 spanning rock n roll, r&b, rockabilly and pop. Bear Family have had fun putting this compilation together. Who's not going to have a spring in their step and a smile on their face after hearing of Derrell Felts' 'It's A Great Big Day' and even the Andrews Sisters' 'Her Bathing Suit Never Got Wet', a rare Decca release from 1946. There are some familiar tracks as well as rarities rubbing shoulders mixing things up perfectly. As we've grown to expect from Bear Family the booklet is bursting with facts and photos to absorb on your sunbed anorak donned or not.
Simon Nott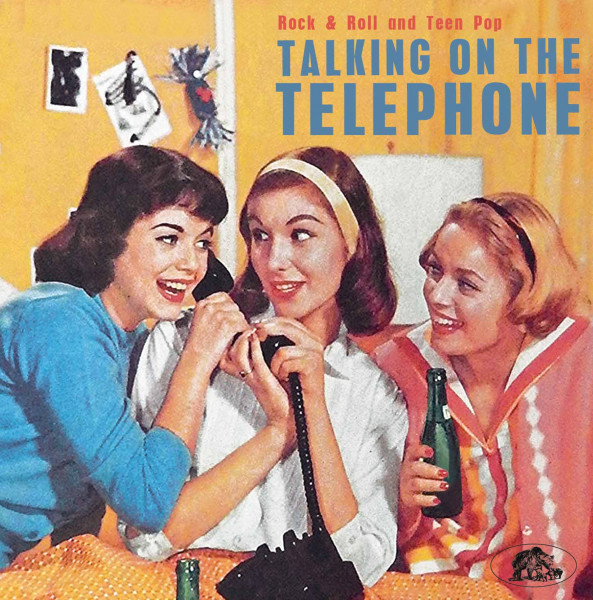 VARIOUS ARTISTS
'TALKING ON THE TELEPHONE'
(Bear Family)
Listen, there was a time the phone rocked, when it comes to rock n roll themed compilations it's an original and effective collection .This isn't as contrived as you might think, as I said the telephone was the mod con when these songs were recorded so there were plenty of great tunes to choose from. There are classics here as well a song that made the UK charts as cover version, Freddie Cannon's 'Buzz Buzz A Diddle It' as hit for Matchbox back in 1980. Brenda Lee's 'Bigelow 6-200' settled the argument about who played on Johnny Burnette's Rock n Roll Trio recordings once and for all, unless you think Dorsey and Paul were playing on this too. An interesting inclusion is Donna Dameron's 'Bopper 486009,' an answer to 'Chantilly Lace' which was barely issued when withdrawn immediately after the Bopper's tragic death, so rare as a shellac telephone these days. Another imaginative collection with all the sleeve note detail you'd expect from this label.
Simon Nott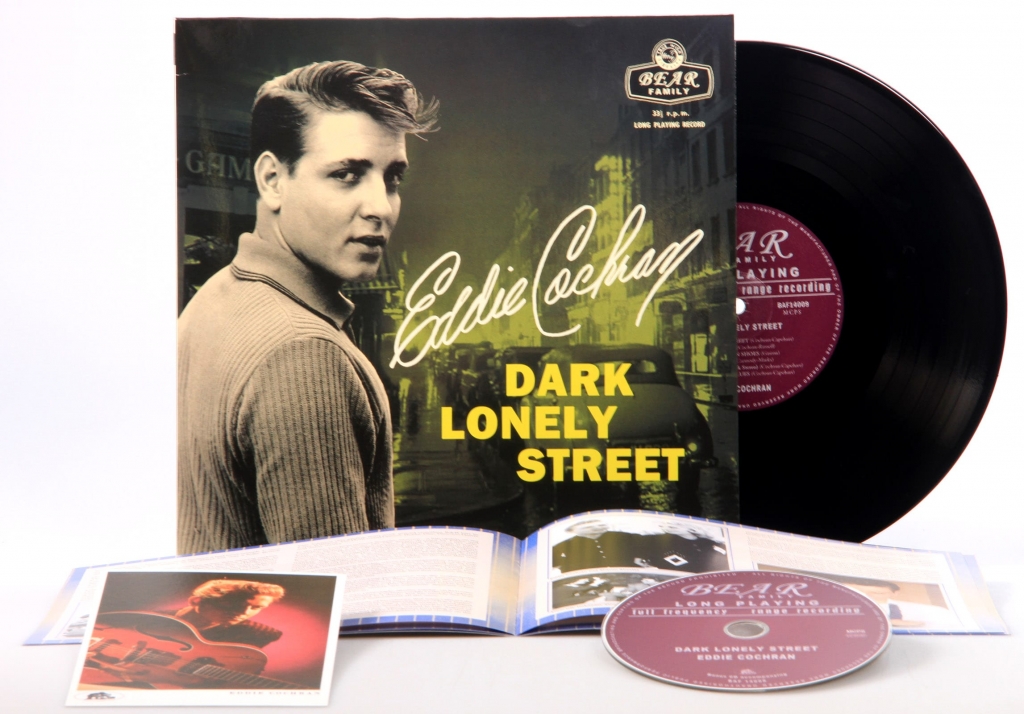 EDDIE COCHRAN
'DARK LONELY STREET'
(Bear Family)
It's 60 years since Eddie Cochran's life was snuffed out in a car accident when aged just 21. This is a Deluxe 60th anniversary memorial package. There isn't much here that a dedicated fan won't have but it won't stop people wanting it. This is a 10" vinyl album complete with 12 page booklet and CD with bonus tracks. The music on the album consists largely of Eddie's best-known hits 'Summertime Blues' 'C'mon Everybody' both included. There are variations for completists, 'without fade' ' no overdubs', and the like while the CD packed tracks that Eddie played guitar as a session musician on, an interview and TV performance as well as Heinz's 'Just Like Eddie' tribute. Absolute standout track is Bob Luman's 'Guitar Picker' with Eddie on guitar, stunning.
Simon Nott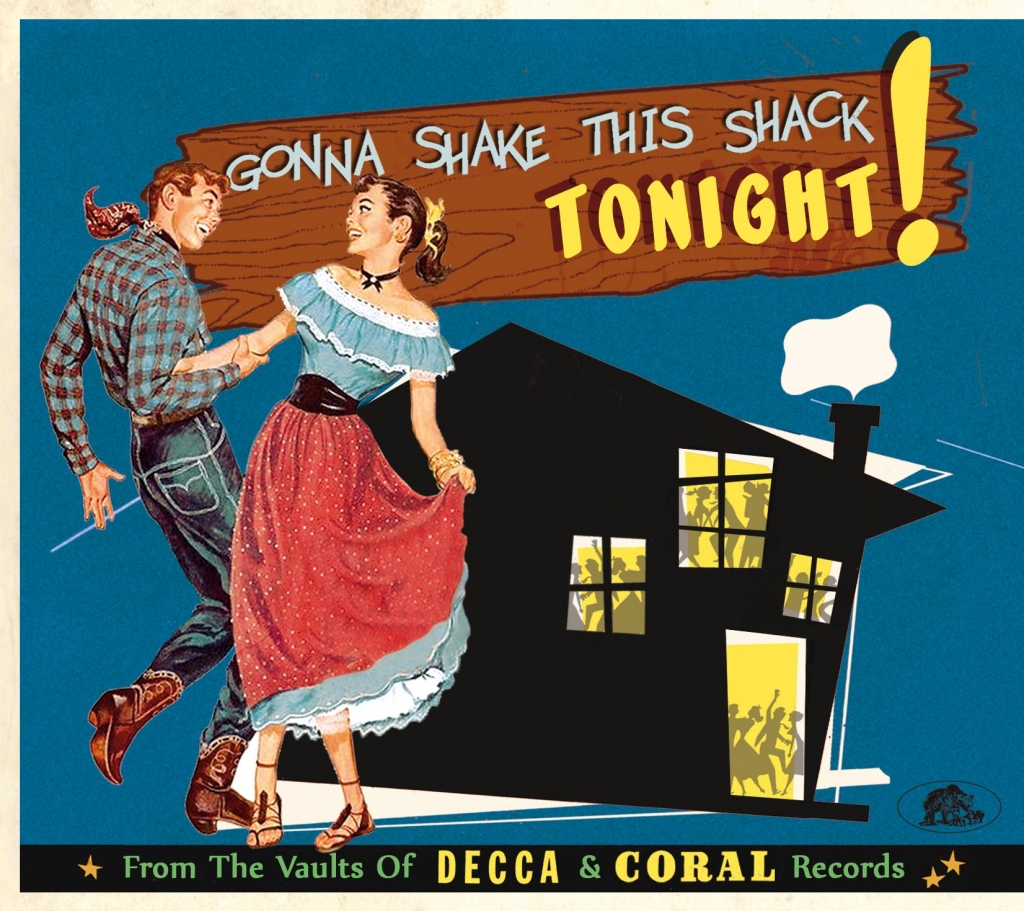 VARIOUS ARTISTS
'GONNA SHAKE THIS SHACK TONIGHT! – DECCA & CORAL'
(Bear Family)
This was a surprise, at least to me, a new addition to an already extensive series, one in which the fact and fiction of the history of rock n roll is laid to waste. As you'd guess from the title, this is a compilation rather than a focus on one artist as much of the series has been. There are familiar names to rockabilly collectors, Grady Martin, Arlie Duff, Wayne Raney and Hard Rock Gunter all feature in the 30 track compilation. There's some rocking stuff here, one of the best was recorded in 1953 and released in 1954 T Texas Tyler's 'Hot Rod Rag' is basically rockabilly, most of it was recorded in the first half of the 1950's and displays that the shacks were already shaking way down south long before Sam Phillips' vision walked into 706 Union and changed the world. Tremendous stuff and essential listening.
Simon Nott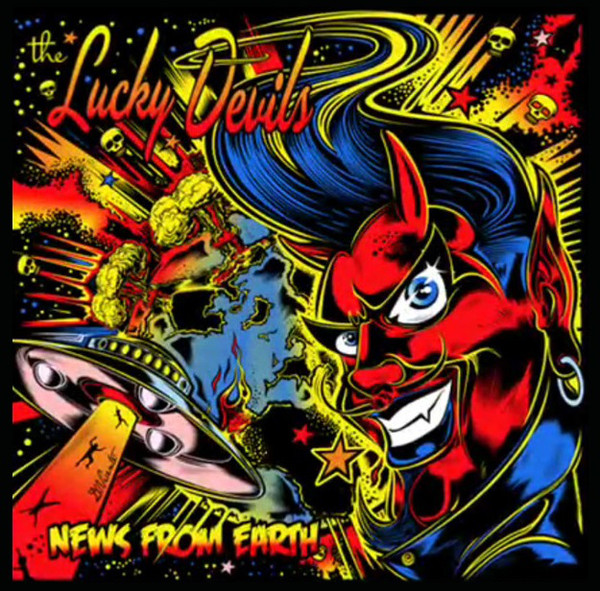 THE LUCKY DEVILS
'NEWS FROM EARTH'
(LDR)
French psychobillies The Lucky Devils are celebrating two decades together with this their seventh album. It's tough stuff too, very little let up with powerful double bass prominent throughout. Ricky, Vivien and Phil rocking hard in a way a band can after 20 years playing together. It's full on psychobilly with some subtle musical surprises, with titles like 'Welcome To Hell' and 'Psychos' the latter won't be disappointed. One thing this band have always done well is take covers and make them their own. They've excelled themselves this time, had King Henry the Eighth had heard this version of 'Greensleeves' there's no telling how many heads would have rolled!
Simon Nott