Dublin Racing Festival AK Bets- Leopardstown - Saturday 5th February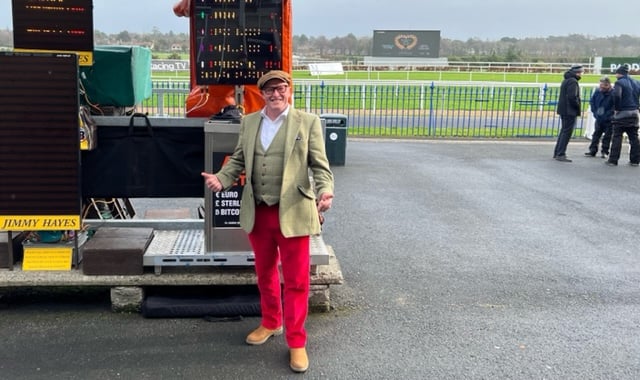 I had the pleasure of interviewing professional gambler and also now racecourse bookmaker Anthony Kaminskas last year as part of the Star Sports #BettingPeople series. #BettingPeople: ANTHONY KAMINSKAS - https://www.starsportsbet.co.uk That was done over zoom, so was chuffed to be asked to come over to Dublin to work the two days of the Racing Festival at Leopardstown despite having never met him personally. His only proviso for flying me over was that I wear loud corduroys. They appear to have become my trademark after buying and wearing some at Cheltenham for a bit of fun. Oh well, racing, especially going racing is all about having fun, who am I to disagree, loud corduroys it is. Irish national hunt racing and Cheltenham only mind, they wouldn't really go with Royal Ascot.
My host picked me up from the airport and appeared to be a bit dazzled by the newest pair of bright strides in my collection, wait until he sees tomorrow's. Anyway, next stop Leopardstown. I'd already seen familiar faces at the airport, Andy and Jessica Smith, and the best travelled man in racing Andy Lodge. My new team, David and Anthony's Dad Tony, soon became pals. The welcome in the betting ring was lovely, Ray Mulvaney came over and bumped fists, and welcomed me to the course, as did Brian Gleeson and John Carthy, friendly faces like that really put you at ease in a strange environment and very much appreciated. Even 'Icy' came to the joint to say hello and didn't even take the piss, which was also nice!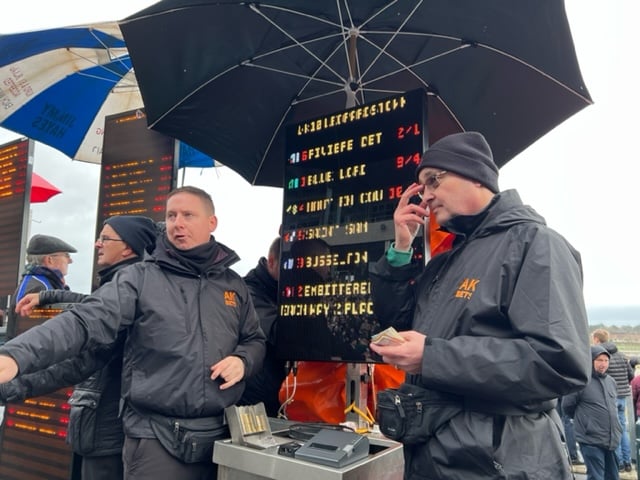 The weather forecast for today had looked little short of horrific, I was a little concerned that my tremendous strides were going to be hidden from view under layers of waterproofing. The first result of the day was that the Armageddon we'd been promised didn't materialise. The second result of the day was Willie Mullins' 11/1 chance Minella Cocooner winning the opening Nathaniel Lacy & Partners Solicitors "50,000 Cheltenham Bonus For Stable Staff" Nov Hurdle, from Minella Crooner, a race where bookmakers will be very pleased that call horse's numbers not names these days. The field money wasn't great, as it often isn't on the first race. There were lots of bets though which was encouraging. Between races, another face from the Irish circuit came to say hello. Neil Casey was all wired for sound, I was duty bound to inform Anthony that Neil would be unlikely to be back backing dead-uns. Neil's a lovely chap but doesn't leave it behind often. Another face, not so expected to appear at the joint was Greyhound man about town Simon Banks, it was also nice to see him, it's been at least two years for most people hasn't it.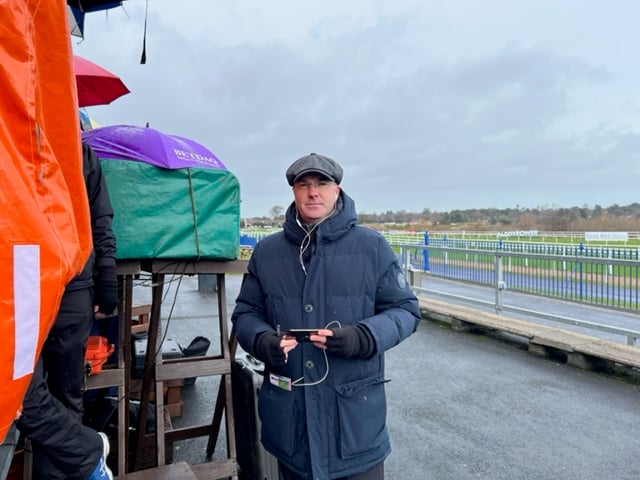 Neil Casey
The second race on the card, the Racing TV "12 Euros Per Month This Weekend Only" Spring Juvenile Hurdle came to life as more punters came out of the bars or wherever they had been hiding during betting for the first. Betting was brisk but of course interrupted by lucky winners from the first. These included another unexpected visitor to the joint, Telf who chats to me with the office news when I write blogs for Goodwin. He was up to draw for the first of several times during the course of the afternoon. The firm cheered home the winner of the first so Telf was paid with a genuine smile. The book was looking quite steady at they lined up, then a punter came in with £2000 at 5/4 the jolly Fil Dor which left that one a very lopsided bogie. Willie Mullins to the rescue again, Vauban the 9/4 second-in proved to be too good for the jolly and thus the firm enjoyed a nice winning race.
Sadly, what Willie giveth, Willie taketh away. Anthony laid two decent bets in the Patrick Ward & Co Solicitors Irish Arkle Novice Chase, a monkey early doors, then a grand at 5/2 right in the hole the Willie Mullins trained Blue Lord. Needless to say, that made the gelding a nasty loser before he duly won by half a length from Gordon Elliot's Riviere D'etel. The latter looked very unlucky in defeat, he made a rick at the last and was then crossed by the winner before running on strongly just failing to get up. There was a nervous wait for the backers of the winner, the Stewards held a rather lengthy enquiry but ultimately the result stood and the punters got weighed in. It does bugger up betting on the next race a bit, especially when a fancied horse has been involved, the punters tend to like to reinvest their winnings.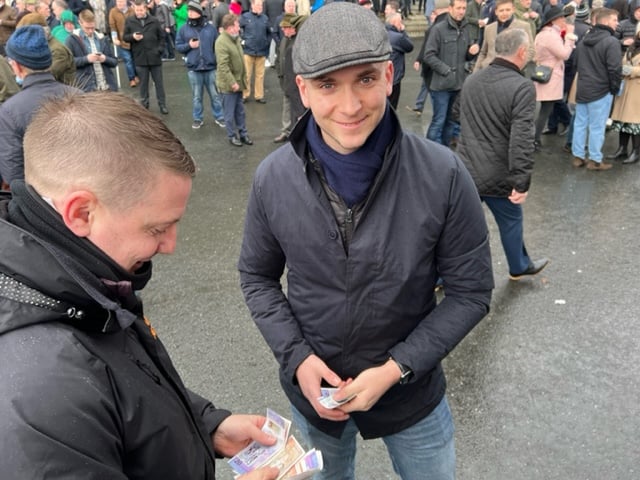 Telf
The fourth heat on the card was the the 24-runner Paddy Power "I'd Love A Can But Pints Are Cheaper" Handicap Hurdle where the crowd were keen to get involved but not to any great amounts, though there were plenty of decent £50 and £100 bets tendered. The punters made the book and then as it happened they left the firm out of the 17/2 winner Good Time Jonny so enjoyed another winning race. the runner-up Rightplacerightime had been touted by some right old shrewdies and was backed accordingly from 7/1 into 7/2 but had to settle for runner-up position. Then the fun really began.
Fittingly it was the Paddy Power Irish Gold Cup that saw the punting drama of the day. A punter wandered up to the joint and had £2000, no make it £2500 he says, on Willie Mullins' Kemboy at 7/2. That was going to be some task to try and bet up to. An impossible one as it turned out, AK Bets had to stand it for a very nice few quid. Unluckily for the punter, his fancy disappointed back in fifth behind the Gordon Elliot Trained and Davy Russell ridden 16/1 chance Conflated. David on the stool hinted that it had been such a good result it could be a steak and chips night. Sounded good to me.....
....While it lasted. What was it dear old Kenny Rogers sang in 'The Gambler'? Something about never counting your money while you're sitting at the table, yes that. The same punter that just did in £2500 waded in again in the penultimate Paddy Power "I'm Never Going Back To The Office" Handicap Chase , this time having a £5500 - £1000 on A Wave Of The Sea, I resisted the temptation to tell him he could have saved a tenner, OK we won't go there. It was immaterial anyway. A Wave Of The Sea did the business for 'The Great Man' returning 9/2, who needs fractions to get value on-course, and wiped out most of what was becoming a very good day. That sizzling steak was beginning to look like a Big Mac.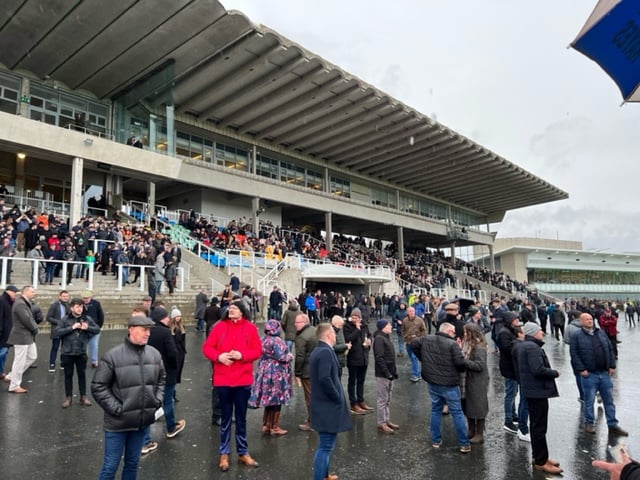 The crowd had thinned a bit for the lucky last, otherwise known as Goffs Future Stars (C & G) I.N.H. Flat Race, those that did venture out into the ring appeared to have done their dough. That becomes apparent when fivers and tenners each-way on 100/1 chances proliferate. The more realistic in search of financial salvation in the traditional 'Getting Out Stakes' latched on to Gordon Elliot's 7/2 chance Itswhatunitesus, that's an understatement, they would not be denied. So much so that at the off, not big lumps but just accumulative wishful thinking bets meant at the off, he was losing over £6000. The good thing about punters trying to bet their way out of trouble is they rarely do so on the odds-on favourite. How many other firms copped a four-figure, possibly steak is back on the menu, sum on Willie Mullin's impressive runaway 8/11 winner Facile Vega? Not many I'd wager.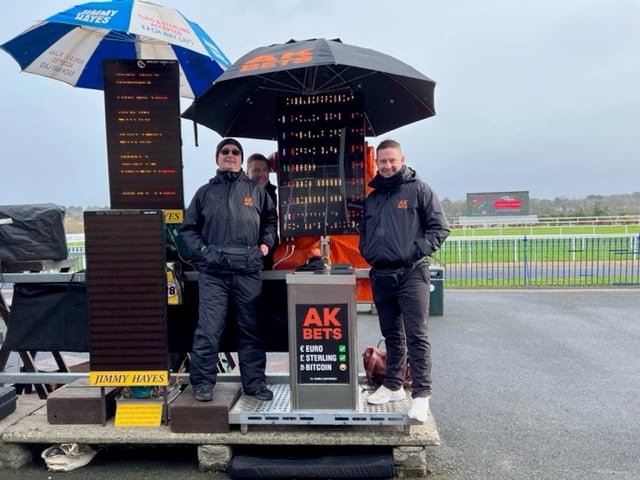 A final gasp winning day for AK Bets after a great start, a calamitous penultimate and unexpected conclusion. I'm told it's not McDonalds tonight after all. Aye Aye! We're back tomorrow. If you're coming to Leopardstown tomorrow, come and see us, I'll be the one in the brand new garish corduroys!
* Disclaimer - the majority of the bets were of course in Euros but try as I might I can't find a Euro button on my laptop!
Simon Nott